Sex And The City HBO Max Series: 7 Quick Things We Know About And Just Like That...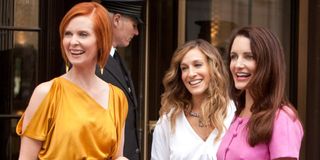 It has been 17 years since the airing of HBO's Sex and the City (and 10 since the second and final film adaptation), but the groundbreaking series and its cast of colorful and memorable characters wrapped up one of television's most important chapters. Like with fashion, music, and those feeling you put on a shelf to die, nothing really stays gone forever, and such is the case for the show that took Sarah Jessica Parker from a successful actress into a four-time Golden Globe winner. By the sounds of it, And Just Like That, the title of the new spinoff, will pick up where we left off back in early 2004.
So, what is And Just Like That, what is it about, who's in it, and when is it coming out? There is certainly a lot to know about the upcoming HBO Max original series: its story, setting (New York City, of course), the returning members of the Sex and the City cast, and other juicy details. Let's dig in, shall we?
And Just Like That… Will Serve As A Sequel Series To Sex And The City
Those hoping for the a continuation of the Sex and the City story are in for some good news as And Just Like That… is more of a revival than a reboot of the classic HBO series, and will pick up with the lives of most of the original members of the cast (more on the big absence later on) as they continue to try to find their respective places in the Big Apple.
The series was announced by HBO Max in January 2021, when it was revealed that And Just Like That… would follow the women of Sex and the City years after they have transitioned from 30-somethings with bright futures to the complexities of life in their 50s. And while Sarah Jessica Parker's Carrie Bradshaw, Cynthia Nixon's Miranda Hobbs, and Kristin Davis' Charlotte York Goldenblatt will be back and better than ever before, there is one major component of the original missing in this sequel series.
All The Original Stars, Except For Kim Cattrall, Are Reprising Their Roles
It should probably come as no surprise (considering how many times Kim Cattrall has sounded off about not returning to the Sex and the City franchise), but Samantha Jones won't be joining her three best friends when And Just Like That… debuts on HBO Max. This was confirmed when the show was announced in January 2021 with all the stars of the original listed, save for Cattrall's.
When the announcement was made and Kim Cattrall's name was nowhere to be found, longtime fans of the HBO series were none too pleased and made sure to voice their concerns about a Sex and the City sequel series pushing forward without one of the key members of the central cast.
The HBO Max Original Will Consist Of Ten Half-Hour Episodes
When HBO Max announced And Just Like That… it was revealed that the Sex and the City sequel will consist of ten half-hour episodes (the same length as episodes in the original HBO series). And while there is always the prospect for more episodes down the line, if the show is successful, this could end up being a nice and neat proper sendoff for the series' stars.
The Show Will Tackle Social Media, Aging, And COVID-19
When Sex and the City completed its six-season run in February 2004, Facebook was only a few weeks old, Twitter hadn't been invented yet, and the world was a much different place. When And Just Like That… debuts, fans of the original series will see Carrie, Miranda, and Charlotte navigating a world that is much different than the one we last saw them in 17 years ago, and this is something the sequel plans to address. Speaking with Vanity Fair in January 2021, Sarah Jessica Parker revealed that the show will see the central characters wondering about their place in the world, stating:
Later in the interview, Sarah Jessica Parker, who may or may not appear in Hocus Pocus 2, also noted that And Just Like That… will touch on COVID-19 in some manner, considering the show is set in New York, which was, at one point, the epicenter of the pandemic, at least in the United States.
Like The Cast, The And Just Like That Writing Staff Is Mostly All Female
Outside of showrunner Michael Patrick King, the writing staff for And Just Like That… is made up of primarily of accomplished female writers and television producers with a track record that speaks for itself. Per Variety, the writers' room for the upcoming HBO Max original will feature comedian and author Samantha Irby, writer Rachna Fruchbom (Fresh Off the Boat), producer Keli Goff (Reversing Roe), as well as Sex and the City writers and producers Julie Rottenberg and Elisa Zuritsky.
The idea of having an all-women or mostly female writers' room has become more prevalent in recent years with shows like rapper-turned-actress Awkwafina's Comedy Central series Nora from Queens being written exclusively by a female writing staff, according to Huff Post.
Production On And Just Like That Is Set to Get Underway In Spring 2021
There is no word on when And Just Like That… will premiere on HBO Max, but when the show was announced earlier this year, the streaming service revealed that cameras will start rolling on the next chapter in the story of Carrie Bradshaw, Miranda Hobbs, and Charlotte York Goldenblatt (and the city of New York, for that matter) at some point in late spring 2021. If that shooting window sticks, we could see the continuation of Sex and the City in late 2021 or early 2022.
There Is Already A Teaser Trailer For And Just Like That…
Just one day prior to the And Just Like That… reveal, Sarah Jessica Parker took to Instagram to tease the upcoming series with a short teaser trailer. Cutting between short bursts of a very-much alive and vibrant New York City and a closeup of someone typing "And just like that" and "The story continues…" the brief video helped capture the feeling of the city and the show without sharing a single detail about what's to come, the way in which a teaser trailer works best.
There are still a lot of unknowns about And Just Like That… which will, hopefully, be worked out before cameras start rolling later this year. On the other hand, some things, like if a certain character with a rather iconic name will return, may be left for viewers to find out once the show lands on HBO Max in the near future.
Philip grew up in Louisiana (not New Orleans) before moving to St. Louis after graduating from Louisiana State University-Shreveport. When he's not writing about movies or television, Philip can be found being chased by his three kids, telling his dogs to stop yelling at the mailman, or yelling about professional wrestling to his wife. If the stars properly align, he will talk about For Love Of The Game being the best baseball movie of all time.
Your Daily Blend of Entertainment News
Thank you for signing up to CinemaBlend. You will receive a verification email shortly.
There was a problem. Please refresh the page and try again.