Musical Guest Phoebe Bridgers Claps Back After SNL Guitar Smash Backlash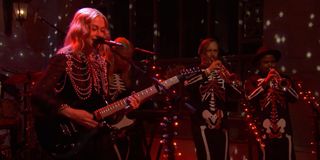 Rock stars and pop musicians have been appearing on Saturday Night Live since its inception. The musical guest spot is a coveted appearance on the late night sketch show and allows performers to play in front of millions of eyeballs. However, the most recent artist to play a set on the show recently found herself at the forefront of some online backlash. The criticism comes after last week's episode, when Phoebe Bridgers smashed her guitar after playing "I Know The End" from her latest album, Punisher.
The singer-songwriter has since responded to some of the harsh words she's received online, even calling out veterans of the music industry after comments appeared online about her guitar smash:
In response to the criticism from David Crosby and others the Grammy-nominated artist has taken to Instagram, noting that she will be taking all of the feedback into consideration for her next performance:
It should be noted that this wasn't the only time David Crosby commented on the guitar smash. In fact, the Rock and Roll Hall of Fame inductee has been vocal about his displeasure with Phoebe Bridgers' set and the move to smash her guitar. Shortly after Saturday Night Live aired, he tweeted that guitars are meant for music rather than "bashing":
The veteran musician wasn't the only one who took to twitter to discuss his problems with the electric set, as some viewers were similarly confused by the move:
However, there have been a number of other others who have shown support for the dramatic display, even calling for a return to scarier, more intense rock music:
Personally, I think her performance rules. There's nothing wrong with adding some badass drama to a live performance. Phoebe Bridgers was even courteous enough to ask Danelectro, the company that made her guitar, if it was OK to destroy the instrument on television. Their response? Best of luck, Danelectro guitars are reportedly difficult to break.
The latest episode also featured Schitt's Creek star Dan Levy as host. He made headlines with a Zillow skit that also grabbed the attention of the internet, but in a more positive light. While it's no surprise there is some drama around any episode of SNL, it's rare to see such a negative reaction to a musical guest performance.
Saturday Night Live is currently airing its 46th season, making it one of the longest-running television shows of all time. After taking a break due to COVID-19 in December of 2020, the show is back with a number of special guests including Oscar-winner Regina King, who is scheduled to host next week's episode.
As for the controversial guitar smash by Phoebe Bridgers, I'm curious to see what you all think. Was it too much? Or was the move a badass homage that perfectly spiced up the show?
This poll is no longer available.
Into tracksuits by Paulie Walnuts, the Criterion Channel and Robert Eggers.
Your Daily Blend of Entertainment News
Thank you for signing up to CinemaBlend. You will receive a verification email shortly.
There was a problem. Please refresh the page and try again.