Star Wars: The Bad Batch, Turner And Hooch And More Disney+ Shows Finally Get Premiere Dates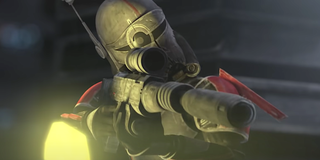 While Marvel's mind-blowing psycho-drama WandaVision may be ending in early March, Disney+ definitely still has a ton of original content on the way that will keep audiences busy and entertained throughout the summer. While we already knew that March's two marquee shows would be the MCU's The Falcon and the Winter Soldier and the family-friendly sequel series The Mighty Ducks: Game Changers, but now the streaming service has announced most of the big premieres from April through July, including Star Wars: The Bad Batch, Loki, the Turner & Hooch continuation and more!
Let's break down all the newly revealed release dates in sequential order, starting off with the next big TV show for Full House and You vet John Stamos.
Big Shot - April 16
With Fuller House having ended on Netflix in 2020, John Stamos set up his next return to streaming television with the Disney+ family comedy Big Shot. In it, Stamos plays an ousted NCAA basketball coach who heads into completely unfamiliar territory as a coach at an all-girls high school, where he'll learn how to connect with his team not just as players, but as people. (I'm hoping for a "don't touch the hair" joke within the first three minutes.) After facing several COVID-related delays, Big Shot will debut on Disney+ on Friday, April 16.
Star Wars: The Bad Batch - May 4
As Star Wars fans await the next entry in the live-action universe, The Book of Boba Fett, we can now get ready to see the official follow-up to The Clone Wars in Star Wars: The Bad Batch. With Dee Bradley Baker and Ming-Na Wen as two of the leads, the animated series will be a more action-oriented series than previous Star Wars 'toons, and fans can look forward to the mayhem kicking off on the most relevant day possible: Tuesday, May 4, also known as Star Wars Day. After that, The Bad Batch will be shifting over to Friday mornings for the remainder of the season.
High School Musical: The Musical: The Series Season 2 - May 14
Boasting one of the most amusing titles in all of television, High School Musical: The Musical: The Series will return to Disney+ for more...musical...high school...series-ness...on Friday, May 14. Get ready to watch East High's Wildcats taking on their rivals at North High, and note that the season will feature some brand new solos crafted by stars Olivia Rodrigo and Joshua Bassett.
Loki - June 11
Once The Falcon and the Winter Soldier is completed, Disney+ will be shifting its Marvel focus back to more villainous waters with Tom Hiddleston's time-shifting Loki. Kevin Feige & Co. are keeping details close to the vest for Loki, save for the notion that it takes place post-Endgame, but we now know that the morally wavering character will return to audiences on Friday, June 11, and with Owen Wilson joining the fun for his first big TV role.
Zenimation Season 2 - June 11
Balancing the madcap mayhem of Loki and The Bad Batch, Disney+ will be unleashing the second season of what is arguably TV's most calming series, Zenimation, which showcases dialogue-free and visually splendid moments from its 80-year history, from Snow White and the Seven Dwarfs to the recent release Raya and the Last Dragon. Season 2 of Zenimation will drop its first episode on Friday, June 11.
The Mysterious Benedict Society - June 25
One of Disney+'s only upcoming releases that isn't tied to some other project from the company's legacy works, The Mysterious Benedict Society is instead based on the best-selling YA novel of the same name, and stars such awesome stars as Arrested Development's Tony Hale, Bob's Burgers' Kristen Schaal, The Walking Dead's Ryan Hurst and more. The boarding school's nefarious plotting will start up on Friday, June 25.
Monsters At Work - July 2
A project that hasn't seen much coverage since it was first announced as part of Disney+'s unveiling, the Monsters Inc. follow-up Monsters at Work will bring Billy Crystal's Mike Wazowski and John Goodman's Sully Sullivan back to audiences for a series that will follow the story of Tylor Tuskmon (voiced by Superstore's Ben Feldman) as he enters the workforce at Monsters, Incorporated. Fan can check out all the monsterriffic fun on Friday, July 2.
Turner & Hooch - July 16
The follow-up to the well-received 1989 caper of the same name, Disney+'s Turner & Hooch will follow established Disney star Josh Peck as U.S. Marshal Scott Turner, the son of Tom Hanks' character in the film. (Also worth noting is that five different French Mastiff dogs were used to play Hooch.) Fans can check out the show, which also stars The Arrangement's Carra Patterson, when it makes its streaming debut on Friday, July 16.
Chip 'N' Dale: Park Life - July 23
Similar to how the core Mickey Mouse characters have been revitalized in short-form for The Wonderful World of Mickey Mouse (and its Mickey Mouse predecessor), Disney is giving its troublemaking chipmunks time to shine in their own standalone series. To be expected, fans can expect to see a slew of other Disney characters joining the fun when Chip 'N' Dale: Park Life debuts on Disney+ on Friday, July 23.
As it was made clear already, Disney+ (opens in new tab) is all set to keep subscribers entertained throughout the upcoming months, with Marvel, Star Wars and classic Disney characters mixing it up with authoritative dogs, friendly monsters and mystery-solving orphans throughout the next five months. Let us know in the comments below which projects you're most excited to see!