Gwen Stefani Took A Break From Being Blonde, See Her New Look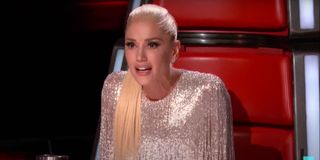 (Image credit: The Voice)
Hair is often the signature of a celebrity and, when they change it up, fans and spectators alike are left shocked and flabbergasted that they would even do such a thing. Have no fear though, singer Gwen Stefani is only taking a short break from her iconic platinum blonde hair.
The Grammy-winning songstress and former The Voice judge Gwen Stefani posted a new look on Instagram of herself sporting a sharply cropped, jet black wig. The dramatic look is a stark departure from her sleek platinum blonde style that many attempted to emulate in the early aughts. Take a look:
Any fan of No Doubt could tell you they'd be able to pick Gwen Stefani in a police lineup by the hair alone. Yet Stefani is practically unrecognizable in the post.
Perhaps Gwen Stefani is slowly preparing the fans for a more permanent change to her signature look. The black hair color was seen again on Stefani's Instagram on Friday, only this time with the ends of her blonde hair saturated in jet black. It is a shocking Cruella de Vil-inspired turn for Stefani.
Permanently changing her blonde look, though, could be potentially disastrous for Gwen Stefani. I'm thinking of Keri Russell post-Felicity or Robert Pattinson post-Twilight – you had to be there to understand the depth of fan appreciation gone completely left. As a teen, I myself wept literal tears when Pattinson cut his signature hairstyle.
Then again, Gwen Stefani isn't dealing with die-hard teen fans (for the most part). She has grown from the spunky lead singer of No Doubt to the magnetic solo artist that forays into different genres on the drop of a dime. Last year, she returned as judge for Season 19 of The Voice, with future husband Blake Shelton, to much fanfare.
The reaction online to her hair color seems to be mostly positive, regardless. One fan wrote, "Love that funky two toned stuff w your hair??" Another said, "Gwen reinvents fresh again!"
Gwen Stefani captioned her post with an allusion to an "upcoming fifth album" from the pop singer. But fans would like to know when, exactly. Stefani hasn't released a solo album since 2017's "You Make It Feel Like Christmas." When asked last month when the release date will be for the new album, Stefani said on The TODAY Show:
Likely, Gwen Stefani is just having fun experimenting with a new color. Any woman, and the general public still following quarantine rules, will understand this.
Movies and TV News Writer
Freelance writer. Favs: film history, reality TV, astronomy, French fries.
Your Daily Blend of Entertainment News
Thank you for signing up to CinemaBlend. You will receive a verification email shortly.
There was a problem. Please refresh the page and try again.