Mayim Bialik Shares Heartfelt Post About Call Me Kat Co-Star Cheyenne Jackson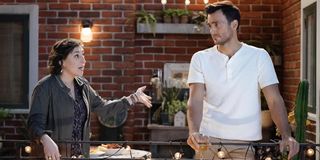 Mayim Bialik is a low-key TV superstar. Most people will know the actress as Amy Fowler, the brainiac partner of Jim Parsons' equally over-smart Sheldon Cooper on CBS's The Big Bang Theory, but those who grew up with that show might not be as familiar with her TV work back in the '90s as the young lead of her own NBC sitcom, Blossom. With The Big Bang Theory having concluded in 2020, the former child star is back on our screens heading up the (relatively) new comedy Call Me Kat, and it looks like she developed the truest of friendships with her co-star Cheyenne Jackson.
Mayim Bialik is in a great place right now, going from the huge success of Big Bang Theory to head up her own network show. Even though it must have been a blow to not film around the cast and crew she had been with for almost a decade, her new co-stars are apparently making great impressions, too. Bialik recently posted a photo of herself and co-star Cheyenne Jackson on Instagram accompanied by a very adoring caption about the American Horror Story regular. Here's the heartfelt caption in Bialik's own words:
Those are very high praises for anyone, but are somehow more meaningful coming from Bialik, who has played strong and confident characters who still nonetheless struggle with who they are as women throughout her career. Her current titular role in Call Me Kat is also centering around a woman who use money gifted to her for a wedding (that never happened) to follow her own dreams instead. This compliment may also hit hard for Cheyenne Jackson, as he is currently raising his twin children with his husband, and Bialik's words could be taken as a hopeful reminder that Jackson will do right by his son and daughter in the same way.
Fans are loving this pair's close-knit relationship, too, as comments on Mayim Bialik's post are full of support and adoration for both her and Cheyenne Jackson. There are also confused fans questioning whether the post comes from a more romantic place, but it's pretty essential to note that Jackson is both gay and married. He and Bialik are merely close friends in the real world, despite what is or isn't happening with their TV characters.
You can see the post below, which got a reply from Cheyenne Jackson that simply said, "I got you, Babe".
Also co-starring the great Leslie Jordan and the equally great Swoozie Kurtz, Call Me Kat premiered back in January and the first season is still going strong on Fox on Thursday nights at 9/8c. While its potential future on the network is not yet confirmed, the show's popularity makes a second season possible, and the love shared by the cast makes it even more likely we'll see the pair back on screen together again.
Your Daily Blend of Entertainment News
Thank you for signing up to CinemaBlend. You will receive a verification email shortly.
There was a problem. Please refresh the page and try again.