WandaVision's Teyonah Parris Explains Why Monica Rambeau Will Go So Far And Even 'Risk Her Body' To Save Wanda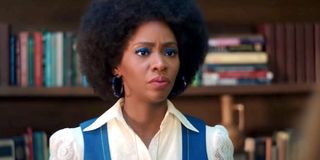 This story absolutely contains WandaVision Episode 7 spoilers, so don't say we didn't warn ya!
Marvel's WandaVision has been stirring up some static since its Disney+ premiere back in mid-January. While we've gotten some answers from the perplexing series, each new episode seems to trigger even more questions. Marvel fans are used to seeing the series' two titular Avengers in hero roles in the MCU's Phase Three, but WandaVision puts a twist on the characters we know and introduces a different kind of hero in Teyonah Parris' Monica Rambeau, a S.W.O.R.D agent freshly returned to work after being a victim of Infinity War's blip. Parris recently spoke with CinemaBlend and explained why her character is willing to go so far and "risk her body" in order to save Wanda in WandaVision.
A lot happened during The Great Blip, and when Monica Rambeau rematerialized in the hospital looking for her ill mother, she was faced with the reality that not only was she robbed of five Earth years, but also memories from her mother's last years on Earth, as her mom perished while she was not around. In an interview with CinemaBlend's Erik Swann, Teyonah Parris says her character's compassion toward Wanda comes from the fact that she's dealing with her own grief about her mother's death. In the actress' own words:
The situation Monica Rambeau is presented with in WandaVision is unprecedented. Since she is newly back to work, the easy path would be to stand with her superior in choosing how to deal with Wanda. Instead, she chooses to make waves and advocate for Wanda, even after her stand gets her thrown off the base. Teyonah Parris sees Wanda's antics for what they are: a trauma response.
Monica feels for Wanda, because much like Monica lost her mother, Wanda lost her love. In the same interview, Teyonah Parris also elaborated that Monica just wants to help Wanda through the grief and trauma that she recognizes the Avenger to be going through.
In order to help Wanda, Monica had to go through the mind control wall Wanda is putting up around Westview. The ever-helpful Darcy discovered that this will cause Monica's DNA to alter even more than it already has, having already been pulled through the wall once and then pushed out again. Even though there was no telling what another journey through Wanda's bodysnatcher forcefield will do to Monica, she was willing to do it in order to help Wanda in her time of grieving.
Teyonah Parris' Monica Rambeau may just be getting superpowers after heading through the wall a third time, but we'll have to wait and see where that particular storyline is heading. Meanwhile, her compassion for Wanda and willingness to risk her career and the unknown effects of her body to aid a fellow woman in distress, gives Captain America's golden boy status a run for his money. You can catch more of Teyonah Parris' character Fridays on Disney+ (opens in new tab). There may only be two more episodes to go, but we are sure WandaVision won't be the last we see of Monica Rambeau.
Constantly thinking about books, coffee, and the existential dread I feel from Bo Burnham's Inside. While writing I'm also raising a chaotic toddler, who may or may not have picked up personality traits from watching one too many episodes of Trailer Park Boys.
Your Daily Blend of Entertainment News
Thank you for signing up to CinemaBlend. You will receive a verification email shortly.
There was a problem. Please refresh the page and try again.