WandaVision: White Vision, Quicksilver's Potential Future And 6 Other Details The Cast And Crew Have Opened Up About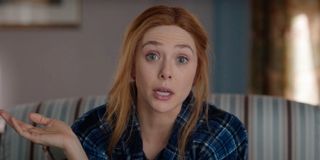 WARNING: The following article is chock full of WandaVision SPOILERS, so please stand by if you are not caught up.
The weeks leading up to the WandaVision Season 1 finale were one hell of a ride. By releasing one chapter per week after its two-episode premiere, the inventive sci-fi/comedy hybrid became the latest Disney+ exclusive to bring the water cooler moment back, giving audiences the time to formulate theories suggesting what was going happen or who would make an appearance next. However, even the most clever Marvel fans could not anticipate Quicksilver returning in the form Evan Peters (or so we thought, that is).
Of course, that was not the only puzzling, exciting, or infectiously funny moment from the series, including the WandaVision ending, that broke the internet for better or for worse. Luckily, stars Elizabeth Olsen and Paul Bettany and others behind the scenes have since spoken up about some of those details and how the upcoming Marvel movies could be affected by them. The following eight of the most revealing, teasing, or even simply amusing responses of the like, starting with one of the show's most polarizing moments.
WandaVision's Creator On Evan Peters' Quicksilver Fake-out
As previously mentioned, seeing the late Pietro Maximoff re-enter the MCU with the X-Men movies' Quicksilver actor Evan Peters in the role was a shocker on par with J.R. Ewing's shooting on Dallas. Learning the character was just another Westview citizen with a suggestively silly name was a disappointment on par with the Game of Thrones finale in the eyes of those hoping it was a sign of something bigger. When speaking about this -- and many other instances of invalid fan theories about the show -- on the Comic Book Central podcast, WandaVision creator Jac Schaeffer had this to say:
In addition to offering eager comic book fans an endearing sentiment in patience, Jac Schaeffer seems to imply that Evan Peters' role in the Marvel Cinematic Universe may not be over just yet. I cannot think of a more profound example of wishful thinking.
Jac Schaeffer Shoots Down WandaVision Fans' Fantastic Four Theories
Speaking of patience, fans are still waiting for a sign of when the Fantastic Four are expected to join the Marvel Cinematic Universe. Many thought that moment came when Monica Rambeau (Teyonah Parris) mentioned an aerospace engineer, prompting speculation of a cameo by Reed Richards on WandaVision. Jac Schaeffer would address this additional fan theory and explain the intention behind that mystery character's true identity to The Daily Princetonian in the following interview excerpt:
Well, you can certainly cannot blame the showrunner for wanting to add a personal touch to a comic book adaptation. Besides, Marvel's Fantastic Four reboot was officially announced fairly recently, so expecting Mister Fantastic to show up on WandaVision was a bit of a stretch anyway. Pun intended.
WandaVision's Commercial Actors Identified By Director Matt Shakman
While they never seemed to tease (or mislead) fans of any potential cameos or future MCU storylines, it was fun to keep an eye out for Easter Eggs in the bizarre commercial breaks featured in WandaVision. However, viewers were curious about who the stars of those fake ads (Ithamar Enriquez and Victoria Blade) were meant to be. Director Matt Shakman weighed in:
Well, there ya have it, folks. Another mysterious role once thought to be a comic book character debut revealed to be no more than average human being fallen prey to Wanda's Hex. But, hey, at least a few of our suspicions were proven to be right.
WandaVision Director Reveals How Agatha Harkness Found The Hex
It did not take too long, even before WandaVision premiered, for Marvel fans to figure out that Kathryn Hahn's nosy sitcom neighbor role, Agnes, was really Agatha Harkness - a magical mentor to Wanda Maximoff in the comics. What did leave some viewers scratching their heads is how this ruthless witch was able to locate Westview and invite herself in. Fortunately, this is another answer that Matt Shakman was able to provide:
I suppose that just goes to show that whether you are a good witch or a bad witch, the connection between magic wielders is not to be taken lightly. Say, speaking of which...
Elizabeth Olsen Weighs In On WandaVision's Connection To Doctor Strange 2
Marvel fans did not have to theorize what future MCU installments WandaVision would lead into as Elizabeth Olsen's casting in Sam Raimi's Doctor Strange in the Multiverse of Madness had been announced long before the premiere. Yet, with no sighting of Benedict Cumberbatch as the Sorcerer Supreme (which fans also suspected might happen), the Disney+ series' ties to the upcoming movie were still left unclear. Yet, Olsen was kind enough to provide as much insight into how she approached that connection as she may have been allowed:
Honestly, when it comes to managing the overall narrative of a shared cinematic universe, I would say the Elizabeth Olsen and company had the right approach. It is best not to be too overly concerned about the next chapter in the story and focus on the one you are currently working on.
Paul Bettany Admits WandaVision Cameo Tease Was Really White Vision
Speaking of concerns over the following chapter, l will get to wherever the hell White Vision is in a second. However, first we have to talk about Paul Bettany's sly way of teasing his evil twin as "an actor I've longed to work with all of my life." On Good Morning America, the British, titular co-lead of WandaVision reflected on how it felt to trolls his fans like that:
In Paul Bettany's defense, I think every actor has been curious what it would be like to work with themselves and out of his glee for WandaVision allowing that opportunity, he wanted to have a little fun with it. The question now is what opportunities will White Vision be given in the MCU.
White Vision's Unanswered Whereabouts Explained By WandaVision Creator
One person who is not as concerned as others may be about where White Vision may show up next is Jac Schaeffer. The head writer for WandaVision had this to say about why the new synthezoid flew out of the Hex without revealing his fate in the finale:
Well, I don't believe we could have thought of a more satisfying answer to that question for the time being. Not that we haven't tried, though.
"Agatha All Along" Writers Actually Dig WandaVision Fan Remixes
Now, if you really want to talk about cultural phenomenon's when it comes to WandaVision, nothing was a bigger sensation on the internet than the theme song for Kathryn Hahn's character titled "Agatha All Along." The surprise hit was the work of Grammy and Oscar-winning writers Robert Lopez and Kristen Anderson-Lopez, the latter of which told The New York Times her opinion of how fans have put their own spin on the track:
The musician's husband and co-writer on "Let It Go" for Disney's Frozen also chimed in with his pick for a favorite "Agatha All Along" remix:
Even if a funny theme song is one of the few things most fans could agree on over WandaVision, it is at least nice to see that something from this otherwise acclaimed and unique game changer of a show could keep the internet satisfied. Not to mention, there is still plenty of Marvel-based content coming to Disney+ to go crazy over.
Jason has been writing since he was able to pick up a washable marker, with which he wrote his debut illustrated children's story, later transitioning to a short-lived comic book series and (very) amateur filmmaking before finally settling on pursuing a career in writing about movies in lieu of making them. Look for his name in just about any article related to Batman.
Your Daily Blend of Entertainment News
Thank you for signing up to CinemaBlend. You will receive a verification email shortly.
There was a problem. Please refresh the page and try again.