Marvel Fans Get #SaveQuicksilver Trending With Lots Of Love For Evan Peters And Aaron Taylor-Johnson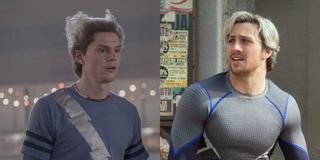 Pietro Maximoff – a.k.a. Quicksilver – hasn't had much of a presence in the MCU since his quick death in Avengers: Age of Ultron back in 2015, but the debut of WandaVision on Disney+ centered on twin sister Wanda guaranteed that speculation would restart that he could return. After all, Avengers: Endgame brought time travel into the mix, and the already-announced Doctor Strange in the Multiverse of Madness opens the MCU up to get weirder than ever. Now, after WandaVision seemingly delivered and then took back a Quicksilver appearance, Marvel fans have gotten #SaveQuicksilver trending on Twitter.
WandaVision seemingly brought a version of Quicksilver back to the MCU in the fifth episode after name-dropping Pietro in the third episode, but not the Age of Ultron Quicksilver played by Aaron Taylor-Johnson. It was Evan Peters, known for playing Quicksilver in X-Men: Days Of Future Past, X-Men: Apocalypse, and Dark Phoenix that all took place outside of the MCU, who turned up on Wanda's doorstep. Peters' arrival immediately set viewers speculating that some kind of merge was happening that would open the Marvel Cinematic Universe doors to X-Men movie characters.
Unfortunate for those viewers, the WandaVision finale turned Evan Peters' character in the show into a punchline with the reveal that he's actually a guy named Ralph Bohner – yes, pronounced "boner" – who was controlled by Agatha and given powers due to a magic necklace. WandaVision didn't deliver a Quicksilver played by either Peters or Aaron Taylor-Johnson. That hasn't stopped fans from celebrating both actors who brought the character to the big screen before WandaVision, however, as was made clear on Twitter! Take a look:
Despite Evan Peters being the most recent actor to play Quicksilver and originally seeming to play Peter Maximoff (rather than the MCU's Pietro) on WandaVision, both actors got a lot of love on social media. Aaron Taylor-Johnson may not have played Quicksilver for long, but he definitely hasn't been forgotten.
These were two very different versions of Quicksilver (so far as anybody could tell from the MCU's quickly-killed Quicksilver), but they did have a shortage of screentime in the MCU in common! Even if Evan Peters was technically never playing Wanda's brother on WandaVision and was playing Ralph playing Peter, his appearance was a glimpse of what could have been.
Despite the MCU not actually wasting a second chance on Quicksilver thanks to the out of Evan Peters playing a guy named Ralph, some viewers are definitely of the opinion that the character has been ruined. I can't help but think that reducing Peters on WandaVision to a boner joke is a big part of why MCU fans aren't actually fans of that reveal to the point of thinking that the MCU has ruined Quicksilver.
The "we're not gonna take it" comment shows an admirable spirit from this particular person on Twitter, but I'm not sure that there's really anything to be done that could bring him back if Quicksilver's return (played by either Aaron Taylor-Johnson or Evan Peters) isn't already in the cards.
The hopeful news is that a movie including "Multiverse of Madness" in the title seems like a pretty solid possibility for some retcons to bring back a version of a the character. Whether than's Ralph Bohner, Peter Maximoff from the X-Men movies, or Pietro Maximoff from Age of Ultron, not much can be definitively ruled out about the Doctor Strange sequel at this point. I mean, the presence of the Darkhold may hint that Wanda's kids could come back, so why not a version of her brother?
Unfortunately, Doctor Strange in the Multiverse of Madness (featuring Elizabeth Olsen as Wanda) isn't expected to premiere until 2022. While there are a number of other MCU projects slated to debut on the big screen and small screen (with The Falcon and the Winter Soldier and Loki next up on Disney+ (opens in new tab)), I don't think any of them ahead of Multiverse of Madness are likely windows for the return of Quicksilver, aside from perhaps post-credits sequences. Still, why not hope? Nobody could have seen the Ralph Bohner reveal happening, so not much is impossible when it comes to the MCU.
Laura turned a lifelong love of television into a valid reason to write and think about TV on a daily basis. She's not a doctor, lawyer, or detective, but watches a lot of them in primetime. Resident of One Chicago, the galaxy far, far away, and Northeast Ohio. Will not time travel, but will sneak references to The X-Files into daily conversation.
Your Daily Blend of Entertainment News
Thank you for signing up to CinemaBlend. You will receive a verification email shortly.
There was a problem. Please refresh the page and try again.