Who Is WandaVision's Mysterious Aerospace Engineer? We Have 4 Guesses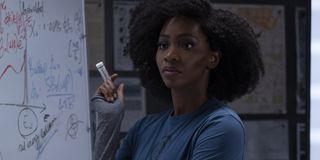 WandaVision currently has a significant number of big questions floating around as the show gets set to wrap up its run of episodes in the next few weeks, but one in particular that has made fans antsy and excited is the mystery surrounding the unnamed aerospace engineer. The character was first brought up by Monica Rambeau in Episode 5 a.k.a. "On A Very Special Episode," noted to be a friend who could help with the whole hex situation, and the end of the latest chapter, "All-New Halloween Spooktacular!" saw Monica and Jimmy Woo hit the road to meet with them. But who exactly is this shadowy scientist, and what could it mean for the future of the Marvel Cinematic Universe?
Truth be told, speculation isn't exactly easy in this case, largely because there is such a massive lack of information. The only thing we actually know about the aerospace engineer is that he or she is an aerospace engineer. That being said, between Marvel Comics being chock full of scientist characters, and our knowledge of what's happening in the future of the Hollywood franchise, there are a few names that stick out more than others. We can't really be sure of anything, but if we're tossing out guesses, these are our four best regarding WandaVision's surely soon-to-be-revealed mystery player.
Riri Williams
In the next few years, Riri Williams is set to become a Marvel Cinematic Universe star. It was announced during the 2020 Disney Investor Day not only that the character will soon be getting her very own Disney+ series (Ironheart), but also that the role has been cast – with Dominique Thorne of If Beale Street Could Talk and Judas And The Black Messiah fame landing the part. Keeping this in mind, we wonder if the young genius introduced to Marvel Comics in 2016 might be getting set to make her live-action debut in WandaVision.
As a young girl who winds up building her very own Iron Man suit while a student at the Massachusetts Institute of Technology, Riri Williams definitely has the brains and engineering skills to fit the bill in this speculation arena, and having her appear in WandaVision could explain why Marvel Studios moved to cast Dominique Thorne in the part before her solo Disney+ show has a showrunner/director attached. It also makes a degree of sense that Monica Rambeau would not immediately tell Jimmy Woo that Riri is her contact, as he might end up being wary to trust the young genius about the escalating situation with Scarlet Witch.
Abigail Brand
One of the most significant contributions that WandaVision has made to the Marvel Cinematic Universe is the establishment of S.W.O.R.D. – the Sentient Weapon Observation Response Division that was founded by Monica Rambeau's mother Maria Rambeau. We've met some key players thus far (including Acting Director Tyler Hayward), and the end credits of Spider-Man: Far From Home have suggested that both Nick Fury and Talos are involved in the organization, but one particular name not yet brought up is Abigail Brand. In the comics, Brand is actually the commanding officer of the intelligence agency, and while she doesn't actually have a scientist background, that's something that one could see this version of the canon change to better suit the story that's being told in the Disney+ series (especially given that S.W.O.R.D. apparently doesn't have a permanent leader in place in the wake of Avengers: Endgame.
Abigail Brand perhaps wouldn't be the most mind-blowing addition to WandaVision, as she is hardly a character with whom non-comic fans are familiar, but if the show casts the right big name in the part her arrival could be an awesome game-changer.
Adam Brashear a.k.a. Blue Marvel
Another angle with which to view this aerospace engineer mystery is through the perception of Monica Rambeau – specifically her history in Marvel Comics. Who is a character with a close relationship with her, who also happens to fit the bill when it comes to education and background? One name that seems to fit the bill is Adam Brashear, also known as the matter manipulating hero Blue Marvel.
Adam Brashear's history in Marvel Comics only goes back a little over a decade, but in that time he has been established as being a genius engineer/physicist, and he has developed close ties to Monica Rambeau – fighting alongside her as a member of the Ultimates and Mighty Avengers, and even at one point using his powers to save her life. Like with Abigail Brand, he's not a big enough character that his reveal will blow fans away in WandaVision, but it would definitely be exciting to see him played by a big star who landed the part in secret.
Reed Richards
Finally we have the longest of the long shots. We now know for a fact that we are only a few years removed from the release of a brand new Fantastic Four movie, with MCU Spider-Man director Jon Watts set to take the helm, but there has been a lot of speculation among WandaVision regarding the possibility that we could see one the key members of Marvel's First Family make his debut on Disney+: Reed Richards. One certainly could call Mr. Fantastic an aerospace engineer, as he is a genius in several scientific fields, and there is no question that someone with his intellect would be able to provide insight into what's going on with Scarlet Witch. All that being said, the actual possibility of it happening seems ultra slim.
For starters, the chances of Marvel Studios being able to sign a multi-picture contract with an actor for a role as big as Reed Richards without any leaks seems like it would basically be impossible. Secondly, pulling off such a move would probably mean introducing the character prior to him getting his superpowers – and does anyone really believe that the Marvel Cinematic Universe is going to bother doing a third big screen origin story for the Fantastic Four? At this point in time we can't totally rule Richards out as a possibility, but it's certainly not an answer to this mystery that fans should expect.
Do you think it could be Riri Williams, Abigail Brand, Adam Brashear, or Reed Richards? Do you think it could be someone totally different? Speculation is only going to continue to flow in the next few days, but there is very real hope that audiences will have an answer at the end of the week. The next chapter of WandaVision, which will be the seventh of nine, will be launching on Disney+ this Friday at midnight PST/3:00am EST.
This poll is no longer available.
Your Daily Blend of Entertainment News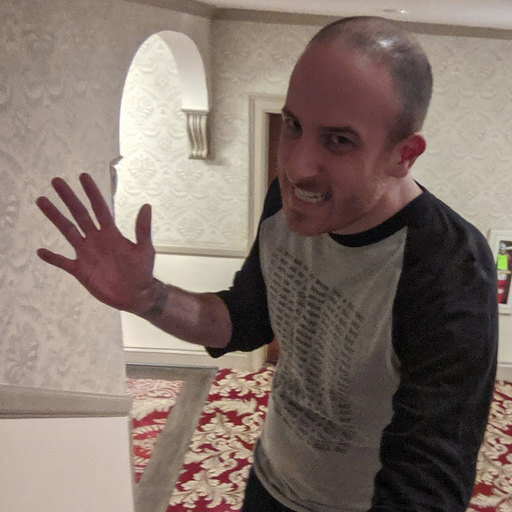 Assistant Managing Editor
NJ native who calls LA home and lives in a Dreamatorium. A decade-plus CinemaBlend veteran who is endlessly enthusiastic about the career he's dreamt of since seventh grade.