What Superstore's Surprise Return Reveals About The Series Finale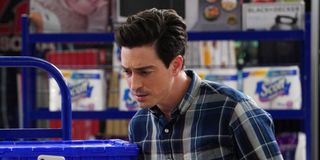 Spoilers ahead for Episode 13 of Superstore's final season, called "Lowell Anderson."
Superstore felt more or less like it was business as usual for much of "Lowell Anderson," as the Cloud 9 staff had to deal with the arrival of the founder's son who wasn't quite as brilliant (or balanced) as Glenn originally thought, while Jonah teamed up with Sandra to try and spy on Amy via social media. The twist that made this episode truly feel like the beginning of the end with the finale a week away came when Lowell dropped the bombshell that Zephra is planning to close all Cloud 9 stores and Cheyenne called Amy for an assist, with America Ferrera unexpectedly returning for the first time since the second episode of the season.
News had already broken that America Ferrera would reprise her role as Amy for the series finale, and it would have been downright strange if Superstore ended without bringing her back at least one last time, but her appearance in "Lowell Anderson" was definitely not announced. Unfortunately, she didn't reappear for a happy reason, but because Cheyenne called to check whether or not their Cloud 9 was on the verge of closing. Let's break down what her return and the end of the episode reveal about next week's series finale.
Cloud 9 Is In Danger
It's pretty clear that even though Lowell Anderson was enough of an oddball – or "bonkers," to quote Cheyenne – to eat a can of dog food because Glenn told him to and make a whole lot of very obviously ill-advised changes to the store, he has inside info when it comes to Zephra preparing to take action about Cloud 9. Lowell clearly said "before Zephra shuts them all down" when talking about visiting the Quincy Cloud 9, and not "before Zephra shuts SOME of them down," which seemingly doesn't bode well for Superstore ending with just some zany shenanigans.
Amy Doesn't Know What Zephra Is Planning
Cheyenne took Amy up on her offer to call if she ever needed anything (and I for one would have loved to see a conversation of Cheyenne telling Amy that she was the new floor supervisor), looking for inside info on whether their Cloud 9 is really closing. This brought America Ferrera back for her surprise appearance, but also revealed that Amy didn't know what Zephra was planning for the Cloud 9 stores. Although she promised to see what she could find out, it might not be a sign that Amy could come to the rescue if she's not even in on the plans at Zephra.
Amy Is Still All About Family
Jonah and Sandra's social media stalking of Amy throughout the episode proved that she took Emma and Parker on a trip as a family, and not with a new man in her life. When Cheyenne called Amy up at the end of the episode, she was doing dishes. She still seems to be the Amy who was such a big part of the Superstore appeal for the first five seasons, which explains why she returns to Cloud 9 in St. Louis in the finale, as already revealed via a promo image:
Back in the vest (for some reason) and everything! A big question (other than what name Amy will choose for her return to the blue Cloud 9 vest) is what Amy's return will mean for Jonah. He made it clear in this episode that things are "good" with Hannah, even if he was pretty invested in finding out if Amy had moved on to a new guy, and their breakup was pretty heartbreaking for Jonah. Will Amy's return relight the sparks, or give Jonah the closure he needs to fully move on?
Amy is still based in California, so that's an obvious obstacle to their future unless Jonah is willing to give moving a try again despite getting burned the last time, or Amy is willing to uproot her life again and move back to the raccoons and tornados of Superstore's version of St. Louis. Personally, I'd love to see a romantic reunion for the show's big couple, but I'm just hoping for some Jonah closure one way or the other. I love Amy, but I was Team Jonah in the breakup!
See how Superstore ends its six-season run after America Ferrera's surprise early return and the foreboding news about Zephra closing Cloud 9 stores with the one-hour series finale on Thursday, March 25 at 8 p.m. ET on NBC. The end has arguably been nigh ever since the news broke that America Ferrera was leaving the series, but her return for the last Superstore hurrah will hopefully guarantee that the show can come full circle and deliver a happy ending.
Resident of One Chicago, Bachelor Nation, and Cleveland. Has opinions about crossovers, Star Wars, and superheroes. Will not time travel.