Lisa Vanderpump Responds After A Real Housewives Star Proves She Didn't Dine-N-Dash At Her Restaurant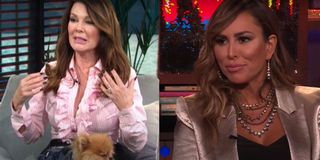 (Image credit: Access/Watch What Happens Live)
Real Housewives is the gift of drama that keeps on giving – even after hours and even if you're not necessarily part of the franchise anymore. Restaurant owner and ex-Real Housewives of Beverly Hills star Lisa Vanderpump proclaimed that a well-known Real Housewives of Orange County lady pulled a dine-n-dash at one of her restaurants. The lady in question provided receipts on Twitter that allegedly proved this was not the case, forcing Vanderpump to slightly backpedal her claims in her response.
Real Housewives of Orange County's Kelly Dodd is not one to mince words or to go quietly into the night. Following Lisa Vanderpump's claims that she "didn't pay a bill" at her PUMP restaurant, Dodd pulled out the literal receipt she got from paying, saying it was a "lie," as well as some more of her signature harsh retorts. Vanderpump responded to the incident with a very on-brand message: Check out her tweet here:
It's a tale as old as time when reality stars get in hot water over something they said while possibly drunk. The Lisa Vanderpump-Kelly Dodd face-off seems to have really heated up after this incident. Vanderpump initially laid her claims of dining and dashing against Dodd on her new E! show, Overserved with Lisa Vanderpump. She told her guests Jeff Lewis and Tori Spelling, after some cajoling, that Dodd was banned from her restaurant for the ordeal.
The Overserved gossip wasn't too shocking or scandalous, though. I mean, to viewers, dining and dashing may seem funny in the right context and, with Kelly Dodd as the context, it probably seems all the funnier. But fans of the Real Housewives can tell you that harmless, snarky comments are the most sure-fire way to set off Dodd's incredibly short fuse. Through her past arguments on Real Housewives of Orange County, she hasn't steered away from (verbally) hitting others where it hurts.
The Arizona native, who is now Kelly Leventhal after marrying Fox News correspondent Rick Leventhal, continued posting on Twitter to give more clarity to the dine-n-dash in question. She stated that the incident was six years ago and that it was actually Vicki Gunvalson and others who didn't pay the bill. Along with icily saying that it was "no wonder Villa Blanca went under," Dodd also wrote in a now-deleted tweet (via RealityBlurb):
It has been speculated that Kelly Dodd may not return to Real Housewives of Orange County following the backlash to her comments made last year, though she claims otherwise. But if she doesn't return, perhaps she can just hash it out with another ex-Housewife and get drunk on Overserved with Lisa Vanderpump.
Freelance writer. Favs: film history, reality TV, astronomy, French fries.
Your Daily Blend of Entertainment News
Thank you for signing up to CinemaBlend. You will receive a verification email shortly.
There was a problem. Please refresh the page and try again.