Selena Gomez Fans Are Not Happy With Kendall Jenner Right Now, And She Can Thank A Dress Choice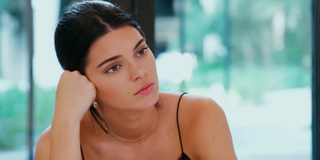 Plenty of celebrities posted Easter photos over the weekend, including Kendall Jenner. However, the model made Selena Gomez fans upset due to her choice of fashion, as it was similar to something the singer had recently worn.
Kendall Jenner dressed up for Easter Sunday, including cowboy boots and holding a chicken, and posted pictures on her Instagram. Many fans pointed out that the dress is identical to the one Selena Gomez wore in her music video for her Spanish single, "De Una Vez." While some view it as harmless and not really meaning anything except for the fact that Jenner and Gomez wore the same dress, others are not very fond of the reality star wearing the same outfit as the actress.
Most of the comments are about the fact that Kendall Jenner is wearing the same dress as Selena Gomez, and while a majority of them are positive, some are wondering why Jenner is so obsessed with the former Disney star, as Instagram user sonyakoseva asked:
With Kendall Jenner being a model and being raised differently than most, some people are constantly comparing her to other celebrities, like Selena Gomez. Though both successful for different reasons, one Insta user, deluxemor.b, commented that Jenner will never be like Gomez or as successful as her:
Kendall Jenner's Instagram post isn't the only thing receiving attention. The "De Una Vez" music video on YouTube has been flooded with comments recently about the dress, and how Jenner wore it. One user, Rose, noted that with the similar styles Selena Gomez and Jenner have, as well as that of Hailey Bieber, who has been said to dress like Gomez, the singer's style seems to be the inspiration for the fashion choices:
Some fans are simply not here for the comparisons, as they believe both Selena Gomez and Kendall Jenner can wear the dress, as it was not meant to be worn by just one person. With it being 2021, fans are tired of the degrading of successful women, especially when it comes to needlessly comparing them to other successful women. YouTube user Ara pointed this out:
The model has made it a point to spread self-love and not care about what other people think, and has been more open about what has been going on in her life, but it's a little hard to do that when you can be publicly shamed for something as simple as this. Selena Gomez has also been open about body positivity and the struggles she's been through. Although we may never understand why fans do what they do or why they feel so offended when one celebrity does something similar to another celebrity, hopefully Kendall Jenner and Selena Gomez will be friends one day, so these kinds of comparisons won't matter.
Your Daily Blend of Entertainment News
Passionate writer. Obsessed with anything and everything entertainment, specifically movies and television. Can get easily attached to fictional characters.
Your Daily Blend of Entertainment News
Thank you for signing up to CinemaBlend. You will receive a verification email shortly.
There was a problem. Please refresh the page and try again.