The Nevers Cast: Where You've Seen The HBO Actors Before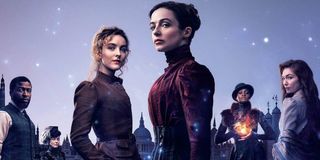 This weekend, HBO will introduce audiences to a new fantasy world with The Nevers, the latest blockbuster series created by Joss Whedon (who left the show last year). Centered around "a group of Victorian women who discover unusual abilities, relentless enemies, and a desire to change the world," as the logline notes, The Nevers will be another genre-bending TV event, particularly with the adult-friendly paid cable company constantly on the search for their next Game of Thrones. Certainly, if the show does well, The Nevers could boost the profile of its notable cast, which includes Laura Donnelly, Olivia Williams, James Norton, Tom Riley, and Nick Frost. If you're wondering why this distinguished ensemble looks familiar, we're here to help. Here's where you've seen The Nevers cast in the past.
Laura Donnelly (Amalia True)
As Amalia True, a woman who's described as "the most irresponsible, spontaneous, and psychologically broken hero of 19th-century London," Laura Donnelly is the protagonist in HBO's newest fantasy series, The Nevers. Previously, the actress earned acclaim for her Tony-nominated work in The Ferryman. Additionally, Donnelly's other TV credits include Merlin, Casualty, Hex, Sugar Rush, The Fall, Britannia, Outlander, Occupation, Beowulf: Return to the Shieldlands, and Missing. Additionally, in film, she appeared in The Program, Tolkien, Dread, Right Hand Drive, Heart of Lightness, and Hello Carter.
Olivia Williams (Lavinia Bidlow)
In the role of Lavinia Bidlow, a wealthy bachelorette and a champion of the "Touched," Olivia Williams plays a stern, old-fashioned woman in HBO's The Nevers. Previously, Williams collaborated with Joss Whedon on Fox's Dollhouse. Her other television credits include Manhattan, Counterpart, The Halcyon, Case Sensitive, Jason and the Argonauts, Friends, Spaced, and Homemade.
In film, additionally, Olivia Williams played Rosemary Cross in Rushmore, Anna Crowe in The Sixth Sense, Ruth Lang in The Ghost Writer, and Miss Stubbs in An Education. She can also be seen in Hanna, Map to the Stars, Anna Karenina, and Seventh Son. Additionally, Olivia Williams is also recognized for her work in The Postman, Peter Pan (2003), Lucky Break, and The Heart of Me. She can also be heard in Valiant and The White King. Most recently, Williams played a part in this year's Best Picture nominee, The Father.
James Norton (Hugo Swan)
Playing the part of Hugo Swan, a pansexual aristocratic young man who owns a private club, James Norton plays a charming character in HBO's The Nevers. Most notably, Norton is known for his award-nominated performance as Tommy Lee Royce in BBC One's Happy Valley. He also had main roles in Grantchester, McMafia, The Trial of Christine Keeler, Restless, War & Peace, and Doctor Who. In film, additionally, Norton played the titular role in Mr. Jones. Also, James Norton can be seen in Flatliners (2017), Mr. Turner, An Education, Rush, Little Women (2019), Northmen: A Viking Saga, Belle, and Cheerful Weather for a Wedding. Next, Norton stars in Nowhere Special and Netflix's Things Heard and Seen. Additionally, the actor will be seen in Chasing Agent Freegard.
Tom Riley (Augustus "Augie" Bidlow)
As Augustus Bidlow, i.e. "Augie," a keen ornithologist and Lavinia's brother, Tom Riley plays a sweet, disarming nerdy personality in The Nevers. Previously, the actor played Leonardo Da Vinci in Starz's Da Vinci's Demons, which he also produced. His other TV credits include Monroe, Dark Heart (which he also produced), Ill Behaviour, Lost in Austen, and The Collection. He also guest-starred in Doctor Who and Angie Tribeca.
Additionally, away from TV, Tom Riley starred in I Want Candy, Return to House on Haunted Hill, Starfish, and Happy Ever Afters. He also appeared in St. Trinian's 2: The Legend of Fritton's Gold, Kill Your Friends, A Few Days in Summer, and Ghost Light. Outside of acting, Riley produced and directed 2019's short film, The Toll House. Next, the actor will be seen in The Woman in the House.
Ann Skelly (Penance Adair)
In the role of Penance Adair, Amalia's best friend and one of the first Nevers, Ann Skelly plays a caring character who's guided by what's right and moral in HBO's The Nevers. Most notably, Skelly is acclaimed for her starring role in Kissing Candice. The actress also played a title character in Rose Plays Julie. Additionally, Skelly had main roles in Virgin Media One's soap opera, Red Rock, and BBC Two's Death and Nightingales. Her other television credits include Vikings, Rebellion, Playground, and 2017's Little Women.
Ben Chaplin (Detective Frank Mundi)
Playing the part of Detective Frank Mundi, a gruff lawman with a strong moral sense, Ben Chaplin plays an imposing, untrusting character with a reputation for sudden violence in The Nevers. Previously, Chaplin appeared in Mad Dogs, both the American and British versions. His other TV credits include Game On, The Return of the Borrowers, World Without End, Moonfleet, Press, The Letter for the King, Apple Tree Yard, and The Return of the Borrowers.
On the big screen, meanwhile, Ben Chaplin played Private Bell in The Thin Red Line, Robinson in The New World, George Coulouris in Me and Orson Welles, and Edgar Allan Poe in Twixt. His other notable film credits include Cinderella (2015), The Truth About Cats & Dogs, The Remains of the Day, and Snowden. Additionally, Chaplin is recognizable for his work in Stage Beauty, Dorian Gray, Murder by Numbers, and The Legend of Tarzan. Most recently, Chaplin played Stuart Piggott in Netflix's The Dig earlier this year.
Pip Torrens (Lord Massen)
As Lord Massen, a former military man with heavy skepticism regarding people with extraordinary powers, Pip Torrens plays an authoritative character in HBO's The Nevers. Most famously, Torrens plays Tommy Lascelles in Netflix's The Crown. The television actor also played lead roles in Canal+'s Versailles and BBC's Poldark. Additionally, Torrens played an antagonist, Herr Starr, in AMC's Preacher. His other television credits include Deep State, Patrick Melrose, Law & Order: UK, Silk, Broken News, Wire in the Blood, The Bill, Bodyguards, Doctor Who, Black Mirror, and The Larry Henry Show.
Additionally, in film, Pip Torrens played Colonel Kaplan in Star Wars: The Force Awakens, Ian Gilmour in The Iron Lady, Sir Kenneth Clark in My Week with Marilyn, and Major Tompkins in War Horse. His other notable film credits include The Danish Girl, Darkest Hour, Patriot Games, and Pride & Prejudice (2005). Furthermore, Torrens provided supporting roles in Anna Karenina, Tomorrow Never Dies, The Remains of the Day, and St. Trinian's 2: The Legend of Fritton's Gold, As a voice actor, meanwhile, he's heard in Valiant.
Zackary Momoh (Doctor Horatio Cousens)
In the role of Doctor Horatio Cousens, a West Indian physician who discovers his powers with Amalia's help, Zackary Momoh plays one of the main characters in The Nevers. Most notably, Momoh is known for his role as Seth Butler in Netflix's Seven Seconds. He also played Manni Attah in Channel 4's No Offence and Harrison Green in PBS's Death in Paradise. Additionally, in film, Momoh played John Tubman in Harriet and David Stone in Doctor Sleep. His other notable film credits include American Assassin, Twelfth Night, and The Kill Team.
Furthermore, Zackary Momoh wrote, produced, and starred in the 2014 short film, Clap! Also, the actor-filmmaker produced the 2012 short film, Glimpse. Additionally, Momoh produced and directed the 2014 short film, Normal? Next, he'll appear in Americanah.
Amy Manson (Maladie)
Playing the part of Maladie, an unstable woman on an infamous killing spree who's warped by powers that she doesn't understand, Amy Manson is a theatrically unhinged character in The Nevers. Most notably, Manson played Alice Guppy in BBC's Torchwood and Merida in ABC's Once Upon a Time. Also, the television actress appears in Casualty, Desperate Romantics, Being Human, Outcasts, The White Princess, Young James Herriot, Legacies, Misfits, and Atlantis. In film, additionally, Manson was most notably seen in T2 Trainspotting, Not Another Happy Ending, Harrigan, and Beats. She also appeared in Pumpkinhead: Blood Feud, Edie, The Chameleon, and Doom: Annihilation. Next, the actress will star in She Will.
Nick Frost (Declan Orrun)
As Declan Orrun, i.e. The Beggar King, a charismatic personality who runs low-level criminal activity in the city, Nick Frost plays a character who likes to back winners — no matter how virtue-less — in The Nevers. Most notably, Frost is known for his breakthrough role in Shaun of the Dead, along with his performances in Hot Fuzz and The World's End, the following installments in the Three Flavours Cornetto trilogy. Also alongside Simon Pegg, Frost starred in Channel 4's Spaced and Paul, the latter of which they wrote. Additionally, Frost and Pegg wrote, produced, created, and starred in Amazon Prime's Truth Seekers. His other TV credits include Into the Badlands, Sick Note, Hyperdrive, Mr. Sloane (which he also produced), Man Stroke Woman, and Doctor Who. Also, Frost joined the main cast of Paramount+'s Why Woman Kill Season 2.
Furthermore, in film, Nick Frost appears in Pirate Radio, Attack the Block, Snow White and the Huntsman, The Huntsman: Winter's War, Fighting with My Family, Slaughterhouse Rulez, Penelope, Kinky Boots, Unfinished Business, and Grindhouse.
Rochelle Neil (Annie Carbey)
In the role of Annie Carbey, a career criminal with the ability to control fire, Rochelle Neil is a kind, thoughtful character who only trusts herself in The Nevers. Most notably, Neil played Cassandra Lloyd in Sky One's Das Boot. Her other TV credits include Guilt, Episodes, Doctors, Death in Paradise, and Law & Order: UK. In film, additionally, the actress appears in Terminator: Dark Fate, The Hand of the Creator, and The Guvnors.
Eleanor Tomlinson (Mary Brighton)
Playing the part of Mary Brighton, a gentle but resilient singer, Eleanor Tomlinson is a spirited character in The Nevers. Previously, Tomlinson appeared in Poldark, The White Queen, and The War of the Worlds (2019). Additionally, in film, Tomlinson was seen in Angus, Thongs, and Perfect Snogging, Colette, The Illusionist (2006), Jack the Giant Slayer, Alleycats, and Love Wedding Repeat. She also lent her voice to Loving Vincent. Next, Tomlinson will be seen in The Offenders and she will be heard in Squadron 42.
Denis O'Hare (Dr. Edmund Hague)
As Dr. Edmund Hague, a gifted surgeon who uses his skills in cold ways, Denis O'Hare is a brutal clinical character in The Nevers. Most notably, O'Hare is known for his Emmy-nominated performances as Larry Harvey in American Horror Story: Murder House and Stanley in American Horror Story: Freak Show. He also appeared in American Horror Story: Coven, American Horror Story: Hotel, and American Horror Story: Roanoke. Additionally, O'Hare is known for playing Russell Edgington in HBO's True Blood, Judge Charles Abernathy in The Good Wife and The Good Fight, and Ira Farber in HBO's Big Little Lies. His other notable television credits include Brothers & Sisters, Law & Order: SVU, This is Us, and American Gods.
Furthermore, in film, Denis O'Hare appeared in Milk, Dallas Buyers Club, A Mighty Heart, and Michael Clayton. He also played Albert S. Osborn in J. Edgar, CIA Station Chief Harold Holt in Charlie Wilson's War, and Hiram Keebler in HBO's The Normal Heart. Additionally, the actor is a Tony-winner for his lead performance in Broadway's Take Me Out. Also, O'Hare was Tony-nominated for Assassins.
The Nevers premieres on HBO on April 11th.
Will is an entertainment writer based in Pittsburgh, PA. His writing can also be found in The Playlist, Cut Print Film, We Got This Covered, The Young Folks, Slate and other outlets. He also co-hosts the weekly film/TV podcast Cinemaholics with Jon Negroni and he likes to think he's a professional Garfield enthusiast.