Shows Like Parks And Recreation: What To Watch If You Like The Amy Poehler Comedy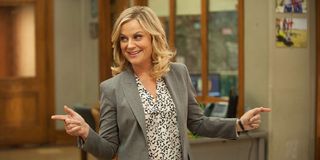 CinemaBlend participates in affiliate programs with various companies. We may earn a commission when you click on or make purchases via links.
The work office comedy remains a prominent genre in the TV industry, in the last two decades alone, we had giants like The Office, and other hits that have popped up over the years. However, there is one other workplace comedy that stands out to me the most among the rest, and that is Parks and Recreation. To me, it's mainly because I loved following the story of Leslie Knope from the first season to the very end, but Parks and Recreation is filled with several other fun-loving characters and stories that anyone can enjoy.
Since Parks and Recreation has come to an end, there have been many fans who have been looking for a replacement for the popular office comedy. However, look no further than here, for these are the shows that are like Parks and Recreation that will fill that hole in your heart for comedy. These are some of the best you can get.
Community – Netflix
Hands down, I've always loved Community, and I think that fans of Parks and Recreation will adore it just as much as I have. Community tells the story of six very unlikely friends coming together in a community college, all with their own quirks and interests, and yet somehow, they form a tight family that always has each other's backs – no matter how looney it gets.
Community is great for Parks and Recreation fans because of the quirks of each character. I love hearing about their own personal home life, and how somehow, even though they can be so different, they come together at some of the best moments. My mind always thinks back to Leslie Knope, and how somehow through all the struggles she goes through, her friends and her team (with all their own quirks) are behind her. Community is a great show – plus, it's made by the Rick and Morty creator, so you know it's going to be funny.
Stream Community on Netflix (opens in new tab).
The Office - Peacock
Created by The Office's Michael Schur and Greg Daniels, Parks and Recreation was originally meant to be a spin-off of the popular office comedy. The Office is considered classic television for a reason. The NBC comedy tells the story of Dundler Mifflin Paper Company, and all of its employee's daily struggles – as well as personal struggles – with their job as well as their problematic and yet lovable boss, Michael Scott (Steve Carell).
This is the show for Parks and Recreation fans. We are talking about the epitome of what an office comedy should be. If seeing what working in a different kind of work-place interests you, this is most certainly your type of show. You'll love the relationship between Jim and Pam, you'll see the interesting side of Michael Scott, and so much more.
Stream The Office on Peacock (opens in new tab).
The Good Place – Netflix
Moving over into emotional beats, The Good Place is one of the best-developed shows out there. The Good Place covers the story, at first, of Eleanor, a woman who is welcomed into a utopia-like "the Good Place" after her death, for her righteous acts on the earth, but something doesn't add up – she's not supposed to be in the Good Place.
Created by Parks and Rec's Michael Schur, The Good Place is one of those comedies that just gets better with age and with each season. For fans of Parks and Recreation, you'll enjoy The Good Place for the excellent character development that happens over the timespan of its four seasons. Truly, there's not much I can say without giving it away, but it's certainly worth your time to watch. There's plenty of twists and turns that will have your head spinning. Plus, Kristen Bell trying to curse in the Good Place is the funniest thing.
Stream The Good Place on Netflix (opens in new tab).
Arrested Development – Netflix
This show was definitely one of the best out there. Arrested Development follows the story of the Bluth family who, after losing all of their wealth, continue to live extravagant lifestyles despite their circumstances, and it draws them into issues all the time.
While it's not a workplace comedy or something that has some emotional undertones for most episodes, Arrested Development is on this list for just how funny it is. I mean, this is one of those shows where it almost feels like an acquired taste because of how out there some of these jokes are. Parks and Recreation had some amazing comedy, but if you want something truly looney, take a look at Arrested Development. I promise you that you'll be holding your side from laughing too hard after the first episode.
Stream Arrested Development on Netflix (opens in new tab).
Brooklyn Nine-Nine – Hulu
Back to the standard workplace comedy, Brooklyn Nine-Nine captures that perfectly. This iconic comedy stars Andy Samberg in the lead role of Jake Peralta, a detective who is part of Brooklyn's fictional 99th Precinct, and who often gets into trouble with his commanding officer. And of course, we get to see the lives of his coworkers, and the hijinks of what happens in this kooky police station.
Truly, Saturday Night Live alum Andy Samberg shines in this role. Prior to Brooklyn Nine-Nine, I hadn't seen him do something that really showed off his full comedic potential, but after watching, I can confirm that this is truly one of his funniest roles. That and his castmates surrounding him are just as good – I never would have thought Terry Crews was a funny guy but dang, does he rock it in this show. For fans of Parks and Recreation, this is certainly a good replacement for you.
Stream Brooklyn Nine-Nine on Hulu (opens in new tab).
New Girl - Netflix
This was one of my favorite shows for so long, and for so many reasons. New Girl is all about Jess (Zooey Deschanel), a girl who just recently found out her boyfriend is cheating on her, so she moves out of their home and into a rental apartment with three men. How much drama does this cause? So much. And all of it is great.
New Girl ran for seven seasons, and in my eyes, I feel like that was the perfect runtime to tell the story. Parks and Recreation fans will love the relationships that are formed, from friendships to romantic relationships, but will also find themselves laughing just as much. There are so many ridiculous scenes and characters - like Nick (Jake Johnson), for example, who is the definition of "procrastination" – that will have you shaking your head at the TV and laughing at their lives.
Stream New Girl on Netflix here (opens in new tab).
GLOW - Netflix
While this isn't the same type of comedy as many of the others on here, it's still worthy of a spot on this list. GLOW, a popular Netflix show, revolves around the gimmick in the 1980s of syndicated women's wrestling, otherwise known as Gorgeous Ladies of Wrestling (GLOW).
Starring Alison Brie, this series is full of hysterical moments and definitely one of the best Netflix shows, but the main reason I put it up here is for the strong female representation that it has. Leslie Knope was one of my favorite TV stars because it was not common enough to see a woman as the main star of a comedy and seriously rock it so well. However, GLOW does that tenfold and has some amazing female characters that are truly all about empowerment and loving yourself for who you are. It's one of the best options on this list for your standard feel-good comedy.
Stream GLOW on Netflix here (opens in new tab).
How I Met Your Mother - Amazon Prime
While it's certainly had its fair share of controversy, How I Met Your Mother is a great show. The story begins with Ted Mosby (Josh Radnor), who starts out the series by beginning to explain to his children how he met their mother. And from there, we are taken back in time, learning about the whole experience over several seasons.
For Parks and Recreation fans, this is another case of relationships that are formed over several seasons that really hit home with you. You begin to grow connections with these characters, more than you ever thought you would, and they begin to touch you emotionally. While the last season is heavily debated amongst fans for its ending, it's certainly worth the binge for the story prior.
Stream How I Met Your Mother on Amazon Prime (opens in new tab).
Party Down – Starz
For a short binge of a comedy, this one is for you. Party Down follows the tale of a Los Angeles catering team, who all collectively hope that their big break or some sort of positive change in their lives will soon take place.
The series only has two seasons and twenty episodes, which are a half-hour long each, so it's certainly going to be an easy binge compared to some of the longer shows on this list. The hilarity of some of the situations that these guys get into as well will make the time fly by super quickly, so keep your eye on the episode count. Plus, you get the brilliant Jane Lynch and Adam Scott, so you'll surely be snickering for a good amount of time.
Stream Party Down on Starz. (opens in new tab)
Modern Family - Peacock, Hulu
I feel like everyone knows about Modern Family just because of how iconic it has become in TV culture. This show is exactly what you would think it would be about – a typical American modern family, with all of its quirks and different twists and turns.
One of my favorite parts about Modern Family is that we get to see a change in the characters over time, much like Parks and Recreation. I loved watching the children grow up into their own people and form their own relationships, and watching the development of the parents as well. Not only that, but the ridiculousness of what they face daily is stupidly funny. I mean, we all want a dad like Phil Dunphy.
Stream Modern Family on Peacock (opens in new tab).
Stream Modern Family on Hulu (opens in new tab).
Schitt's Creek – Netflix
In all its Emmy Award-winning glory, now we move onto Schitt's Creek. This popular TV show follows the story of the Rose family, who end up losing all their riches due to a family friend, and now have to somehow live their lives in the one place they still owned as a joke – a town called Schitt's Creek.
This show ended up getting mega-popular in its later years, for good reasons. The character development that takes place over its six seasons is top-notch, and for fans of Parks and Recreation, the character relationships and friendships that develop on this show will make you smile. It's one of the better comedies out there. I don't want to spoil it for you.
Stream Schitt's Creek on Netflix (opens in new tab).
30 Rock - Peacock
As our last entry on this list, I only find it fitting to return back to the office comedy, written and starring the impeccable Tina Fey. 30 Rock is all about the boss of a variety show, who has to manage her relationships between the show's star as well as it's executive producer, who end up butting heads on multiple occasions.
For fans of Tina Fey and her comedic style, this is perfect for you and even better for Parks and Recreation fans. It's the exact amount of looniness you would expect from her. And what makes it better is that Amy Poehler, Leslie Knope herself, even guest-starred on the show at one point. It's certainly one of the best workplace comedies out there with sort of a Hollywood twist, so check it out.
Stream 30 Rock on Peacock here (opens in new tab).
If that's not enough for you, or you're looking for something newer, keep an eye out for the upcoming 2021 Spring TV premieres. If you don't mind me, I'm going to go re-watch Schitt's Creek for the tenth time now.
Your Daily Blend of Entertainment News
Big nerd and lover of Game of Thrones/A Song of Ice and Fire. Will forever hate season eight. Superhero and horror geek. And please don't debate me on The Last of Us 2, it was amazing!
Your Daily Blend of Entertainment News
Thank you for signing up to CinemaBlend. You will receive a verification email shortly.
There was a problem. Please refresh the page and try again.