Evan Peters Recalls Filming WandaVision Scene And Finding Out His Character's Unusual Last Name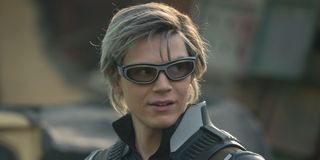 Evan Peters hit it big with his various roles in FX's American Horror Story, and Peters is known for bringing pretty weird and (sometimes) wonderful characters to life. The most recent weirdo he's played on screen was Wanda's fake brother in Marvel's WandaVision. Apparently, Peters learned the characters real last name around the same time we did, and his recollection of finding out what an unusual name it was is pretty hilarious.
During a university Q & A that he participated in via Zoom chat, Evan Peters commented on how he didn't know his character's last name was Bohner, despite the fact that he did know the scope of his character's past wasn't what it seemed to viewers at first. The phallic nature of the last name struck him as absolutely hilarious, and he still appears to have a laugh at his character's expense. The interaction was recorded and posted to an attendee's Tiktok, for all of our viewing pleasure.
In the video you can see just how hilarious Evan Peters thinks the last name is, as it still has him giggling when he is retelling the story. You can see how his own personality really matches with a lot of those he plays on screen, even if he isn't violent and destructively mischievous in real life.
Is it immature? I mean, sure, some may say so. But, I think even more would laugh right along with Peters. The name was certainly put in the show as a joke, because it was an even more hilarious (sorry to everyone with the last name Bohner) way to discover that he was not actually Pietro. It gives off the same vibes as the rest of the wacky show.
Evan Peters also reveals that he was very aware of his character not really being Wanda's dead brother come back to life, but a simple Westview resident under the powers of Agatha Harkness. This makes plenty of sense, though, because his character dropped insider knowledge of the workings of Wanda's scrambled brain basically every time he was on screen. We all knew that was a little more than just some extra twin love.
When we finally realize that Evan Peters' version of Quicksilver is all a farce, and we meet the real Ralph Bohner, who was an actor under the witch's control, we've got that last joke the character throws at us with his phallic last name. We've got the WandaVision writers to thank for that, though, as we now know Peters had nothing to do with it and the character is not one who exists in the Marvel comics - he is solely a creation for the show to throw Wanda off.
While you may have loved Evan Peters before, I'll bet you have a little more appreciation for him and his sense of humor after seeing him chuckle over his character's last name. The fact that it was just a retelling of the events, but he still thought it was just as funny, has endeared him to us even more.
Be right back; going to rewatch that WandaVision scene with the new knowledge that Peters is laughing right along with us.
Constantly thinking about books, coffee, and the existential dread I feel from Bo Burnham's Inside. While writing I'm also raising a chaotic toddler, who may or may not have picked up personality traits from watching one too many episodes of Trailer Park Boys.
Your Daily Blend of Entertainment News
Thank you for signing up to CinemaBlend. You will receive a verification email shortly.
There was a problem. Please refresh the page and try again.