The Rookie: Why Emily Deschanel Is Such A Great Addition To Nathan Fillion's ABC Show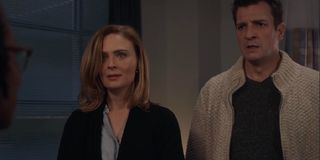 Spoilers ahead for The Rookie Season 3, Episode 12 "Brave Heart."
The latest episode of ABC's The Rookie police procedural finally introduced Nathan Fillion's John Nolan's ex-wife, Sarah, played by Bones alum Emily Deschanel. The actress' debut on the Fillion-lead drama was one to remember and ended with hope that this won't be the last time fans see her.
The Rookie was off for two weeks and the new episode finally picked up from a cliffhanger where John's son Henry (Zayne Emory) collapsed and Sarah quickly came to visit as the ex-couple argued about what to do with Henry's worsening condition. With Sarah coming into the picture, fans finally got to see the mysterious ex that John every so often mentioned in passing. In addition, we got to know more about their relationship, and that the two of them had Henry when they were his and wife-to-be Abigail's age, after only being married a few months.
With Emily Deschanel now officially part of The Rookie family, we are able to get more of this backstory between John and Sarah. Their relationship hasn't been mentioned too often throughout the three seasons, so we finally got to see what their dynamic, as well as see John in a different light. He's always so focused on his job but this time he's focused on his family, what his son needs, what everyone else needs.
We've been able to see his relationship with Henry sporadically throughout the series and how he's struggling to support his decisions, being overprotective of him because he went through so much when he was a baby due to his FOP. However, now with Sarah in the picture again, we see that dynamic not only between the two of them, but how they're going to handle Henry after his open heart surgery, which was his own decision, and also Abigail who is now part of this family.
It should be pointed out that this is also the first time that TV vet Emily Deschanel and Nathan Fillion have worked together. Pairing them together not only satisfied fans of both Bones and Castle but also gave fans watching a satisfying storyline. It showed that, despite their divorce, John and Sarah still came together to be there for their son, and included Abigail every step of the way, knowing that she's just as important as they are in Henry's life.
John and Sarah disagreed about what surgery Henry should get, as John wanted to follow his son's wishes, which is what he ended up doing and it was successful. Although Sarah didn't agree with it, she trusted that John knew what he was doing and she was grateful and relieved that it all worked out in the end. Their relationship is still a healthy one, at times, and shows that relationships can improve, no matter the status.
Although it's not known how many episodes Emily Deschanel will appear in, it's safe to assume that this won't be the last time fans will be seeing Sarah, especially with Henry's condition. There is still so much more story to tell and hopefully we'll be able to dig deeper into her past with John. The Rookie airs Sundays at 10 p.m. EST on ABC.
Your Daily Blend of Entertainment News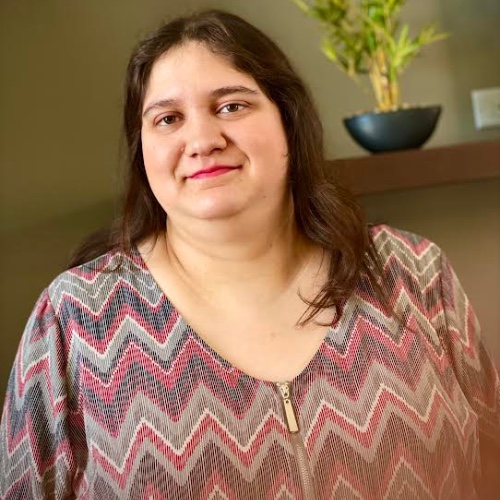 Passionate writer. Obsessed with anything and everything entertainment, specifically movies and television. Can get easily attached to fictional characters.