Nickelodeon's iCarly Coming To An End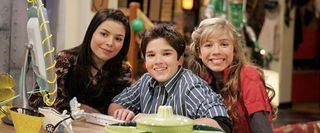 Nickelodeon has made the official announcement that its teen-centered comedy series iCarly will come to an end after five seasons. The show that launched Miranda Cosgrove to stardom will film a television special this June set to air in November, and then the curtain will fall on the show as well as the webcast show-within-a-show.
[[ icarly ]] has been a pretty high profile series for an original airing on a kid-centered network like Nick. The series has seen big name guest stars that include First Lady Michelle Obama, Jack Black, and Jimmy Fallon (don't be confused if you haven't seen that episode, it's filming right now) along with some major stars of the music world such as Good Charlotte. As with most shows that surround teens growing up, eventually they get a little too old and it's time to move on. I suspect that might be part of the decision to end the show, which was reported by Tv Guide today.
A number of the show's stars will move on to new projects at Nick, including Noah Munck who is starring in a new pilot recently given the greenlight, and Jennette McCurdy, who will move onto a live action series with ICarly produce Dan Schneider. Jerry Trainor also has a new project in the works with Nick. And what will become of star Miranda Cosgrove? Well, unlike some other pretty young teen actresses, she's headed to college and not a career as tabloid fodder. No word on whether she plans to go back to an entertainment career when she graduates, or move onto something else.
Your Daily Blend of Entertainment News