Monk: 10 Famous Actors You May Have Forgotten Were On The USA Show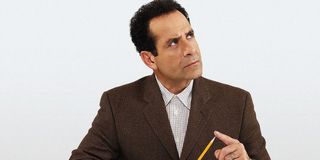 During its syndicated eight-season run, Monk wasn't simply a cornerstone of USA Network's continued brand. It became one of the most acclaimed and meticulously watched original shows of the '00s. So much so that the unconventional detective procedural was the most-watched scripted drama show when its series finale aired.
Suffice to say, Monk was a very popular program, and it helped usher in the careers of several prominent actors today, while also hosting several notable celebrity cameos that might've slipped your mind over the years. If you're wondering what pre-famous stars appeared on this show, we're here to help. Here are the celebrities you might've forgotten were on Monk, including Jennifer Lawrence, Danny Trejo, and several more.
Jennifer Lawrence (Mascot)
Everyone needs to get their start somewhere. Before the future A-list actress became an Oscar-winning, franchise-topping superstar — and, you know, one of the biggest movie stars of her generation — Jennifer Lawrence earned her first acting credit by playing a character credited solely as "Mascot" (though she's referred to as "Jen") in Season 5's "Mr. Monk and the Big Game." The cameo is quite quaint in retrospect, knowing that the young actress in this minor part would become the major league mega-star behind The Hunger Games franchise, Silver Linings Playbook, and the recent X-Men prequel series, but the first-time actress makes the most of her screen debut.
Reflecting back on the experience on Conan, Jennifer Lawrence considered her time on Monk to be "really cool" but also "the most humiliating thing in my life." The reason? The up-and-coming soon-to-be-famous actress believed that she would have a bigger role than she ultimately had. She even told her church as much — much to her chagrin. But JLaw has no reason to be embarrassed! It's an amusing appearance and a fun debut.
Nick Offerman (Jack Whitman)
Before he became Ron Swanson in Parks and Recreation, Nick Offerman was Jack Whitman, a rug importer with unlawful intent, in "Mr. Monk and the Election." Prior to this appearance, Offerman was still coming into his own as a performer. His other acting credits remained limited to minor characters in City of Angels, Speaking of Sex, and Stealing Havard. Also, the TV actor appeared in Deadwood, The Practice, The West Wing, NYPD Blue, and 24, though Offerman was rarely seen in more than one episode. Arguably his most notable credit at this point was his recurring role in George Lopez.
Suffice to say, Nick Offerman didn't have nearly the same acclaim and notoriety that he has today, so it's understandable if you forgot about this brief pre-fame cameo in Monk.
Jane Lynch (Dr. Julie Waterford)
Before she found fame with her Emmy-winning star turn in Glee, Jane Lynch was proving her sharp comedic talents in a number of movies and shows, including Party Down, Best in Show, A Mighty Wind, and The 40-Year-Old Virgin. Likewise, Lynch took on the role of Dr. Julie Waterford, a marriage therapist, in Season 2's "Mr. Monk Gets Married."
Though her appearance was limited to one episode, Jane Lynch showcases her dry wit and signature deadpan delivery throughout this performance. Even from this brief clip, it's easy to see why the actress found such an exceptional career in the years to follow.
Danny Trejo (Spyder Rudner)
With upwards of 400 credits to his resume (and counting!), Danny Trejo has been seen in a hell of a lot of movies and shows over the past three-plus decades. Perhaps it's not surprising, then, that Trejo found some time in his ever-busy schedule to appear in Monk. In the episode "Mr. Monk Goes to Jail," Trejo plays Darnell "Spyder" Rudner, a convicted quadruple murderer whom Monk corresponds with during his investigation. The convicted criminal and the eccentric detective form a connection from there.
At this stage of his career, Danny Trejo was a standout supporting player in Robert Rodriguez's Desperado, From Dusk Till Dawn, Once Upon a Time in Mexico, and the Spy Kids trilogy, along with other notable '90s/'00s movies like Heat, Con Air, Anaconda, Bubble Boy, and Anchorman, though he wasn't heading movies like Machete and Bad Ass just yet. Still, Trejo always makes the most of every moment. Monk is no exception.
Sarah Silverman (Marci Maven)
Between 2004 and 2008, during the advent (and first season) of Comedy Central's The Sarah Silverman Project, that show's title-bearing comic had a recurring role as Marci Maven, an obsessive superfan who forms a deep longing for our neurotic sleuth, in "Mr. Monk and the T.V. Star," "Mr. Monk And His Biggest Fan," and "Mr. Monk's 100th Case."
Prior to this notable performance, Sarah Silverman was a proven stand-up comedienne who became popular in the public eye through Saturday Night Live and other guest star appearances. She was certainly a name, albeit not as big as she is today; her concert film, Sarah Silverman: Jesus Is Magic, even premiered in select theaters. But her time on Monk came just shortly before she would find greater success, both as a comic and actress. Nevertheless, this energetic supporting role showcased her developing talents.
Jon Favreau (Dr. Oliver Bloom)
Just a few short years before he jumpstarted the Marvel Cinematic Universe with Iron Man, called the shots on one of the highest-grossing movies in film history with The Lion King (2019), and became the showrunner behind The Mandalorian, Jon Favreau had a standout cameo as Dr. Oliver Bloom, a nefarious endodontist, in "Mr. Monk Goes to the Dentist." While it's a prominent appearance, the character ultimately only lasted a single episode — though it came at an interesting point in Favreau's expanding career.
Already established as both an indie-darling actor-writer thanks to Swingers and top-grossing director through Elf, Jon Favreau was well-proven at this stage of the game, but the actor-writer-director wasn't necessarily a household name. Therefore, it's hard to call this role a celebrity cameo per se — at least, in the strictest sense. But in retrospect, it's interesting to see Favreau in a minor guest role shortly before his career propelled.
Stanley Tucci (David Ruskin)
Admittedly, Stanley Tucci was well-established as an actor, writer, and director by the time the character actor appeared in Season 5's premiere, "Mr. Monk and the Actor." Nevertheless, it's a real kick to see the esteemed thespian reunite with his Big Night co-star to play David Ruskin, a method actor who vigorously tries to nail down Adrian Monk's whole persona. This inspired performance was such a delight that Tucci won an Emmy for this guest role, which admittedly makes it more memorable than the other cameos that we've listed. It's fitting, though, because it's arguably the best of the bunch.
Howie Mandel (Ralph "Father" Roberts)
There's something cosmically perfect about Howie Mandel appearing in Monk. In a pair of Season 6 episodes titled "Mr. Monk Joins a Cult" and "Mr. Monk's 100th Case," Mandel played Ralph "Father" Roberts, a supposed cult leader, in what appeared to be a winking nod to the actor's personal life. More specifically, Mandel is an outspoken germaphobe, much like Adrian Monk, which has hindered him throughout his life.
Likewise, Monk's detective career is often disrupted by his own individualized fears and phobias. The titular TV sleuth and the child actor-turned-game show host are, in a way, kindred spirits. One may argue that their paths were destined to cross, as they did here.
Snoop Dogg (Murderuss)
Playing the part of Russell Kroy, i.e. Murderuss, a rap artist who wants Monk to clear his name after he's accused of murder, Snoop Dogg proved to be an amusing guest star in Season 6's "Mr. Monk and the Rapper." Though the musician isn't the type of actor who disappears into his characters, Dogg is game to play up the heightened absurdities of this rap personality. The result isn't a "before they were famous" appearance, unlike many other celebs listed in this article, but Dogg is always an exceptional entertainer.
Ken Marino (Lester Highsmith)
Ken Marino isn't necessarily a household name, but there's a decent chance that you're familiar with his work. In 2004, following his time in The State and Wet Hot American Summer but years before he made Party Down, Children's Hospital, or Burning Love, Marino played Lester Highsmith, the ex-husband of the victim behind "Mr. Monk Takes His Medicine." It's a brief appearance and it might not have made a huge splash for anyone who wasn't a fan of Marino's brand of alternative comedy. But it's an amusing cameo that came only a few years before his profile rose — both in front and behind the camera.
Monk is available to stream on Amazon Prime and Peacock.
Your Daily Blend of Entertainment News
Will is an entertainment writer based in Pittsburgh, PA. His writing can also be found in The Playlist, Cut Print Film, We Got This Covered, The Young Folks, Slate and other outlets. He also co-hosts the weekly film/TV podcast Cinemaholics with Jon Negroni and he likes to think he's a professional Garfield enthusiast.