What The X-Men: First Class Cast Is Doing Now, Including Jennifer Lawrence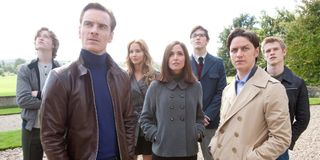 Nearly a whole decade ago, Fox unveiled X-Men: First Class, which followed the early adventures of the mutant-based superhero team. Featuring the rising talents of James McAvoy, Michael Fassbender, Jennifer Lawrence, Nicholas Hoult, and Zoe Kravitz as our title-bearing X-Men, the early years of the Marvel property served as a great profile builder for its soon-to-be high profile cast, while also providing prominent supporting roles for Rose Byrne, Kevin Bacon, and January Jones. In the years following its release, the young ensemble has worked on several noteworthy projects, particularly following Lawrence's Oscar win. But what is the X-Men: First Class cast doing now? Let's find out!
James McAvoy (Charles Xavier/Professor X)
As Charles Xavier, i.e. Professor X, a telepathic mutant who becomes the founder of the X-Men, James McAvoy took on the lead role in Fox's superhero prequel blockbuster, X-Men: First Class. Most notably, McAvoy is known for his Golden Globe-nominated performance in Atonement. He's also recognized from Wanted, The Last King of Scotland, The Chronicles of Narnia: The Lion, The Witch, and the Wardrobe, Filth, Trance, Atomic Blonde, Split, and Glass. Additionally, McAvoy played Professor X in X-Men: Days of Future Past, X-Men: Apocalypse, Dark Phoenix, and Deadpool 2.
James McAvoy's other film credits include Penelope, Becoming Jane, The Last Station, Wimbledon, Swimming Pool, Starter for 10, and The Disappearance of Eleanor Rigby. Additionally, McAvoy starred in IT: Chapter Two. He's also heard in Gnomeo & Juliet, Sherlock Gnomes, and Arthur Christmas. Recently, McAvoy appeared in HBO's His Dark Materials. Next, the actor will be heard in the video game, Twelve Minutes. He'll also star in My Son and narrate The Bridge.
Michael Fassbender (Erik Lehnsherr/Magneto)
In the role of Erik Lehnsherr, i.e. Magneto, a mutant who can manipulate and generate electromagnetic fields and befriends Xavier before they become fierce enemies, Michael Fassbender played a formidable ally-turned-antagonist in Matthew Vaughn's X-Men: First Class. Away from this film franchise, Fassbender was Oscar-nominated for Steve McQueen's 12 Years a Slave and his titular turn in Steve Jobs. He also starred in Hunger, Shame, The Counselor, Macbeth (2015), Assassin's Creed, Jane Eyre, A Dangerous Method, Prometheus, Alien: Covenant, Frank, Slow West, The Snowman, and Centurion. Additionally, the actor appeared in supporting roles in 300, Fish Tank, Inglorious Basterds, Jonah Hex, and Haywire. Also, Fassbender played Magneto in X-Men: Days of Future Past, X-Men: Apocalypse, and Dark Phoenix.
Next, Michael Fassbender stars in Kung Fury 2 and Taika Waititi's Next Goal Wins. It was also recently announced that Fassbender will star in David Fincher's The Killer.
Jennifer Lawrence (Raven Darkholme/Mystique)
Playing the part of Raven Darkholme, a shape-shifting mutant who joins Erik's Brotherhood of Mutants, Jennifer Lawrence took on a chameleon of a character in X-Men: First Class. Most notably, Lawrence is an Oscar-winning actress for her leading role in David O. Russell's Silver Linings Playbook. She's also the star of The Hunger Games franchise. Her other notable film credits include Winter's Bone, American Hustle, and Joy, all for which she received Oscar nominations, as well as mother!, Serena, The Beaver, Like Crazy, and Passengers. She also reprised her role as Mystique in X-Men: Days of Future Past and Apocalypse. On TV, additionally, Lawrence starred in The Bill Engvall Show. The actress was also seen in Monk, Medium, and Cold Case.
Most recently, Jennifer Lawrence starred in Red Sparrow and Dark Phoenix. Following a brief acting break, Lawrence will next be seen in Adam McKay's Don't Look Up. She'll also star in Red, White, and Water, which she also produced. Additionally, the actress is attached to Mob Girl, which she'll produce as well.
January Jones (Emma Frost)
As Emma Frost, a mutant telepath who can change her body into a hard diamond, January Jones played a prominent supporting player in X-Men: First Class. Most notably, Jones is known for her Emmy-nominated performance in AMC's Mad Men. She also starred in Fox's The Last Man on Earth. Her other television credits include The Politician, Law & Order, Huff, and Get Real.
In film, meanwhile, January Jones appeared in Unknown, Seeking Justice, Sweetwater, The Three Burials of Melquiades Estrada, American Wedding, Full Frontal, Bandits, Love Actually, Dirty Dancing: Havana Nights, We Are Marshall, Good Kill, The Glass House, Anger Management, Pirate Radio, and Taboo. Prior to acting, Jones worked as a professional model. Most recently, she was seen in Netflix's short-lived Spinning Out.
Nicholas Hoult (Hank McCoy/Beast)
In the role of Hank McCoy, a genius scientist whose mutant abilities turn him into a blue, hulking beast, Nicholas Hoult played a volatile character in X-Men: First Class. Most notably, Hoult is known for his breakthrough role in About a Boy. He also starred in Mad Max: Fury Road, A Single Man, Warm Bodies, Jack the Giant Slayer, The Favourite, Tolkien, Clash of the Titans, and Kill Your Friends. Additionally, Hoult played Beast in X-Men: Days of Future Past, X-Men: Apocalypse, and Dark Phoenix. Additionally, on TV, he had a main role in Skins and he was heard in Watership Down.
Most recently, Nicholas Hoult starred in Hulu's The Great. He was also heard in Hulu's Crossing Swords, where the actor served as a consulting producer. Additionally, Hoult was seen in True History of the Kelly Gang and The Banker. Next, he'll appear in Those Who Wish Me Dead.
Rose Byrne (Moira MacTaggert)
Playing the part of Moira MacTaggert, a CIA agent who befriends our lead mutants, Rose Bryne had a prominent supporting role in Fox's X-Men: First Class. She's best known for Bridesmaids, the Insidious films, the Neighbors movies, 28 Weeks Later, Star Wars: Episode II —Attack of the Clones, and Peter Rabbit. Byrne's other film credits include Marie Antoinette, Sunshine, Troy, Get Him to the Greek, The Place Beyond the Pines, Annie (2014), Spy, Juliet Naked, Instant Family, and The Internship. She can also be heard in Jexi and I Am Mother. Additionally, Byrne returned for X-Men: Apocalypse.
Also, on TV, Rose Bryne starred in FX's Damages. Furthermore, she appeared in Portlandia, Angie Tribeca, and The Immortal Life of Henrietta Lacks. Most recently, Bryne was seen in Irresistible, Like a Boss, and FX's Mrs. America. Next, the actress stars in Peter Rabbit 2 and Seriously Red.
Kevin Bacon (Sebastian Shaw)
As Sebastian Shaw, also known as Dr. Klaus Schmidt, the leader of the Hellfire Club, Kevin Bacon plays our snarling villain in X-Men: First Class. Most notably, Bacon is known for Footloose, JFK, Apollo 13, Mystic River, Hollow Man, A Few Good Men, Animal House, Sleepers, Friday the 13th, Tremors, Wild Things, and Flatliners. His other film credits include The Woodsman, Diner, Crazy, Stupid, Love., Frost/Nixon, Black Mass, Stir of Echoes, Patriots Day, She's Having a Baby, The Big Picture, My Dog Skip, Death Sentence, Super, Beauty Shop, and Cop Car.
Additionally, on TV, Kevin Bacon starred in Fox's The Following. He also played a main role in Amazon Prime's I Love Dick, for which he was Golden Globe-nominated. Also, the actor appeared in Guiding Light, Frasier, and Will & Grace. Most recently, Bacon starred in You Should Have Left. Currently, he headlines Showtime's City on a Hill.
Caleb Landry Jones (Sean Cassidy/Banshee)
In the role of Sean Cassidy, i.e. Banshee, a mutant capable of emitting strong ultrasonic screams, sonic blasts, and sonic waves, Caleb Landry Jones played a loud personality in X-Men: First Class. Away from this superhero flick, Jones is best known for Get Out, Three Billboards Outside Ebbing, Missouri, and The Last Exorcism. He also starred in Antiviral. His other notable film credits include No Country For Old Men, The Social Network, The Florida Project, American Made, The Dead Don't Die, and Superbad.
Additionally, on TV, Caleb Landry Jones appeared in Friday Night Lights, Breaking Bad, Victorious, and Twin Peaks' third season. Also, away from acting, Jones is a musician. Most recently, the actor was seen in The Outpost and Viena and the Fantomes. Next, Jones will star in BIOS, The Forgiven, and Nitram.
Zoe Kravitz (Angel Salvadore)
Playing the part of Angel Salvadore, a mutant who possesses acidic saliva, Zoe Kravitz provided a supporting turn in X-Men: First Class. She's also known for Mad Max: Fury Road, the Divergent series, Dope, Rough Night, and the Fantastic Beasts franchise. Additionally, Kravitz can be seen in The Brave One, Gemini, The Road Within, and Beware the Gonzo, as well as heard in The LEGO Batman Movie and Spider-Man: Into the Spider-Verse. On TV, she starred in Big Little Lies and appeared in Californication.
Most recently, Zoe Kravitz starred in Hulu's High Fidelity, where she also worked as a writer and an executive producer. Additionally, the actress appeared in Viena and the Fantomes. Next, Kravitz plays Selina Kyle, i.e. Catwoman, in The Batman. Also, she'll star in Steven Soderbergh's KIMI.
Lucas Till (Alex Summers/Havok)
As Alex Summers, a mutant who can absorb energy, Lucas Till played an energetic guy in X-Men: First Class. He's also known for Hannah Montana: The Movie, The Spy Next Door, and Monster Trucks. Additionally, he reprised his role as Havok in X-Men: Days of Future Past and Apocalypse. His other notable film credits include Battle: Los Angeles, Stoker, Paranoia, Walk the Line, and All Superheroes Must Die, which he also produced.
Additionally, on television, Lucas Till can be seen in Medium, House, and Blue Mountain State. Also, Till is recognized for his appearance in Taylor Swift's "You Belong With Me" music video, as well as his cameo in Tony Oller's "Someone Like You" music video. Currently, he stars in CBS's MacGyver. Most recently, Till was seen in Son of the South.
Jason Flemyng (Azazel)
In the role of Azazel, a teleporting mutant, Jason Flemyng plays a transportive character in X-Men: First Class. The British actor is best known for Lock, Stock, and Two Smoking Barrels and Snatch. Flemyng also appeared in From Hell, The League of Extraordinary Gentlemen, Rob Roy, and The Curious Case of Benjamin Button, as well as Alive and Kicking, Seed of Chucky, The Death and Life of Bobby Z, Stardust, Mirrors, Kick-Ass, The Social Network, Hanna, and Military Wives. Additionally, his television credits include Jamestown, The Young Indiana Jones Chronicles, and Doctor Finlay.
Currently, Jason Flemyng appears in Epix's Pennyworth. Next, he'll be seen in Creation Stories, Ire, and Viy 3: Travel to India. Also, Flemyng is attached to The Knife Thrower.
Edi Gathegi (Armando Munoz/Darwin)
Playing Armando Munoz, a mutant with the ability of "reactive evolution," Edi Gathegi is an evolving part in X-Men: First Class. Away from this prequel, Gathegi is known for his recurring roles in Fox's House and NBC's The Blacklist. He also starred in The Blacklist: Redemption. His other TV credits include Into the Badlands, Justified, Veronica Mars, CSI: Miami, Life on Mars, and Nikita. In film, additionally, Gathegi appears in Gone Baby Gone, the Twilight series, Crank, My Bloody Valentine 3D, and Aloha.
Most recently, Edi Gathegi starred in Caged. He was also seen in The Last Thing He Wanted and USA Network's Briarpatch. Next, Gathegi appears in The Harder They Fall.
Oliver Platt (Man in Black Suit)
As Man in Black Suit, a CIA agent and head of Division X, Oliver Platt plays a secretive authoritative character in Fox's X-Men: First Class. Most notably, Platt is an Emmy-nominated actor for his performances in Nip/Tuck, The West Wing, and Huff, the latter for which he was also Golden Globe-nominated. His other notable TV credits include The Big C, Fargo, The Good Wife, Chicago Fire, Chicago P.D., and Modern Family.
Away from television, Oliver Platt can be seen in Lake Placid, Bulworth, Bicentennial Man, Please Give, Pieces of April, The Ice Harvest, Frost/Nixon, 2012, Kinsey, A Time to Kill, Dr. Dolittle (1998), Benny & Joon, Beethoven, Working Girl, Postcards from the Edge, Flatliners, and Simon Birch. Currently, Platt stars in NBC's Chicago Med. He was also heard in Netflix's I'm Thinking Of Ending Things. Next, the actor will be seen in Emperor.
Stream X-Men: First Class on HBO Max here (opens in new tab).