28 WWE Superstars And Other On-Air Talent Who Have Left The Company In 2021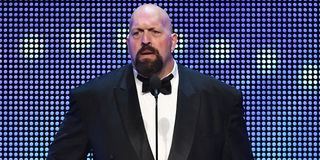 In recent years, WWE has seen some of its biggest stars leave the biggest wrestling promotion in the world to either hang up their boots or try their luck somewhere else. Few years, if any, compare to seemingly endless flood of WWE superstars and other on-air talent who have parted ways with the company, including longtime veterans like Big Show and Samoa Joe as well as younger stars like Andrade and Mojo Rawley.
The list of WWE wrestlers who have left in 2021 is staggering to say the least, but is to be expected once you consider the way in which the company, and so many others like it, has been impacted by the COVID-19 pandemic. Below is a running list of all the major departures this year.
Lars Sullivan
Following a tumultuous run in WWE that was marred by controversy and injuries, the wrestling promotion released Lars Sullivan in January 2021, though the one-time rising star had not been seen on television since October 2020.
Steve Cutler
Steve Cutler, one of the founding members of the NXT stable The Forgotten Sons, was released by WWE in February 2021. Prior to his release, Cutler had been with WWE since 2014, primarily wrestling for the NXT brand.
Big Show
In February 2021, it was announced that former WWE Champion Big Show was leaving his home of 22 years to try his luck at rival wrestling promotion AEW. Although the star of the Netflix series The Big Show Show is primarily working as a commentator on the promotion's weekly YouTube show AEW Dark: Elevation, AEW President Tony Khan has left the door open for Big Show, now going by his real name Paul Wight, to enter the ring at some point in the future.
Andrade
Former NXT Champion and WWE United States Champion Andrade was granted his WWE release in March 2021, a little more than a half-decade after he joined the company following a remarkable run in New Japan Pro Wrestling and other promotions around the world. Andrade is set to take on AAA Mega Champion Kenny Omega at AAA's TripleMania XXIX event in August 2021.
Samoa Joe
One of the biggest names to be included in the list of superstars released by WWE in April 2021, Samoa Joe was released just days after he called much of the action at the two-night WrestleMania 37 event (rain delay and all). A well-versed veteran before he came to WWE in 2015, Samoa Joe was immediately portrayed as a dominant force in NXT upon his arrival, becoming the brand's top champion on two occasions before being called up to the main roster in 2017. While initially successful (he was a two-time United States Champion), much of Samoa Joe's run on SmackDown and Raw was plagued by injuries, which have left him sidelined since 2019.
Mojo Rawley
Longtime friend of NFL living legend and WrestleMania 36 host Rob Gronkowski, Mojo Rawley was released by WWE in April 2021, bringing an end to what was once believed to be a promising WWE career. A seven-time WWE 24/7 Champion (essentially the modern version of the Hardcore Title), Rawley also won the 2017 Andre the Giant Memorial Battle Royal (with some help from a friend) during his tenure, but never lived up to the hype of his early days in NXT.
Billie Kay
Billie Kay was another superstar whose release was confirmed by WWE in April 2021. This came just days after Kay was featured on the WrestleMania 37 card. A one-time WWE Women's Tag Team Champion alongside her former IIconics partner Peyton Royce, Kay was one of the more lively and vocal members of the WWE roster throughout her entire run.
Peyton Royce
Peyton Royce, who was named the Breakout of the Year at the 2016 NXT Year-End Awards, was released by WWE in April 2021, a little more than a month after a losing effort against Asuka for the Raw Women's Championship.
Wesley Blake
Wesley Blake, another now-former member of The Forgotten Sons, was released by WWE in April 2021, just months after his stablemate Steve Cutler was let go. A former NXT Tag Team Champion alongside Murphy (a team managed by Alexa Bliss before she got carried away with the Bray Wyatt stuff), Blake was a solid hand throughout his run.
Bo Dallas
Bo Dallas, the real-life brother of Bray Wyatt and member of one of the most prestigious families in wrestling, was another wrestler whose release was confirmed by WWE in April 2021. Though he never reached the heights experienced by his brother, Dallas was one of the first three NXT Champions and held the title for 260 days before coming up to the main roster.
Kalisto
Former Cruiserweight and United States Champion Kalisto was released by WWE in April 2021, bringing an end to his eight-year tenure with the company. The high-flying luchador, who wrestled for numerous promotions before landing in WWE, was last seen the final SmackDown before WrestleMania 37, participating in the Andre the Giant Memorial Battle Royal.
Tucker
Tucker, who is best remembered for being one-half of the tag team Heavy Machinery alongside the lovable Otis, was also let go by WWE in April 2021. A member of the WWE roster dating back to 2013, the two-time WWE 24/7 Champion spent all but the final two years of his tenure wrestling for the NXT brand.
Chelsea Green
Chelsea Green, who first appeared on WWE programming as the physical therapist having an affair with Daniel Bryan back in 2014, started wrestling for the company's NXT brand in 2018. Green's tenure in WWE would be marred by injuries to her wrist which took her out of action for extended periods of time, and she was eventually released by WWE in April 2021.
Mickie James
Mickie James was the longest-tenured superstar to be released by WWE in April 2021. Following her departure from the company, the five-time WWE Women's Champion made an Instagram post featuring a video of her opening a box containing a trash bag of her belongings apparently sent by her former employer.
Daniel Bryan
The Daniel Bryan contract situation is a lot more complicated than any of the other WWE superstars and on-air talent on the list because neither WWE or the three-time WWE Champion have said anything since his contract reportedly expired in early May 2021. Bryan, who was in a losing effort in the Universal Championship triple threat match WrestleMania 37, hasn't been seen on WWE television since losing a one-on-one match against Roman Reigns in late April 2021.
Jessamyn Duke
Three years after signing with WWE in 2018, former UFC fighter-turned-wrestler Jessamyn Duke was released by the company in May 2021, per PWInsider. Duke, who mostly appeared on the NXT brand, was last featured on WWE television on an August 2020 episode of Raw Underground.
Velveteen Dream
Velveteen Dream, who was one of the most fascinating superstars in all of WWE, was reportedly released by WWE in May 2021, according to Bryan Alvarez, one year after multiple accusations of sexual misconduct were brought against the former NXT North American Champion. In a lengthy since-expired Instagram story (via ComicBook.com), Velveteen Dream explained that the allegations brought against him essentially derailed his career and eventually led to his dismissal from the company.
Vanessa Borne
Vanessa Borne was fired the same day as Jessamyn Duke in May 2021, bringing an end to her five-year tenure with WWE, according to her personal Twitter account. Featured sporadically on NXT during her time with the company, Borne never appeared on Raw or SmackDown despite reportedly being called up to the main roster in January 2020, per Fightful.
Kavita Devi
Kavita Devi was another NXT wrestler released by WWE in May 2021, as reported by Fightful's Sean Ross Sapp. This brought an end to a short career that saw the Indian wrestler participate in the Women's Battle Royal at WrestleMania 34 and the 2018 Mae Young Classic.
Alexander Wolfe
Alexander Wolfe, who made a name for himself in NXT as a member of the Sanity stable and later Imperium, was one of the WWE superstars released in May 2021, per PWInsider. The night before his release, Wolfe was beaten down by his Imperium stablemates, kicking him out of the faction and off WWE programming in the process.
Adnan Virk
Former ESPN anchor Adnan Virk had only been handling commentary duties on Monday Night Raw for six weeks before he was released in May 2021, making his tenure the shortest on this list. In a tweet from his personal Twitter account, Virk contributed his departure to his busy schedule and travel demands of the WWE gig. While short, Virk's time with the company didn't come without controversy as the announcer was roasted by fans for an on-air gaffe, per WrestlingInc.com.
Tom Phillips
Tom Phillips, who had been conducting interviews, announcing, and commentary duties for WWE for the better part of a decade, was reportedly given his release by the company in May 2021, per Fightful. Phillips had provided commentary on all the different WWE shows over the years but had recently taken a smaller role and was replaced by the recently departed Adnan Virk.
Braun Strowman
On June 2, 2021, WWE released another group of wrestlers, with the biggest name on that list being former WWE Universal Champion Braun Strowman. No reason for the release was provided when the official WWE Twitter account made the announcement, but this came as a shocker considering "The Monster Among Men" had been in contention for the WWE Championship as recent as WrestleMania Backlash just weeks before his release. Strowman, who made his on-air debut as a member of the Wyatt Family in 2015, seemingly confirmed the news in a tweet of his own shortly after news first broke.
Aleister Black
Aleister Black, another high-profile WWE superstar released by the company in early June 2021, confirmed his departure in a tweet saying the news was "a complete left field." The news came as a major shock considering Black had started getting a major push as the Dark Father character in the weeks leading up to his release.
Lana
Lana, who made her WWE debut in 2013 alongside her real-life husband Rusev (who previously left WWE for AEW where he wrestles as Miro), was another superstar included in the list of cuts made by WWE in June 2021. The "Ravishing Russian" had recently appeared in the tag team turmoil match at WrestleMania 37.
Murphy
In early June 2021, WWE confirmed it had come to terms with the release of Murphy. Since debuting in 2013, Murphy has gone on to win the NXT Tag Team Championship, WWE Cruiserweight Championship, and WWE Raw Tag Team Championship, with his most recent title reign being alongside Seth Rollins in 2020.
Ruby Riott
Ruby Riott, the leader of the all-female Riott Squad faction, was another superstar included in the list of names cut by WWE in June 2021. Riott was last seen wrestling for SmackDown where she attempted to capture the Women's Tag Team Championship multiple times recently.
Santana Garrett
Santana Garrett, who had been working on the NXT brand, was the last superstar included in WWE's June 2021 releases. Although she never made that big of an impact in WWE at the time of her release (her biggest match was the 2021 Women's Royal Rumble match), Garrett has been in professional wrestling since 2009, working for various independent promotions as well as Impact Wrestling (known then as TNA) before signing a full-time WWE contract in 2019, per Squared Circle Sirens (via WrestleZone).
Hopefully these are the last of the releases we'll see this year, especially with a busy schedule of upcoming WWE events. In the unfortunate situation more WWE superstars and on-air talent are laid off, you can find out about here.
Your Daily Blend of Entertainment News
Philip grew up in Louisiana (not New Orleans) before moving to St. Louis after graduating from Louisiana State University-Shreveport. When he's not writing about movies or television, Philip can be found being chased by his three kids, telling his dogs to stop yelling at the mailman, or yelling about professional wrestling to his wife. If the stars properly align, he will talk about For Love Of The Game being the best baseball movie of all time.
Your Daily Blend of Entertainment News
Thank you for signing up to CinemaBlend. You will receive a verification email shortly.
There was a problem. Please refresh the page and try again.