Marvel's Moon Knight TV Show: 9 Quick Things We Know About Oscar Isaac's New Series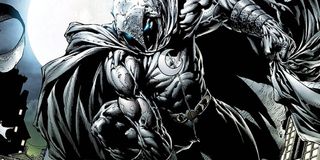 With the Marvel Cinematic Universe branching out in different directions, there's a need for new stories -- and new heroes. The next few years will give audiences just that with the introduction of fresh characters on both the big and small screens like the Eternals and Ms. Marvel. Fans will also meet another MCU newcomer, who has the potential to bring something very different to the expansive franchise. I'm talking about the mysterious Moon Knight, who will finally be brought to life on screen by the one and only Oscar Isaac. The series is still a ways out, but we do know a few things about the Moon Knight TV show coming to Disney+.
Moon Knight was first announced to be in development for Disney+ back in 2019 at Disney's D23 Expo, along with other upcoming Marvel movies and TV shows. While details were scarce at the time, we've since learned a lot more about the TV show. No, we don't have any specific plot details just yet, but there are some other known facts that are sure to get fans excited ahead of the premiere. So without further ado, let's take a look at some quick things we know about Moon Knight:
Oscar Isaac Leads The Growing Cast Of Moon Knight In The Role Of Marc Spector
Reports pointed to Oscar Isaac being cast in the role of Marc Spector/Moon Knight, but the studio recently confirmed the Star Wars alum's casting, which is honestly pitch perfect. So far, it's been reported that Isaac will be joined by Academy Award nominee Ethan Hawke, who is reportedly playing the show's lead villain. May Calamawy (of Hulu's Ramy) also joins the cast in an unknown role. It's likely we'll learn more about the cast in the coming months but, with Marvel's track record, the show is sure to assemble a group of top-notch performers.
Moon Knight Is A Character Who Has Multiple Identities
Since Moon Knight will mark the MCU debut of Marc Spector, we're expecting this series to delve into his origin story. As mentioned, exact plot details have yet to be revealed but, from what we know in the comics, Spector is in Egypt when he is saved from death by the moon god Khonshu. With this, Spector agrees to become the god's conduit and is given superhuman abilities. And upon his return to the States, Spector creates multiple identities for himself. While the show is sure to have surprises, this will presumably be a classic origin tale, but we'll hopefully know more about that once plot details are revealed.
The Umbrella Academy's Jeremy Slater Serves As The Head Writer Of Moon Knight
For Moon Knight, Marvel has tapped Jeremy Slater as head writer. In the world of TV, he's served as creator and writer of Fox's The Exorcist, and he also has experience within the superhero genre. He previously contributed to the screenplay for Josh Trank's 2015 Fantastic Four but, more recently, Slater developed Netflix's adaptation of Dark Horse Comics' The Umbrella Academy, and he writes for the series as well. While Fantastic Four received mostly negative reviews, The Umbrella Academy has been a breath of fresh air so, hopefully, Slater can bring that same freshness to Moon Knight.
Moon Knight Has Tapped Three Directors For The Show
So far, the Marvel TV shows have each utilized a single director but, moving forward, others will have multiple creatives in the director's chair. Moon Knight has recruited three, one being Egyptian writer-director Mohamed Diab, who's written a number of critically acclaimed, international hits. While Diab will direct a "sizeable" amount of the episodes, he'll be joined by directing duo Justin Benson and Aaron Moorhead, known for their work on sci-fi thriller Synchronic and monster movie After Midnight. Needless to say, Marvel Studios has brought on some interesting names to helm this series.
Filming For Moon Knight Officially Commenced In April 2021
Moon Knight was originally reported to kick off principal photography in 2020, but plans changed due to the COVID-19 pandemic. But things seem to be moving now, as filming was first reported to be taking place at the Museum of Fine Arts in Budapest, Hungary at the tail end of April. Filming was then reported to have moved to Szentendre, Hungary in early May. As of this writing it's unclear as to where else the show will film, but it's likely production will continue for at least another few months.
Moon Knight Is Set To Run For Six Episodes
Marvel Studios' TV shows will vary in length, with some running for a minimum of six episodes, while others receive longer runs. Moon Knight will follow in the footsteps of The Falcon and the Winter Soldier, as it falls under the former category, with each episode running about 40-50 minutes. Some fans may be disappointed to learn that the show won't have a long season, but a shortened run could mean a tighter story, resulting in less filler for the series. Let's hope the creatives are able to successfully tell Spector's story during these six episodes.
Egyptian Culture Will Play A Large Role In Disney+'s Moon Knight
While discussing Moon Knight during Disney's Investor Day presentation, he likened the film to the Indiana Jones franchise. He also explained that the show would put a strong emphasis on Egyptology or the study of ancient Egypt including its language, history and architecture. This makes complete sense as the main hero's powers are derived from an Egyptian god, and it's in Egypt that the character essentially originates. Marvel Studios has not confirmed if the show will actually film in Egypt but, at the very least, the studio is aiming to maintain that aspect of the character.
Mental Illness Is One Of The Topics Moon Knight Will Explore
The Disney+ shows have shown that the MCU is attempting to tackle more complex and personal topics, whether it be WandaVision's focus on how we process grief or The Falcon and the Winter Soldier's examination of what it means to be Black in America. With Moon Knight, it would appear Marvel is looking to examine mental illness, as the titular hero suffers from Dissociative Identity Disorder. While it's unclear how deep the series will go on this topic, Marvel Studios head Kevin Feige has referred to the character's mental illness as a "unique aspect" of the show.
Moon Knight Doesn't Have A Release Date Yet
As of right now, an official release date has not been announced for Moon Knight. However, reports currently point to the show being released sometime in 2022. Given that the show is filming now, this would make sense, and a reasonable projection for the show may place its release either in next spring or summer. This is just speculation at this point, of course, but it's still fair to assume (barring any kind of delays) that Moon Knight will make its Disney+ debut before the end of 2022.
There are still questions that need to be answered when it comes to Marvel Studios' Moon Knight, but the show is definitely shaping up to be one of the more unique projects to come out of the Marvel Cinematic Universe. The wait for that first glimpse of footage is going to be a long one for fans. But in the meantime, you can check out the other MCU shows streaming on Disney+ or you can always use the streamer to watch most of the Marvel movies in order.
Your Daily Blend of Entertainment News
Covering superheroes, sci-fi, comedy, and almost anything else in film and TV. I eat more pizza than the Teenage Mutant Ninja Turtles.
Your Daily Blend of Entertainment News
Thank you for signing up to CinemaBlend. You will receive a verification email shortly.
There was a problem. Please refresh the page and try again.