Why Miranda Cosgrove's iCarly Revival Will Feature 'Sexual Situations' For Streaming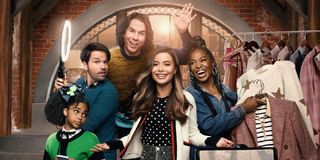 There's something about a show from my younger teen years being labeled as sexual that just feels so wrong, even if it is referring to a current-day project and not the OG series from my childhood. Such is the case with Miranda Cosgrove's upcoming iCarly revival for Paramount+'s streaming service, as the new series will apparently feature "sexual situations," and I'm probably not alone in not really knowing how to feel about it.
I mean, I get it. I'm not a kid anymore, and neither are the stars of iCarly. Returning star Nathan Kress, who is reprising his role as Freddie, told Page Six that the reboot definitely isn't targeting the same audience demographics that the original series was. Here is how the actor put it in his own words:
As much as I was initially apprehensive to consider iCarly containing "sexual situations," it honestly makes a lot of sense. The revival seems to be targeting the people who watched the original show as younger viewers, and we're all grown up now. While iCarly put its characters through some ridiculous situations in the original run it would be a little too outrageous for the same actors to come back and act like the children they were a decade ago. (One actor in particular won't be joining the rest, but it's not an age thing.)
Jerry Trainor, who returns as Spencer Shay, technically was an adult in the original, though he was still mostly a kid at heart. Now that he is coming back ten years older and potentially ten years wiser, it will be interesting to see how his heart has aged and if we can expect a little more maturity from Trainor's character as well.
In the same interview, Jerry Trainor spoke up about the new tone of the revival, saying that while the show isn't immediately going berserk with Ryan Murphy-level explicitness, there will be sexual elements at play. Here's what he has to say:
If people are up in arms about Spencer saying "damn it", I'd hate to hear what they think about the sexual element the reboot is exploring. (And I'd really hate to see what happened if the show did dip to Andrew Dice Clay-levels of insult comedy.) It won't be too long until we find out what everyone thinks, though, because the first three episodes of the iCarly revival drop on Paramount+ on Thursday, June 17th. Following that initial episode drop, new episodes will be released on the streaming platform every Thursday for the next ten weeks of the Summer TV schedule.
Constantly thinking about books, coffee, and the existential dread I feel from Bo Burnham's Inside. While writing I'm also raising a chaotic toddler, who may or may not have picked up personality traits from watching one too many episodes of Trailer Park Boys.
Your Daily Blend of Entertainment News
Thank you for signing up to CinemaBlend. You will receive a verification email shortly.
There was a problem. Please refresh the page and try again.