SEAL Team's Justin Melnick Opens Up About The Incredible Experiences Of Getting To Do Stunts For The Show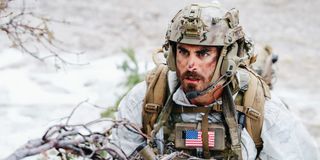 A show like CBS' SEAL Team involves plenty of stunts, but the work is not always easy. With the series moving to streamer Paramount+ following the airing of the first five episodes of the upcoming fifth season, the cast and crew have more of a leg room and ability to do more stunts and tell more authentic stories of the men and women in the military. Star Justin Melnick, who portrays Brock Reynolds, recently opened up about the incredible experiences he's had doing stunts for the show.
Justin Melnick posted a video to Instagram of himself and his dog, Dita --- better known as Cerberus on SEAL Team -- climbing out of a helicopter. It's one of many stunts he frequently does on the military drama and Melnick put in his caption that he's "so grateful for the way everything has turned out.. what a wild ride."
Since SEAL Team is a military drama, stunts are part of every episode and practically every scene. There's lots of training that has to be done, and a lot of times, there are stunt doubles on set to do some of the work so that the real actors don't get injured. While there are times where an actor will perform their own stunts, it's rare. Yet, from the post it seems like Justin Melnick (and Dita) get to do their own stunts, even if it just climbing out or jumping out of a helicopter. Hey, that's more than a lot of people can do!
Doing stunts for a project is not as easy as it looks, as a lot of times those stunts could literally put an actor's life in danger and actor's have been known to get an injury or two from the work (including Henry Cavill while The Witcher Season 2 filmed recently). But it just shows just how dedicated actors are to the work that they put into the training and the passion to make scenes look real and authentic for the audience. While Justin Melnick hasn't had too many big storylines as Brock on SEAL Team, Dita/Cerberus did start off Season 4 with a big one that made fans worry for the pup. In the end, it all worked out.
As SEAL Team is gearing up for its move to Paramount+, series star David Boreanaz recently opened up about critics overlooking the drama. There aren't too many military shows on TV or shows like SEAL Team, telling authentic and organic stories about the brave men and women fighting for the country. While I feel the show doesn't get as much recognition as it should, the fact that many of the actors do their own stunts shows just how far the cast is willing to go to pull off the complex series.
Just what stunts will the Bravo Team endure in Season 5? SEAL Team returns to CBS in the fall on Sundays at 10 p.m. EST before moving to Paramount+ after the first five episodes!
Your Daily Blend of Entertainment News
Passionate writer. Obsessed with anything and everything entertainment, specifically movies and television. Can get easily attached to fictional characters.