Big Brother Season 23: 8 Twists Happening In The Premiere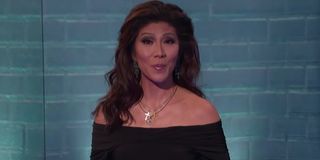 Big Brother Season 23 is just around the corner, and obviously, fans are rabid for any and all details concerning the new season. After what felt like an eternity of waiting, executive producers Rich Meehan and Allison Grodner have broken their silence about some of the details for premiere night, and as usual, there are plenty of unexpected things going down.
So, what twists and turns should Big Brother viewers expect on Night 1? There will be a mix of new and familiar elements thrown at audiences during the live two-hour premiere, so let's run down some of the major things that will happen and what craziness this all-new crew of Houseguests will face in the new season.
Houseguests Will Compete To Be "Team Captains"
As has been the case in past seasons, Big Brother will stagger its 16 Houseguests into the house via groups of four. Each group will then compete in a challenge, and the winner of each challenge will be designated as a Team Captain in the game going forward. These Team Captains will be in important roles, as they'll get to handpick their team members for the first four weeks of the game.
Team Captains Will Be Given Videos Of Other Houseguests
In an unprecedented turn of events, Big Brother will actually allow its Team Captains to make an informed decision on who to pick as part of their team. Parade reports each Team Captain will watch a 90-second video on the other Houseguests before selecting the members of their team. These clips will give a general gist of the Houseguest's personality, which will let these Team Captains know who they most want to spend the next four weeks with.
There's A Big "Double Or Nothing" Twist We Still Don't Know About
Rich Meehan and Allison Grodner have revealed a lot about what's happening in the Big Brother Season 23 premiere, though one big secret is being kept close to the vest. There's a big "double or nothing" twist coming at the end of the episode that's, allegedly, too good to pass up. Across all the interviews, it's not entirely clear who it will be presented to, though I'm inclined to think the offer will be made for the first HOH. I'd love for the whole house to have the option, but we'll have to wait and see.
A New Competition Will Be Added
Season 23 of Big Brother will introduce the "Wildcard Competition," which will add a layer of intensity to the early game. When one team captures the HOH, the three other teams will nominate one of their own to participate in the Wildcard Competition. The winner of that competition will get the option to guarantee their safety for the week but at the cost of some punishment to others in the house, or even their own team. It'll be a roll of the dice for some competitors based on how safe they feel, and I'm curious to see how many will opt for some safety early on.
Houseguests Will Be Pressured To Make Decisions That Impact The House Early
Rich Meehan stressed to EW that players will be pushed to make decisions early and often that could very well impact their safety or punish the rest of the house. My key takeaway from that is we're going to see a lot less of players trying to lay low and blend in (a.k.a. floaters) and that many will be forced to make some hard decisions early that will ultimately shape their game for as long as they're in the Big Brother house. It feels like a conscious effort to get all players in on the game and drama often, whether they want to be or not.
There Will Be More Twists Outside Of The Premiere
Big Brother viewers are often told to "expect the unexpected," though I think one could make the argument they've come to expect a lot these past few seasons. To cater to that, it appears Season 23 will feature more twists beyond what's introduced in the premiere, but it wasn't explicitly said what may come. I'm sure one will be some form of battle-back challenge, given the feature was nixed last year during COVID. The rest we'll have to wait and see. I did see that both executive producers Rich Meehan and Allison Grodner were fond of last year's "Triple Eviction" twist. I certainly wouldn't mind seeing it return either, so fingers crossed on that one.
The Backyard Will Have A Casino Theme
The Big Brother Season 23 premiere will have all games take place in the backyard, which isn't really anything new. What is new is that there will be a casino theme that will carry over to the games, though it's unknown for how long that theme will persist. After all, there's also the BB Beach Club theme, so I would have to imagine there might be one or two games that reference the vacation vibes and beach fun of the redesigned house. For premiere night, however, it's all about the casino, and given the season theme is high-risk, high reward, that could be a recurring theme.
The Live Audience Will Not Return
Big Brother fans hoping to see a live in-studio audience on Season 23 premiere night are going to be let down. Allison Grodner confirmed to US Weekly that the season will absolutely start without an in-studio audience, which means no cheers and boos for the first couple of episodes. Grodner added that the audience part could change throughout the season, however, and there is a chance that a studio audience (with special guests) may be allowed for the finale or even sooner. It would all seemingly depend on what the public health situation is as the game progresses, so we should have a good idea whether or not one will happen as the game progresses.
Big Brother Season 23 premieres Wednesday, July 7 at 8:00 p.m. ET. I'm definitely going to tune in on Night 1 to see the new Houseguests, and likely hop on the live feeds on Paramount+ as soon as possible to get the real scoop on what's happening inside the house. Those hoping to do the same should check out our handy guide for beginners, which lays out the ideal way to use the live feeds during the season.
Your Daily Blend of Entertainment News
Mick likes good television, but also reality television. He grew up on Star Wars, DC, Marvel, and pro wrestling and loves to discuss and dissect most of it. He's been writing online for over a decade and never dreamed he'd be in the position he is today.