The Return Of John Cena And 5 Other Reasons I'm Excited For SummerSlam 2021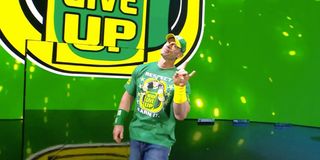 One of my greatest wrestling memories took place in August 1998 when my uncle invited my brothers and me over to watch SummerSlam (Stone Cold Steve Austin retained his WWF Championship against The Undertaker). That night came at the height of my childhood obsession with WWF, now WWE, and is a night I will always look back on fondly. Ever since then, SummerSlam has a special place in my heart, especially after my uncle's passing, and has always been my unofficial end of summer jam, so to speak.
That all pretty much changed in 2020 when SummerSlam wasn't what it was in previous years and I couldn't watch the show with any of my friends like in the past. But this year, SummerSlam 2021 is going to be bigger than ever, and on top of that, John Cena is back. That being said, there's a myriad of reasons why I'm excited for WWE's biggest show of the summer…
Seeing John Cena In A Main Event Match Is Actually Great To See
If you would have asked me 10 years ago if I was excited to see John Cena in a main event match at SummerSlam, I would have probably said: Meh. Sure, this is the 10-year anniversary of Cena's epic rematch with C.M. Punk, but you get what I'm saying. It was hard to go a month without seeing the future Hollywood star in a main event match and it was about as refreshing as eating a box of old cereal (maybe Fruity Pebbles like The Rock said). But now, there's just something about seeing Cena return and challenging Roman Reigns for the Universal Championship.
John Cena is at a level of stardom (F9, The Suicide Squad) that is rarely experienced by professional wrestlers in the mainstream and this adds another level to his first match since his absolutely insane WrestleMania 36 match. And plus, this is THE perfect time for the biggest WWE superstar of the 21st Century to challenge Roman Reigns, his successor so to speak.
It Looks Like We're Finally Getting That Edge Vs. Seth Rollins Match
One of the best feuds that has been building off and on over the years is the one between Edge and Seth Rollins. The beef between these two former WWE Champions and Royal Rumble winners goes back to 2014 when Rollins attempted to curb stomp Edge's head (who was still retired at the time). The two have had run-ins since then but it all came to a boiling point at Money in the Bank 2021 when Rollins interfered in Edge's Universal Championship match against Roman Reigns.
On paper, these two are about as equally matched as anyone in WWE right now considering the way both are effective heels and babyfaces and can work the crowd up into a frenzy no matter where they fall on the spectrum. So to finally see Edge, an aging superstar at the end of his journey, and Seth Rollins, an established wrestler with a lot of gas left in the tank, go head-to-head is something I'm very excited to see come August.
Becky Lynch Keeps Teasing A Return And SummerSlam 2021 Seems Like The Right Place And Time
It has been more than a year since Becky Lynch shocked the WWE Universe when she announced her pregnancy and would be stepping away from wrestling for the foreseeable future. Ever since then, wrestling fans around the world (but mostly Twitter) have been wondering when we'll see The Man step back into a WWE ring. Well, SummerSlam 2021 is as good a place as any to shock the world once more and lay a beating on anyone and everyone on the WWE roster.
Becky Lynch has continuously teased her return on several occasions throughout 2021, including just before the Royal Rumble, again after WrestleMania 37, and yet again before Money in the Bank 2021. While neither the SmackDown Women's Championship or Raw Women's Title matches have been set in stone at this point, a return of Becky Lynch either before or after either of those matches would have me, and just about every WWE fan up and out of our seats.
I Can't Wait To See Where The Randy Orton And Riddle Story Goes
One of the best, and most surprising programs happening right now in WWE is the unlikely partnership of Randy Orton and Riddle that has been playing out on WWE programming through much of 2021. The team, which is called RK-Bro in honor of Orton's signature move and Riddle's signature expression, has slowly worked its way to the top of Raw tag division, which will hopefully lead to championship match against the team of A.J. Styles and Omos at SummerSlam 2021.
And while the match isn't official yet, this seems like the perfect opportunity for RK-Bro. WWE could take the easy route and have Randy Orton do what he always does and turn on his tag team partner following a loss, or have them win the straps and do some long-term booking where he and Riddle go head-to-head at WrestleMania 38. Either way, I'm going to be saying "Bro" with the King of Bros like we're back the Alton American Legion Hall in 2017.
Goldberg's Entrance Should Be Awesome
I will be the first to admit that I'm not all too thrilled to see Goldberg return and immediately challenge Bobby Lashley for the WWE Championship at SummerSlam 2021, but one thing I am excited to see is Goldberg's entrance. Even though I wasn't the biggest Goldberg fan when I was a kid (though I did love spamming his spear on WCW vs. NWO: Revenge), I have always loved the theatrics of his self-serious entrance.
Just imagine being 10-years-old and seeing Goldberg surrounded by Clark County Sheriff's deputies (which was in Las Vegas like SummerSlam 2021) and hearing an arena of wrestling fans chanting Goldberg at Halloween Havoc 1998. It was epic, even though the match with DDP was anything but. Wrestling shows like SummerSlam have always been about spectacle and Goldberg's entrance will just that: a flashy show and distracts you from the world (and Goldberg's wrestling).
SummerSlam 2021 Is Taking Place On A Saturday
One of my favorite things about WrestleMania 37 was the fact that one of the two nights was on a Saturday, which is honestly something that needs to happen more often. Well, now it's happening with SummerSlam as WWE's biggest show of the summer is being held Saturday, August 21. In the past, WWE events have run long (I'm looking at you WrestleMania 35), making the following morning awful, even for Monday standards. Having SummerSlam on a Saturday means I can have a group of friends over and not have to worry about missing sleep or having a panic attack about cleaning up the house before work. For a guy with enough anxiety issues, this is a welcome change.
SummerSlam 2021 airs live Saturday, August 21 on WWE Network on Peacock and in select movie theaters. In the meantime check out our list of upcoming WWE events and everything else on the 2021 summer TV schedule.
Philip grew up in Louisiana (not New Orleans) before moving to St. Louis after graduating from Louisiana State University-Shreveport. When he's not writing about movies or television, Philip can be found being chased by his three kids, telling his dogs to stop yelling at the mailman, or yelling about professional wrestling to his wife. If the stars properly align, he will talk about For Love Of The Game being the best baseball movie of all time.
Your Daily Blend of Entertainment News
Thank you for signing up to CinemaBlend. You will receive a verification email shortly.
There was a problem. Please refresh the page and try again.