The United States Vs. Vince McMahon: 5 Reasons I'm Excited To See The WWE And Blumhouse Series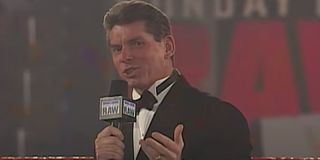 Throughout the history of professional wrestling, there have been a handful of events that have gone down behind the scenes that make for stories that are as tense and full of swerves than anything that happens in the ring. In the past, shows like Vice's The Dark Side of the Ring and documentaries like Beyond the Mat have shed light on these tales and all the nitty gritty of what goes on behind the curtain. Well, imagine how excited I was to hear that WWE and Blumhouse Television announced they were teaming up for a scripted series about one of the biggest wrestling scandals of all time: Vince McMahon's 1994 anabolic steroids trial.
For those not familiar with the scandal and ensuing trial, Vince McMahon, the chairman and CEO of WWE (then-WWF), was indicted by the federal government for allegedly supplying his wrestlers with anabolic steroids throughout the early 1990s. At some point in the future, The United States of America vs. Vince McMahon will tell that story and all the drama and antics that made it such a historic moment in the world of professional wrestling. With wrestlers taking the stand, the trial playing into WWF's rivalry with WCW, and more, there are plenty of reasons I'm excited for this series to come out.
Vince McMahon's Steroid Trial Was One Of The Biggest Wrestling Stories Of The Early 1990s
In terms of tearing down kayfabe and showing the real drama of professional wrestling, the tale of Vince McMahon's steroid trial is up there with the Montreal Screwjob and the death of Owen Hart for how it pulled back the curtain as well as how it changed the industry in general.
At the time, Vince McMahon hadn't yet adopted his over-the-top on-screen caricature of himself — Mr. McMahon — and was still the overly-excited commentator and announcer with a bombing voice and squeaky clean image. That all began to change with the scandal and would slowly turn McMahon into the character that would find himself feuding with Stone Cold Steve Austin before the end of the decade.
When The United States vs. Vince McMahon was first announced in July 2021, Variety reported that McMahon himself would be involved with the project as an executive producer, which has me hopeful the show will provide a detailed look at wrestling at the time.
I Cannot Wait To See Who WWE And Blumhouse Pick To Take On The Role Of Vince McMahon
With a title like The United States vs. Vince McMahon there is no doubt we will be seeing a ton of Vince McMahon in the series. When I first heard of the show, I immediately started to think about who could take on such a massive role and someone who could do it justice.
There was talk a few years ago of Bradley Cooper reportedly being offered the role of McMahon in a biopic, and that still sounds like a good idea if you ask me. Cooper is one of those actors who can wear many faces and has this anger behind his eyes that would be needed for a role like this. Another great option would be Christian Bale, who has a history of losing himself in roles and is more than capable of changing his physique to pull off McMahon's physique. Or there is the option of just having Adam Ray reprise his role from Young Rock.
But then there's always the possibility of just having a 75-year-old Vince McMahon play a 30-year younger version of himself and hope no one notices. I mean, crazier things have happened.
The Portrayals Of Hulk Hogan, The Ultimate Warrior And Other Big Wrestlers Of The Era Will No Doubt Be Amazing
Like any trial, Vince McMahon's steroid case had multiple witnesses, but these weren't just doctors, trainers, and other experts. No, a chunk of the WWF roster (as well as some other high-profile wrestlers who had left the company) took the stand during the trial, and boy, I can't wait to see how this plays out. According to Sports Illustrated, Hulk Hogan, Ultimate Warrior, Rick Rude, Big John Studd, Tom Zenk, Tull Blanchard, and Nailz took the stand, with only one wrestler saying McMahon directed him to use steroids.
If you thought that wrestler would have been Hulk Hogan, you're wrong even though it would have made sense considering Hogan left WWF the previous year and would debut in rival WCW just one month before the trial started. The only wrestler who claimed to have been ordered by Vince McMahon to get juiced was Nailz, according to The New York Times.
This is going to be great…
I Am Excited To See How The Show Handles Vince McMahon's Bitter Rivalry With Ted Turner And WCW
The Vince McMahon steroid trial came just as his rivalry with Ted Turner -- who owned WCW -- was cooking up. Before the feud reached new heights with the start of the Monday Night War in September 1995 when Turner debuted Monday Nitro against WWF's Monday Night Raw, Turner was already having fun and making statements to get his competitor all riled up, including telling the Daily News in July 1994 he should cover the legal drama on CNN along with the soon-to-come O.J. Simpson murder trial.
Remember how I mentioned Hulk Hogan taking the stand during the trial? Well, he was testifying on behalf of the government who was prosecuting Vince McMahon. At the time, Hogan was signed with Ted Turner's WCW and so it seemed like Hogan would turn on his former boss and throw him under the bus. As you may recall, this didn't happen and the former WWF Champion remained loyal. This will surely be a major part of the show and will make for great television, brother.
This Could Hopefully Open The Door For Blumhouse To Tell More Crazy Stories From WWE's Past
I really hope this is the start of something for WWE and Blumhouse as there are a myriad of stories that could be told in this format. Similar to how FX has the American Crime Story anthology series, this could become something of its own and spawn even more stories over the years. It could be like all those reenactments from Dark Side of the Ring but with the pomp and circumstance of a scripted drama series and a decent-sized budget.
I can't wait to hear more about The United States vs. Vince McMahon and what the show has to offer wrestling fans and non-wrestling fans alike. In the meantime, check out all the upcoming WWE events as well all the new and returning shows on the 2021 fall TV schedule.
Philip grew up in Louisiana (not New Orleans) before moving to St. Louis after graduating from Louisiana State University-Shreveport. When he's not writing about movies or television, Philip can be found being chased by his three kids, telling his dogs to stop yelling at the mailman, or yelling about professional wrestling to his wife. If the stars properly align, he will talk about For Love Of The Game being the best baseball movie of all time.
Your Daily Blend of Entertainment News
Thank you for signing up to CinemaBlend. You will receive a verification email shortly.
There was a problem. Please refresh the page and try again.