As Kim Kardashian Shows Off Latest Bikini Shot, Khloe Says What No One Else Was Thinking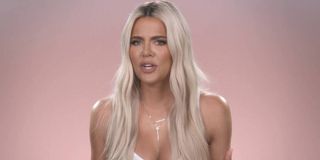 Anyone who follows the Kardashian-Jenner's on social media knows the reality TV family has become skilled at the art of the bikini photo. At this point, many likely anticipate when they'll be able to catch a glimpse of one of the famous sisters in a bathing suit. Kim Kardashian has become particularly notorious for posting said photos on certain occasions. Well, the business mogul recently posted yet another but, when sister Khloe Kardashian responded to the latest pic, she pretty much said what no one else in the comments was thinking.
To no one's surprise, fans flooded the comments of Kim Kardashian's new Instagram post. Many were hyping up the star's sleek, black swimwear, including a host of Kardashian's celebrity friends. So this made Khloe Kardashian's response that much more unexpected, and funny:
Now, to be fair, Khloe Kardashian's comment seems to be more of a joke, in which she pretends to ignore her sister's look completely. Honestly, the remark seems more like something that would come from older sister Kourtney, who has proven to be the wittiest of the group. Still, it's an A+ comment and an accurate one, as the water behind Kim Kardashian makes for beautiful scenery. Check out the photos down below:
Kim Kardashian's bikini photos are interesting on their own, but the comments are especially entertaining. You honestly never know who's going to chime in on the sexy snapshots. For instance, Dolly Parton commented on another of Kardashian's bikini pics just recently and dropped the perfect Dollyism in the process.
But Kim Kardashian's photos aren't only meant to draw a myriad of responses from the public. They're also her method of signifying significant moments in her life. Last year, she used a bikini photo to mark her 40th birthday and, while the snapshot was sizzling hot, it was honestly a nice way to mark the occasion. And earlier this year, another photo she posted came on the heels of Forbes naming her a billionaire.
It should be noted that the Kardashians' bikini photos don't always have the intended effect, though. For instance, one of Kourtney Kardashian's photos gave some of her followers the impression that she was pregnant, though she took the comments in stride. Meanwhile, a recent photo from Khloe Kardashian sparked responses from exes Lamar Odom and Tristan Thompson. And do we even need to mention the unedited bikini photo of Khloe that made the rounds a few months ago.
But despite how people might respond to them, Kim Kardashian and her sisters are as synonymous with bikini photos as fireworks are with the fourth of July. And it's a safe bet that they'll continue to post them well into the future, as fans continue to be mesmerized by them.
Covering superheroes, sci-fi, comedy, and almost anything else in film and TV. I eat more pizza than the Teenage Mutant Ninja Turtles.
Your Daily Blend of Entertainment News
Thank you for signing up to CinemaBlend. You will receive a verification email shortly.
There was a problem. Please refresh the page and try again.