After Kim Kardashian Referenced Dolly Parton In New Bikini Post, The Singer Shared A Sweet Reply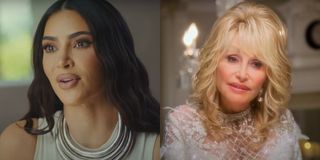 Following her split from Kanye West, Kim Kardashian has taken to single life the best way she knows how. That's right, by bringing her bikini A-game. In her latest thirst post, the Keeping Up with the Kardashians star referenced the wise and sage words of none other than Dolly Parton. And surprisingly enough, the "Jolene" singer sent a sweet reply in the comments.
Kim Kardashian's bikini pic was captioned with a quote attributed to Dolly Parton, which urges one to not forget about the grander scheme of "making a life" as opposed to "making a living." (It's kind of ironic, considering the Kardashian-Jenners have made a living out of their lives being filmed.) Kardashian is seen in the post lounging on a boat out in the middle of a lake. It's a perfectly choreographed encapsulation of someone enjoying life – and Parton herself seems to agree. She wrote to Kardashian:
A personal reply from Dolly Parton has got to be reason #6444 why Kim Kardashian already has a pretty blessed life. (I can practically hear the singer's Tennessee twang saying "sweetie" to her.) Luckily for Kardashian, too, she has the means to "take a little time" for herself, as she also described in the caption. Check out the Parton-inspired bikini pic below:
The billionaire businesswoman (and soon-to-be lawyer) probably needs a little R&R (as do we all), given the relentless drama and controversy she's been faced with this year. Divorce proceedings are currently underway with ex-husband Kanye West. She also had been accused by Travis Barker's ex-wife of cheating with him while the two were married, which the reality star publicly denied. Moreover, Kardashian's KKW Beauty is at a bit of a standstill amidst a lawsuit and rebrand happening.
But much like how the Dolly Parton reference warns against, Kim Kardashian has been pretty focused on work in the past few months. Keeping Up with the Kardashians took its final bow, but another reality show is slated for Hulu this year. Kardashian has also been busy expanding her SKIMS shapewear company. So much so, that it is now the official underwear, sleepwear and loungewear for female U.S. athletes at the Olympics.
However, Dolly Parton's reach goes beyond the likes of just Kim Kardashian. The iconic Grammy Award-winning singer has influenced artists both old and new. In 2019, she even released an 8-part series, called Dolly Parton's Heartstrings, on Netflix based on her memories that influenced her musical catalog. Late last year, she also released Dolly Parton's Christmas on The Square, which has in fact been nominated for an Emmy for Outstanding Television Movie.
Clearly, the Keeping Up with the Kardashians star is living her life to the fullest. In a lot of bikinis and form-fitting "Old Kim" throwback styles, that is. But as another Dollyism has it, "Don't judge me by the cover 'cause I'm a real good book!"
Freelance writer. Favs: film history, reality TV, astronomy, French fries.
Your Daily Blend of Entertainment News
Thank you for signing up to CinemaBlend. You will receive a verification email shortly.
There was a problem. Please refresh the page and try again.