Selena Gomez Calls Out The Good Fight After Show Makes Organ Transplant Reference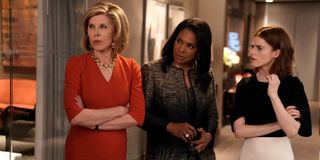 Some TV shows these days go a little too far when it comes to joking and commenting about celebrities' private lives, and while one might not expect the playful streaming drama The Good Fight to come under fire for such a thing, that's precisely what's happened. A recent episode featured what many perceive to be an insensitive joke about Selena Gomez, and Gomez herself is calling out the Paramount+ series.
In the fourth episode of Season 5, The Good Fight features one character asking what topics are off-limits for a sensitivity read for a comedian. Autism and necrophilia are brought up, as well as "Selena Gomez's kidney transplant." As many fans are undoubtedly aware, the actress and singer had to have that surgical procedure a few years ago due to her lupus, and the kidney donation came from her friend and actress Francia Raisa. Thus, after the episode's release, Gomez took to Twitter to call out The Good Fight and other TV shows for making organ transplant jokes:
According to a source at The Hollywood Reporter,The Good Fight's scene in question was intended to show how those kinds of jokes are not okay, as it was talking about cancel culture. Although the scene may have been taken out of context, even though the context was pretty specifically about it being a bad topic, this isn't the first time Selena Gomez's kidney transplant was mentioned on TV in a way that caused controversy. In last year's Saved By the Bell reboot on Peacock, two students discussed the singer's transplant jokingly, and in the same episode, graffiti can be seen in the school's hallway that says "Does Selena Gomez even have a kidney?" That was far more obviously off-color, but The Good Fight definitely didn't need to name-check Gomez.
Selena Gomez's transplant is not something to joke about, as her lupus has been causing her health problems for years. She took a break from the public eye in 2017 and has been open about her anxiety and depression in the time since. Whether or not The Good Fight meant for the comment to be a joke, it still obviously hurt Gomez, and possibly any other person who has had a transplant. Hopefully this marks a move toward TV writers leaving jokes like that completely out of their scripts altogether.
After Selena Gomez fired back at The Good Fight, she thanked her legion of fans for having her back, as many of them quickly took to social media to call out the series as they did for Saved By the Bell. (Peacock did remove the offending jokes from the applicable episode soon after the backlash happened, so we'll see how Good Fight handles things.) She also included a link in her thread that fans can sign up on to be an organ donor, so they can help save others just as she was saved.
The Good Fight releases new episodes on Paramount+ every Thursday. Check out all the other shows that will be debuting soon with our 2021 Fall TV schedule.
Passionate writer. Obsessed with anything and everything entertainment, specifically movies and television. Can get easily attached to fictional characters.
Your Daily Blend of Entertainment News
Thank you for signing up to CinemaBlend. You will receive a verification email shortly.
There was a problem. Please refresh the page and try again.