After That Hair Cutting Incident With Travis Barker, Kourtney Kardashian Debuts Chic New Short Hairdo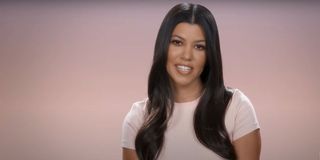 I have been left stupefied by the choices of the Kardashian-Jenner family once again, folks. This time it doesn't concern Twilight grills or gravity-defying dresses, but in fact, letting one's boyfriend (or even potential husband) cut your hair. Apparently, that hair cutting incident with Travis Barker two weeks ago was at least somewhat legitimate because Kourtney Kardashian just confirmed she has gotten a short new hairdo. (And, it's rather chic...)
Kourtney Kardashian teased the masses on July 29 when she posted a pile of sheared hair on her Instagram stories, with the caption, "haircuts by @travisbarker." A few days later, another post showed the same image again in a compilation of Kardashian and Travis Barker apparently under COVID-19 quarantine. (So, I guess, boredom might have actually been the reason for the change.) Whether or not Barker really had the skills to do the recently debuted final look remains to be seen, but here it is:
The new hairdo is quite a change for Kourtney Kardashian, who has kept her long locks the longest out of all of her sisters. then again, this year has been quite a year of change for their whole family, what with Keeping Up with the Kardashians concluding after 20 seasons, Kourtney dating someone new, Kim getting divorced, and so on and so forth. It's anyone's guess what their secret new Hulu project entails. If it's in a similar reality TV vein as their former E! show, which Travis Barker is rumored to be a part of, then maybe we'll get deeper insight into their relationship.
On the surface of things, it looks like Kourtney Kardashian and Travis Barker are still going strong, even after a haircut trust exercise and quarantining together. Barker even lovingly commented on the post, "You're perfect." The two supposedly got engaged or married in Las Vegas a few weeks ago, but if they did, then they are trying to keep it tightly under wraps. (Kardashian hasn't been seen wearing any kind of ring in her latest posts, to note.)
The Keeping Up with the Kardashians star actually got into a little tiff with fans on Friday over her social media posts. As reported by E!, an Instagram user commented on a different pic of Kourtney Kardashian saying that she must be pregnant. Apparently, though, Kardashian wasn't having any body shaming in her comments because she wrote, "I'm a woman with a BODY."
Kourtney Kardashian isn't the only one in the family unapologetically mixing up her look. Kim Kardashian actually went eyebrow-less a while back – but that was only a temporary stint for her new SKIMS campaign. Meanwhile, Khloe Kardashian (aka the sister accused of looking drastically different from photo to photo) ditched her ultra-straightened hair and showed off her natural curls for once.
As a woman who has just chopped off literally all of her hair, I can attest that a new look is always liberating. However, trusting a boyfriend to do the job will always be a hard no in my book.
Movies and TV News Writer
Freelance writer. Favs: film history, reality TV, astronomy, French fries.
Your Daily Blend of Entertainment News
Thank you for signing up to CinemaBlend. You will receive a verification email shortly.
There was a problem. Please refresh the page and try again.