Kourtney Kardashian Let Travis Barker Cut Her Long Hair Off And It's A No From Me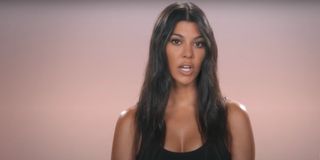 The Kardashian-Jenners make a lot of head-scratching, mind-boggling choices in the minds of everyday people. A red leather bodysuit, for one, is definitely a choice. Using Dolly Parton for inspiration on a bikini pic? Okay, maybe I get that one – who doesn't love Dolly? But what screams "Big no!" to me is the idea of a boyfriend moonlighting as one's hairdresser, and Kourtney Kardashian apparently let Travis Barker do just that by cutting off all her long hair.
The only evidence of Travis Barker's hair-cutting skills comes from Kourtney Kardashian's Instagram Stories. The Keeping Up with the Kardashians star posted a lone image of a pile of long black hair, with the simple caption, "haircuts by @travisbarker." Take a look at the shocking pic here:
Now, it's not 100% clear if that is actually Kourtney Kardashian's hair cut off by Travis Barker. Kardashian has yet to post any pics of herself flaunting what would be a drastically new look. The most recent post from yesterday seemingly has all of her long dark hair still intact. But if the Blink-182 drummer really did cut her hair, then I'm in awe of her trust in a non-hairdresser man's ability to do her hair justice – because it couldn't be me.
Reportedly, though, Kourtney Kardashian and Travis Barker's relationship has taken the ultimate leap of trust beyond mere haircuts and tattoos from each other. The two were thought to have either gotten secretly married or engaged a few weeks ago in Las Vegas, after less than a year of dating. Barker's teenage daughter Alabama seemingly confirmed the rumors on Instagram Live (via ET Online) when she called Kardashian her "stepmom." It would be a huge step for Kardashian, who has never married before. However, it must be said: hair can always grow back but marriages are at least semi-permanent, as Kourtney's sister Kim Kardashian knows well.
Ever since it came to light that they were dating, Kourtney Kardashian and Travis Barker have been on a rather choppy journey. Barker's ex-wife Shanna Moakler claimed that Kim Kardashian slept with Barker while they were still married and that Kourtney was negatively affecting her relationship with her kids. Kim denied the allegations, but Kourtney has been just as private as usual.
I may not agree with the idea of Travis Barker cutting off Kourtney Kardashian's hair, but I'm not necessarily against big statements as a whole. I could dig Kim Kardashian's alien (lack of) eyebrows. Even Kourtney's filter-free booty pic and Edward Cullen fangs can be appreciated for their carefully crafted empowerment tones and ingenuity.
We'll have to keep our eyes cast to the ever-churning content horizons that are the Kardashian-Jenner social media accounts. Namely, look out for butchered Peter Pan haircuts done by rockers who traded in their drumsticks for scissors.
Freelance writer. Favs: film history, reality TV, astronomy, French fries.
Your Daily Blend of Entertainment News
Thank you for signing up to CinemaBlend. You will receive a verification email shortly.
There was a problem. Please refresh the page and try again.