Former Real Housewives Of Beverly Hills Star Denise Richards Reveals Whether She Would Return, After Brandi Glanville Hookup Allegations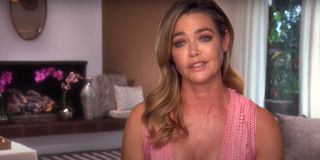 (Image credit: Bravo)
Denise Richards has had a prolific acting career that has spanned decades, genres and formats. Her two-season stint on the Real Housewives of Beverly Hills quickly fell apart, though, when alum Brandi Glanville made an appearance and shockingly claimed that they once hooked up. Richards denied the allegations but would ultimately leave the show in 2020. When asked recently if she would return to the Bravo series one day, her answer wasn't as emphatically negative as one might expect.
Previously, Garcelle Beauvais had hinted that her former co-star Denise Richards wasn't quite done with the Real Housewives of Beverly Hills just yet, despite her dramatic exit following the hookup rumors. She even indicated that Richards would return if a certain castmate would get the royal Bravo boot out the door. No answers on who exactly she wanted on the chopping block, yet Richards told ET Online,
So that's not a yes, but it's also not a no. Denise Richards can't really be blamed for not wanting to return to the Real Housewives Beverly Hills. In Season 10, Brandi Glanville got into explicit detail of their alleged hookup and even claimed that Richards tricked her into cheating (since Richards' husband supposedly knew nothing about it, as she was led to believe). The other ladies, most notably Lisa Rinna, ended up interrogating Richards about it and implied that she was a liar.
Denise Richards' ambiguous response concerning her return also touched on the more serious tone nowadays on the Real Housewives of Beverly Hills. Her other former co-star, Erika Jayne, is currently in the midst of being interrogated by the ladies (in a similar fashion as Richards was) for lying about her husband's legal and financial troubles. Surprisingly enough, given her own experience, Richards commented that the women likely "couldn't not talk about some of the things that's going on," adding that it's "a very difficult situation." Most definitely, Brandi Glanville hookup accusations are crumbs in comparison to embezzlement allegations.
For her part, Brandi Glanville has said that she doesn't regret bringing up the alleged hookup one bit on the Real Housewives of Beverly Hills. But she also implied that she herself was done for good with the show that brought her notoriety. If Glanville is well and truly out of the way, it seems Denise Richards wouldn't mind returning to the reality TV world, although she didn't explicitly name Glanville. She said,
After first Lisa Vanderpump's exit and then Denise Richards leaving, the Real Housewives of Beverly Hills had to make some new arrangements. Sutton Stracke, a divorcee with couture galore, entered the fray last year and is now in her sophomore season. Kyle Richards' sister Kathy Hilton was brought in this year, along with newcomer Crystal Kung Minkoff, who is the first Asian American star of the show.
Changes are, in fact, happening all the time within the Real Housewives franchise. But it must be said that Bravo fans likely want more of a Lisa Vanderpump return than a Denise Richards one, who apart from the hookup allegations was most known for talking about her husband's penis.
I am a vegan feminist. I'm fascinated by all things space/stars. I love film history, reality television, and my cat Bubbe.
Your Daily Blend of Entertainment News
Thank you for signing up to CinemaBlend. You will receive a verification email shortly.
There was a problem. Please refresh the page and try again.