Real Housewives Of New York's Leah McSweeney Weighs In On Debate Regarding Eboni K. Williams' On-Air Discussions About Race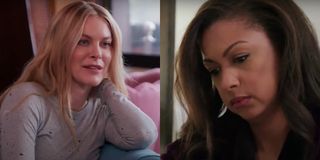 (Image credit: Bravo)
Eboni K. Williams is on her freshman season of The Real Housewives of New York, and she's already made some waves. The lawyer and podcast host hasn't shied away from talking on-air about her personal experiences as a Black woman or about the Black experience as a whole in America, alongside a cast made up entirely of white women. Alum Ramona Singer has criticized Williams on the show for supposedly bringing up the topic in every conversation, and some Bravo fans have echoed the sentiment online. But co-star Leah McSweeney is weighing in on the debate with a different perspective.
It's obvious that Eboni K. Williams, who is the first ever Black castmate, wanted to represent her life and culture in a way that felt true to her. But her Real Housewives of New York co-stars handled it with no short amount of awkwardness. The majority of them claimed to be bored at Williams' "long-winded" Harlem Renaissance-themed dinner party. Mostly, though, it was Ramona Singer who preferred to either literally run away from race discussions or tell Williams now to talk about it at all. In an interview with Jezebel, Leah McSweeney revealed that she considers it censorship. She said:
One of the adamant beliefs by fans online is, in fact, that The Real Housewives of New York is a lighthearted reality show that people use to escape real-world issues, not to bring them in. The opposite side of the debate, however, has pointed out that serious issues aren't exactly off the table on the show (i.e. body image, alcoholism, etc). Mainly, they question, if the Real Housewives is supposed to be about these women's real lives and feelings, then why shouldn't Eboni K. Williams share about race if she feels comfortable to do so?
Comfortability is a huge part of the debate at hand. Ahead of earlier Real Housewives of New York episodes that delved into Eboni K. Williams feeling triggered by being called an "angry black woman," Williams actually took a hiatus from social media in anticipation of Bravo fans having a huge reaction to her. In her interview, Leah McSweeney questions whether Bravo is the "best platform" for these nuanced discussions on race. Ultimately, she thinks it's right if they make a difference "in someone's brain or life." She continued:
The debate over Real Housewives of New York's race discussions has created intense speculation about the future of the casting lineup. At first, Ramona Singer was reportedly going to be fired after thirteen seasons on the show. Later reports indicated that both Singer and Eboni K. Williams were going to be brought back next season and that Leah McSweeney might be replaced by former alums Tinsley Mortimer or Bethenny Frankel, the latter of whom has denied it.
We need look no further than the Real Housewives of Orange County's recent cast changes to confirm that no one is safe in Bravoland. Real Housewives of New York's season is winding down, and Leah McSweeney promises that the reason is likely to be as juicy as ever.
Movies and TV News Writer
Freelance writer. Favs: film history, reality TV, astronomy, French fries.
Your Daily Blend of Entertainment News
Thank you for signing up to CinemaBlend. You will receive a verification email shortly.
There was a problem. Please refresh the page and try again.