Dog The Bounty Hunter's Daughter Claims Domestic Abuse Arrest Began With Insult About Her Dead Mother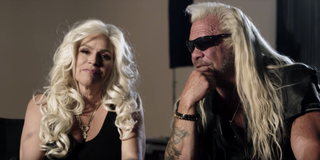 Fans of reality TV may very well be familiar with Dog the Bounty Hunter and his large family living their own lives while also on the hunt for wanted criminals. Lately, though, the bounty hunter and his family have been on the outs, and now stepdaughter Cecily Barmore has seen some trouble with the law. Previously arrested for domestic abuse, Barmore claims the situation began with an insulting comment about her mother who passed away back in 2019.
Cecily Barmore was arrested a month ago after her partner called police and told them she punched him in the face. According to him, this was not the first time something like this had occurred in their relationship, but it was the final breaking point that caused him to call the police and make a report.
According to TMZ, Cecily Barmore has a different story. Dog the Bounty Hunter's stepdaughter said that did, in fact, punch her partner of five years, but it was in self-defense and after he disrespected the memory of her mother. She went on to say that she feels justified in her actions, and that her mother would have done that same thing in the situation.
Although at this point it may just be one word against another, no charges have been brought against Cecily Barmore. The prosecution, though, does have up to two years to decide if they want to go forward with pressing charges against her.
The arrest came shortly before Cecily Barmore cancelled her wedding plans for this coming December, stating she and her ex-fiance needed some time apart and were not in a rush to get married, but it could still be on the table for the future. The arrest, at that time, was not made public and could be a big reason for the shift in wedding plans.
It's also important to note that since her mother Beth Chapman's death, Cecily Barmore has become increasingly at odds with her stepfather Dog the Bounty Hunter, as he got engaged since losing Chapman to cancer and his current upcoming wedding will not include Barmore. In addition to the explosive love life of Dog the Bounty Hunter, there is the added discomfort of his reality series Dog Unleashed being cancelled before it got to air, allegedly due to racist comments.
While it certainly doesn't seem to be all sunshine and rainbows in the world of Dog the Bounty Hunter and his extensive family, there is always hope for the future that they can come together and work out everything that's going on in their personal lives. Although, upholding the memory of Beth Chapman still seems like it is a priority and sore spot for daughter Cecily Barmore.
Constantly thinking about books, coffee, and the existential dread I feel from Bo Burnham's Inside. While writing I'm also raising a chaotic toddler, who may or may not have picked up personality traits from watching one too many episodes of Trailer Park Boys.
Your Daily Blend of Entertainment News
Thank you for signing up to CinemaBlend. You will receive a verification email shortly.
There was a problem. Please refresh the page and try again.