Arrow Season 2: A Look Back And A Look Ahead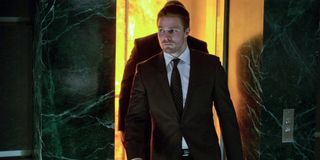 At the end of Arrow's first season, the 'Hood' had all but failed his city. The playboy turned castaway turned vigilante couldn't stop 'the undertaking' that left his home in ruins and Starling City is now in need of a hero more than ever. Maybe a city full. And before The CW super-series returns with a "City of Heroes" to start Season 2, now is a good time to take a look back at the events of last year as well as discuss the potentially game-changing new additions to the show based on DC Comics' 'Green Arrow.'
The hero currently known as the Hood went through a lot in his debut season so the network decided to create a one-hour special called Arrow: Year One (which already aired in Arrow's slot last Wednesday but can still be viewed online) to remind fans what has occurred in Oliver Queen's origin story so far. While the extended recap boasts a rad, comic-inspired title, it also features some awkward voiceover narration that makes it a little hard to watch. If you want to simply look into "Sacrifice," last year's action packed, cliffhanger finale, this promo does a great job summing everything up in a far more entertaining couple minutes.
Besides Colin Donnell's Tommy, who made the titular sacrifice, the rest of Arrow's main cast will be back trying to save (or destroy) Starling City in Season 2. Stephen Amell's Oliver Queen is surely still reeling from his best friend's death, but it shouldn't take long for David Ramsey's Diggle and Emily Bett Rickards' Felicity Smoak to convince the hero to keep fighting the good fight. Paul Blackthorne's (former) Detective Lance has also come around on the 'Hood' but at the cost of being demoted back to being a beat cop while his daughter, Katie Cassidy's Laurel, is now hell-bent on busting Ollie.
So, expect the family squabbles to continue since they essentially just switched opinions on the value of the vigilante. And speaking of family, the other Queens are embroiled in their own troubles, with Susanna Thompson's Moira set to pay for her part in 'the undertaking' and Willa Holland's Thea falling head over heels for the show's new bad-boy turned (red) hooded crusader. That's right, Colton Haynes will also be back in Starling City (looks like he survived the devastation of the Glades) and will probably pursue his dream of partnering up with the Hood. Ollie's partners on the island are also back for more flashbacks, with Celina Jade's Shado and Manu Bennett's Slade Wilson (aka Deathstroke) signed on for recurring roles.
And it's also worth noting that the flashback structure allowed for the return of fan favorite John Barrowman as Malcolm 'the Black Archer' Merlyn. Oh, and I guess Tommy too. Or maybe the Merlyns aren't dead? Or one or the other will come back to life? Impossible you say? Not in the 'gritty, realistic world' that Arrow has created. Well, The CW action-adventure series is about to grow more fantastical than its first season. Superpowers are coming to Starling City and perhaps some magic, as well. Before I introduce Season 2's major 'power' player, Arrow also added several other characters from (or related to) the DCU starting with David Negahban as Al-Owal, a member of the League of Assassins.
I bring up Negahban's nefarious character first since he's not only going to be a significant 'big bad' for the season but also because the League of Assassins' (or Shadows, if you prefer) connection to the Lazarus Pit could provide a way for one or both Merlyns to be resurrected. I'm also interested to see if we get a hint of Ra's al Ghul. The casting that causes the most immediate conflict for the Queens, one that rears its beautiful head in tomorrow's premiere, is sci-fi/fantasy goddess Summer Glau as Isabel Rochev. She's definitely going to be a business problem for Oliver but we'll have to wait and see if that spills into the criminal underworld. Or maybe his bed. Here's a great look at her character (and others) in the Arrow S2 preview from Comic-Con...
Okay. Obviously, Black Canary is the big reveal from the Comic-Con preview, but at the time, we still didn't know the name of the actress that would be playing the part. Only later did we learn that Caity Lotz would be putting on the suit for this variation of the DC hero. I say variation because we all know that (Dinah) Laurel Lance is the real Black Canary. Right? We'll have to see how that plays out, although the explanation given by the writers was that she, like Yao Fei was with the Hood, is simply the first to adopt the persona. There were a few other Arrow casting announcements at SDCC including Kevin Alejandro as Brother Blood and Michael Jai White as Bronze Tiger, both of whom will be formidable physical threats for Green Arrow.
And the additions to the show certainly didn't stop when the comic book convention concluded as the aforementioned Lotz as Black Canary news came shortly after and was followed by the network snatching up The Killing Season 3 standout Bex Taylor-Klaus to play the heroine's 'sidekick' Sin. Then came Cynthia Addlai Robinson as Amanda Waller, Dylan Neal as and Jimmy Jean-Louis as the mysterious 'Captain' who has ties to Amazo. Yeah. It's a lot. Teryl Rothery was also cast to play Jean Loring, whose connection to Ray Palmer aka The Atom isn't just rad but also re-raises the question about how superpowers will be inserted into the Arrow universe. I mean, how?
I've been dancing around this topic since the beginning, mostly since you should always save the best (or at least the biggest) news for last but also because I'm not exactly sure how I feel about The Flash being introduced on Arrow. It's obviously awesome news that Barry Allen is getting his own television show, with Glee's Grant Gustin playing the superhero, however, (as I've said), the addition of 'super' to 'hero' doesn't really fit into the series that exists. The CW's take on Oliver Queen is grounded in reality (no matter how absurd some elements have been) and having a guy who can run faster than Superman can fly seems as far from that world as you can imagine. My interest is piqued but the writers' work is cut out for them. Don't ruin one series just to spark another, especially one that likely needs no introduction. And Flash should be a feature film! Alright, that's just a personal issue. Let's all get excited for "City of Heroes."
Arrow returns for the second season premiere, "City of Heroes," tomorrow night at 8 p.m. ET on The CW. Created by Marc Guggenheim, Andrew Kreisberg and Greg Berlanti, the DC Comics inspired series stars Stephen Amell, Katie Cassidy, David Ramsey, Emily Bett Rickards, Willa Holland, Colton Haynes, Manu Bennett, Paul Blackthorne, Susanna Thompson, and John Barrowman.
Your Daily Blend of Entertainment News
Thank you for signing up to CinemaBlend. You will receive a verification email shortly.
There was a problem. Please refresh the page and try again.