Australian News Anchor Accidentally Wears Outfit That Looks Like A Penis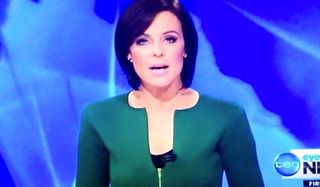 When it comes to Social Media, nothing is safe. Australian News Anchor Natarsha Belling and her recent outfit with a neckline that is shaped like a penis are proof of that. Take a look at the above picture again if you don't yet see the phallic imagery, because once you see it you "cannot unsee it."
Is it ridiculous? Yes. But when something like this goes viral on the internet there is nothing anyone can do but stand by and watch in pure amazement as the situation at hand takes on a new life of its own. Belling's appearance in the now-famous penis-shaped garb on Australia's Network Ten on Sunday is only the latest in wardrobe malfunctions to grab mass-media attention. This one differs in that the clothing didn't necessarily seem to have any obvious flaw or "in the moment" mechanical breakdown like the many clothing malfunctions that have occurred in the past, but rather just contained some now-very-noticeable phallic imagery.
According to Metro, Facebook lit up with ridiculous commentary, much due to user Ruben Haywood, who apparently was the first to notice the unusual imagery displayed in Belling's outfit. It has since gathered tens of thousands of likes and comments on Facebook and Twitter alike.
This is not the first time an outfit like this one has been worn on television, and apparently it happens far more than you might think. Many news anchors have worn similar attire as Belling, none of which for some reason seemed to have sparked this Social Media frenzy. Prior to Belling, Channel Seven's news reader Melissa Doyle wore an ivory version of the same jacket not long ago, as did Brisbane news presenter Eva Milic of Nine News. Why Belling's green blazer version took off is anybody's guess but there's no denying its viral reach.
If you thought wardrobe malfunctions were a thing of the past, you would be incorrect. It was less than a year ago that Idina Menzel had her own little onstage ordeal while performing at Radio City Music Hall. The wickidly talented singer was about to begin a song when her dress had an issue of sorts that prompted another to come out and help her conceal herself. You can catch a glimpse of that little vid below.
Prior to Menzel's malfunction, Anne Hathaway had a little outfit issue of her own when she attended the premiere of her 2012 feature Les Miserables. Not surprisingly, some performers, including the likes of Christina Applegate, are terrified of wardrobe malfunctions. And on the flip-side, some have fallen victim to them, yet remain in denial of them, like television's Nancy Grace. At least Natarsha Belling is in good company.
Your Daily Blend of Entertainment News
Your Daily Blend of Entertainment News
Thank you for signing up to CinemaBlend. You will receive a verification email shortly.
There was a problem. Please refresh the page and try again.