The Big Bang Theory: Check Out Penny And Leonard On The Wedding Day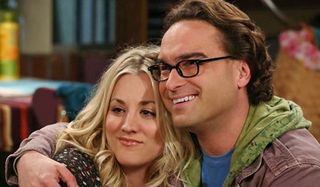 There are some minor spoilers, below, but basically if you don't want to know anything about the new season of The Big Bang Theory, this may not be the article for you!
The Big Bang Theory is gearing up for a big Season 9 premiere episode. Showrunner Steve Molaro has already revealed that Penny and Leonard will finally take the plunge and tie the knot during the big premiere. Recently, CBS also premiered a slew of brand new photos from the upcoming episode "The Matrimonial Momentum," which features the couple all dressed up and looking snazzy. You can check out the first photos from the marriage-based episode, below.
In the picture, Penny and Leonard look as if they have already gone through with the marriage or about to get married, at least. Despite the fact we know the two are getting married, Penny does not look particularly happy in the image. And why would she? At the end of the Season 8 finale, she was in love and ready to take her relationship with Leonard to the next level. Then, he made the announcement that he had actually cheated on Penny some time ago. Most people would generally be a little blindsided if their partner admitted to cheating right before a wedding. It would be extremely hard to muster up any sort of goodwill in your gut after a story of that nature is revealed.
Speaking of relationship trouble, Sheldon and Amy also broke things off at the end of Season 8. Some of the pictures (that can be viewed at the bottom of this page) seem to show her getting comforted by some of the other friends in the group. However, there is one image that features Amy talking with Sheldon, suggesting they at least have one final conversation for closure after the big break-up. Or maybe there is a glimmer of hope for the future, after all.
At the end of last season, Amy broke things off with Sheldon after realizing that his attentions might never be wholly focused on their relationship. (He had, in fact, just brought up watching The Flash during an intimate moment.) After the fact, The Big Bang Theory shared a scene in which Sheldon pulled a ring box from a drawer, intimating he had planned to ask Amy to marry him. Yeah, there was a lot of relationship drama in that finale.
We know things are going to get even crazier, at least in terms of where Penny and Leonard's relationship is headed. Just a few weeks ago, we learned that Melissa Tang has signed on to The Big Bang Theory for a Season 9 stint. She's playing the woman that Leonard cheated on Penny with, although we don't know exactly how she will be written into the plot, yet.
We should find out soon enough. The Big Bang Theory will hit the schedule (opens in new tab) on Monday, September 21 at 8 p.m. ET. Other photos from the Season 9 premiere episode can be previewed, below. In addition, here's what else is coming out this fall.
All of the photos in this article are courtesy of CBS.
Amazing Race & Top Chef superfan with a pinch of Disney fairy dust thrown in. Theme park junkie. If you've created a rom-com I've probably watched it.
Your Daily Blend of Entertainment News
Thank you for signing up to CinemaBlend. You will receive a verification email shortly.
There was a problem. Please refresh the page and try again.