Constantine Is Recasting One Of Its Biggest Roles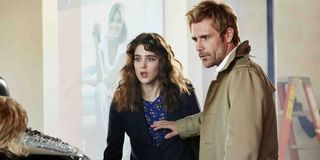 Constantine hasn't even hit NBC's schedule yet, and the supernatural series based on the comic book Hellblazer is already laced with problems. On Friday, we learned that actress Lucy Griffiths, who was set to play one of the leads in the series, will not be continuing on Constantine. Although Griffiths starred in the pilot as lead Constantine's companion, she will be replaced during Season 1 with another character from the Hellblazer comics.
Griffiths originally nabbed the role soon after ending her tenure on True Blood. In the HBO series, she was great playing Nora, Eric's feisty sister who initially worked for the Vampire Authority. After that gig ended, she quickly landed the role in Constantine playing Liv, a woman who is in major trouble at the start of the series. In fact, in the pilot she manages to evade some demons attempting to kill her by teaming up with John Constantine. In the first trailer for Constantine, Liv was shown to be a woman new to understanding the world of souls and spirits. Still, her ability to foresee supernatural events should have matched well with his intelligence and inherent occult skills, but alas, it's not working out for the leading lady.
According to THR, producers on the show decided the dynamic duo wasn't a great fit, and have decided to go in a totally different direction. Instead of simply recasting a new actress as Liv, the network has decided to hire someone to play comic book character Zed, a woman with psychic powers who will also serve as a companion to John Constantine. Similar to Griffith's role, it seems that Zed is a psychic and should mesh well as the female lead in Constantine.
Unfortunately, the actress playing Zed has yet to be cast. There's not even an available list of actresses the network is looking into, so determining what Zed will be like on the small screen would be total guesswork at this point. Luckily, we shouldn't have to wait too long to learn more. THR is also noting that Zed will appear in an early episode of the series and will be one of the first characters from the DC comic to appear.
While it seems like NBC has a solid plan in place, the shake-up is still unexpected. Constantine is expected to air as part of the network's Friday lineup this fall. Making the matter even more pressing, the pilot for Constantine was expected to premiere at this year's San Diego Comic-Con. Will the network show the pilot or will the screening portion of the panel be canceled? Will the new actress be announced during the panel? These are all viable questions, and they will have to be answered soon. Comic-Con is hitting San Diego in less than two weeks.
Reality TV fan with a pinch of Disney fairy dust thrown in. Theme park junkie. If you've created a rom-com I've probably watched it.
Your Daily Blend of Entertainment News
Thank you for signing up to CinemaBlend. You will receive a verification email shortly.
There was a problem. Please refresh the page and try again.