Gilmore Girls First Look: Check Out Dean And Jess In Stars Hollow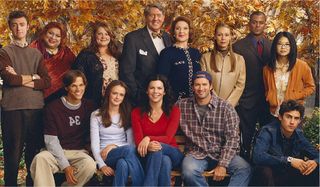 Gilmore Girls fans have been clamoring for a new look at their favorite characters ever since Netflix announced that a revival of the popular show was on the way. Exact details have been kept tightly under wraps, but now we at least have shots of two of our old favorites, Dean Forester (Jared Padalecki) and Jess Mariano (Milo Ventimiglia) in costume and on the Stars Hollow set.
Here's Dean:
And, here's Jess:
These looks at Jared Padalecki and Milo Ventimiglia on the Gilmore Girls set and dressed for action comes to us courtesy of a cross-promotional video done by Warner Bros. for Batman v Superman: Dawn of Justice, which hits theaters this Friday. It was posted on the Gilmore Girls Facebook page, and, in it, the actors discuss who they think will win the ultimate DC superhero battle. But, that's not really important, is it? What we all want to know is what Dean and Jess have been up to all these years, and why, for Jess in particular, they're in Stars Hollow?
Let's take a look at these guys. It looks like Dean has done well for himself since we last saw him. His last few appearances on Gilmore Girls were filled with a bit of strife. He and Rory had had an affair while he was still married to Lindsay. They began dating, but Dean realized that he and Rory were headed in very different directions in life, and that he couldn't hold her back.
Aside from the fact that Dean was about to become a very young man who'd already gotten a divorce, he was also working three jobs, one of which was construction, to make ends meet and try to decide what to do with his life. He was considering going to community college, but clearly was at sea when it came to finding his place in the world, especially without Rory. Now, though, he looks like he's toughened up. Look at that fine black coat. Dean now looks like a man who's taken life by the balls and gotten something good out of it. It's possible that he never left Stars Hollow, but life would have been tough for him with everyone knowing that he cheated on his wife with Rory, who is basically the town's favorite daughter. I'd like to think he found his fortune elsewhere. And we couldn't have hoped for more.
Even though Dean is displaying some well-placed scruff himself, it looks as though Jess has maybe had a rougher time of it. Look at that hair. It's not long in a sexy way, like Dean's, it's just kind of…blah. And, I don't expect Jess to be a fashion plate by any means, but he looks a bit more blue-collar than a guy who'd gotten a job in publishing and written a novel. But, it's just as possible that Jess is living the life of a writer now, instead of the life of a slick publishing executive, and that would mean that he's probably more of a homebody who spends his time churning out pages than anything else. So, Jess wasn't from Stars Hollow. Why is he here now, especially considering that he did a pretty good job of making the whole town hate him the first time around? Well, there are rumors of a wedding taking place, and there's nothing like one of those to get a couple of old boyfriends back in town at the same time.
If you need to see more of the guys. You can watch the full video below.
Man, if that doesn't get your heart pumping for some new Gilmore Girls action, I don't know what will. Luckily, we won't have to wait much longer to get back into the Stars Hollow shenanigans.
Your Daily Blend of Entertainment News
Yennefer's apprentice, Gilmore Girl; will Vulcan nerve pinch pretty much anyone if prompted with cheese...Yes, even Jamie Fraser.