Which Gilmore Girls Stars Will Return For The Revival? Here's Who Is Confirmed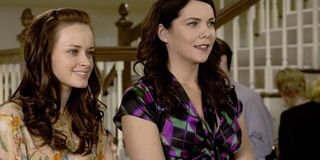 The people who managed to catch the CW series Gilmore Girls when it aired from 2000 to 2007 frequently fell in love with the witty, fast-paced dialogue, the well-rounded characters and the numerous pop culture references. Many of those have ached for more of the show (which focused on a thirty-something mom and her teen daughter living in the small, fictional Connecticut town of Stars Hollow) and now they're finally getting a chance to do just that.
Some of the Gilmore Girls gang is back together for a series of Netflix specials (all guided by creator and executive producer Amy Sherman-Palladino and Daniel Palladino, also an executive producer for the original show) that will serve as a final season for the beloved show. Each of the four, 90-minute specials will take place within one season of the year, and be titled according to season: Winter, Spring, Summer and Fall.
You'll notice I mentioned that some of the gang is back together. Well, Netflix finally confirmed to us which of our favorite actors are, right now, confirmed for the new shows. Let's take a look at who's coming back and what they've been up to in the nine years since the show ended.
Lorelai - Lauren Graham
Most recently known for starring on NBC's family drama Parenthood, Lauren Graham is set to reprise her role as quirky, independent, single mom Lorelai Gilmore. Graham, as one of the stars of the show, really helped make the series come alive for viewers with her command of the quick dialogue and emotional touchstones of the show. Graham has appeared in a number of movies and television shows, even while Gilmore Girls was still on the air. She's had roles in the films Bad Santa, Evan Almighty and Max, and lent her voice to Cloudy with a Chance of Meatballs.
Rory – Alexis Bledel
Gilmore Girls is nothing without both of the Gilmore ladies around to live, laugh and love, so it's lucky for us that Alexis Bledel will reprise her role as Gilmore daughter Rory. Bledel more than held her own as Graham's serious-minded daughter, who often served as the calm voice of reason in the family. Bledel has had parts in Sin City, ER and Mad Men, and co-starred in The Sisterhood of the Traveling Pants films in 2005 and 2008.
Emily – Kelly Bishop
As Lorelai's strict mother who was always very concerned with appearances, Kelly Bishop shined as Emily Gilmore. Bishop helped her character display just the right amount of heart and saucy venom to engage in emotional verbal battles with Lauren Graham. She's had a varied career that goes back several decades, and is also known in some circles as Baby's mom in Dirty Dancing. Bishop has kept busy since the end of Gilmore Girls, having given her talents to many TV shows. She's had roles in Law & Order: SVU, Bunheads and The Good Wife, among others.
Luke – Scott Patterson
Any show about smart, vital young women needs a love interest or two, and Scott Patterson's Luke Danes gave the show exactly that. He also gave Gilmore Girls a loveable crank with a true heart of gold. Since the show, he's appeared in three Saw films, the new 90210 and The Event; he also has three films coming up.
Lane – Keiko Agena
A teenager as dedicated to studying as Rory needed someone to help her blow off some steam, and Keiko Agena's Lane Kim filled the committed best friend role for her. Lane often got into spots of trouble that Rory had to help her out of, since she was always trying to subvert the rules of her super-strict mother. Agena has been on Castle, House M.D., Shameless and provided her voice to LearningTown; she also appeared in Transformers: Dark of the Moon.
Dean – Jared Padalecki
Ah...sweet, not-smart-enough-for-Rory, Dean. He really was the best first boyfriend for Rory. And, then she left him for Jess and, well, things got kinda weird over the next few years. Jared Padalecki is returning to the part of Rory's first love, and it'll probably be a little awkward. Padalecki has had the most succesful TV acting career of all the Gilmore Girls cast; he's starred as Sam Winchester on Supernatural since 2005.
Paris – Liza Weil
Paris is back, baby! Rory's high-strung, super-competitive enemy turned friend will, luckily, still be played by Liza Weil. Under her guiding hand, over the show's seven seasons, she made Paris someone who could infuriate us one moment and gain our sympathy the next. She was the perfect friend complement to laid-back Lane for Rory, and Paris was someone our Gilmore girl could help just by being her sweet, accepting self. Weil has been in CSI, Grey's Anatomy and Bunheads, but is mostly known for her roles on Scandal and How to Get Away with Murder.
Christopher – David Sutcliffe
Lorelai may be a single mom, but Rory does, in fact, have a dad. Actor David Sutcliffe is back as Lorelai's high school boyfriend and sometime adult love, Christopher. Sutcliffe's boyish charm helped make Christopher the likable sometime loser and all-around mostly irresponsible young father that we couldn't help but root for. The Canadian actor has had several roles in notable TV shows since the end of his time on Gilmore Girls. He spent two seasons on Private Practice and has appeared on Drop Dead Diva, Rookie Blue and Proof. According to IMDB, he'll be returning for the Winter special.
Jess – Milo Ventimiglia
Man, Jess is a difficult one. Ideally, he and Rory were perfect for each other. They had the same taste in music and pop culture, and loved reading more than any other teenagers portrayed on TV. But, Jess was a smart-ass delinquent who was hated by the whole town and kept letting Rory down. Luckily, fans won't be let down when Milo Ventimiglia returns to the role for the Winter special. Ventimiglia became known by a much wider group of fans when he starred as Peter Petrelli on Heroes.
Logan – Matt Czuchry
OK, fans are very divided on Logan, but it doesn't really matter, since Matt Czuchry will be back as Rory's college boyfriend. Things didn't end well with Logan, so when he shows up in the Winter special, there's no telling what context it will be in. Czuchry is now best known for his role as Cary Agos on The Good Wife.
Michel – Yanic Truesdale
Lorelai's work at a fancy local inn was often made harder with stuffy, snooty Michel by her side at the front desk. Michel was capable at turning his nose up at the simplest of pleasures when they didn't meet his exacting standards. He was basically the French Canadian Frasier Crane of the show. Fans of the show will be glad to know that Michel's original portrayer, Yanic Truesdale, is scheduled to appear in all four specials.
Doyle – Danny Strong
As Paris' (almost) equally high-strung boyfriend, Doyle, Danny Strong will be returning in the Winter episode. Doyle was intelligent, driven and somewhat kooky; in other words, he was perfect for Paris. Strong has had parts in How I Met Your Mother, Mad Men and Justified, but he's made the most noise lately as a writer and producer. Among other projects, he's written Lee Daniels' The Butler, The Hunger Games: Mockingjay Part 1 and Part 2 and helped create the TV series Empire.
Mrs. Kim – Emily Kuroda
Well, we can't have Rory's best friend Lane without her outrageously strict mom, known only as Mrs. Kim. Emily Kuroda will reprise her role, and, trust me, that's a very good thing. Kuroda's stern face made Mrs. Kim a force to be reckoned with for a semi-rebellious teenager. And, now that I think about it, most adults in town, also. The antique shop owner is known for saying lines like "You can go to the prom. But you cannot get married," and "Who are all these unwashed boys?" with complete what's-my-punishment-going-to-be conviction. Kuroda is known most for her theater work, but she's also appeared on Grey's Anatomy, Drop Dead Diva and The Bold and the Beautiful.
April – Vanessa Marano
Well, thank heaven for April, played, again, by Vanessa Marano. Just as Rory had grown up and become considerably less precocious, here comes the daughter that Luke never knew about. She was just as smart and had the same sort of highly-curated pop culture tastes as Rory, but showed up at an even younger age than the Gilmore was when the show started. We only had two seasons with her, but at least we'll get to see how she grew up. Marano has since had major roles on Without a Trace and The Young and the Restless, but she's mostly known know for her five seasons on Switched at Birth.
Kirk – Sean Gunn
Every small town needs a harmless weirdo, and Stars Hollow had Kirk Gleason. If you needed a sweet, but emotionally stunted grown man who still lived with his mom, Kirk was your guy. He was also your guy if you needed a postman, beauty supply store cashier, delivery man, coffee shop waiter, DJ or photographer; Kirk always had a different job every time he appeared in an episode. Gunn has had parts in Bones, Bunheads and Glee but is probably most known now for his work in Guardians of the Galaxy, where he also provided the cast with an on set Rocket Raccoon for them to act opposite.
Well, there are still more cast members that fans would like to see (*cough* Melissa McCarthy's Sookie St. James *cough*). Hopefully we'll get more regulars and recurring cast members signing on for the new episodes, and, maybe if we ask real nice they'll all get together and yell "Oy with the poodles, already!"
Your Daily Blend of Entertainment News
Yennefer's apprentice, Gilmore Girl; will Vulcan nerve pinch pretty much anyone if prompted with cheese...Yes, even Jamie Fraser.