Gilmore Girls Just Dropped Its First Images And What The Heck Is Rory Wearing?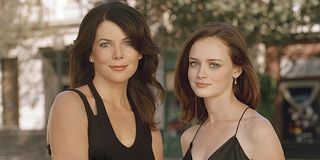 We know you've been hearing a lot about Netflix's upcoming Gilmore Girls revival over the past several weeks. We've learned several juicy tidbits during that time, including that each episode of the series will encompass one season and that most of the original cast is going to be back, at least for a cameo or small part. But what we haven't seen are images from the series. That is, until today, when Netflix released a slew of stills that give us some major hints about what is to come! But first, what the hell is Rory wearing around Stars Hollow?
This outfit totally harkens back to the second episode of Gilmore Girls, when Rory is heading to Chilton for her first day and Lorelei realizes she literally has nothing clean and wearable in her closet. She throws on a now-famous tie-dyed top and shorts, which Rory seems to be channeling, above. Then again, there's a sign noting the town of Stars Hollow is up to some theatrical performances, so maybe that's for an audition? (We can only hope.) Also, check out Miss Patty and Babette.
It doesn't seem like Rory is in a slump, as she was during that time she dropped out of college, inhabited her grandparents' guest house and wore pajamas more frequently than she probably would like to remember. We know this, because there's another image that tells us quite a lot about what Rory will be doing during Gilmore Girls: Seasons.
Yes, the setting and those uniforms make it look as if Rory will be teaching at Chilton. Rory was always whip smart and capable, and while I expected some great things out of the young academic and journalist, if that's Rory's job it makes so much sense. What other position could keep Rory near her mother and grandmother, especially after her grandfather's passing? (Actor Edward Herrmann passed away a little over a year ago and his death will be written into the series.)
Rory is likely the character who has gone through the most life changes since Gilmore Girls went off of the air nine years ago, but we'll get to catch up to the other characters, too. From this next Netflix still, it looks like the relationship between Luke and Lorelei has only gotten stronger since they went through several rough patches toward the end of the series. While Lorelei's fashion sense has changed a bit in the past decade, I don't think Luke has literally changed his wardrobe, at all. In fact, I wouldn't be shocked to learn that plaid shirt was one the character wore in the original series.
If you'd like to take a look at what Emily Gilmore looks like 10 years later, or simply want to check out what some of the townspeople and others are up to, please head to the next page for a few more images. In addition, here's what we know about the upcoming drama. First up is a look at the local town meeting. But where is Kirk? Kirk?
Then, if you need to feel a little bit of nostalgia, here's Lorelei and Rory engaging in their favorite pastime: eating junk food.
Finally, Kelly Bishop was in Amy Sherman-Palladino's follow-up to Gilmore Girls, Bunheads, but here's the actress back in costume as Emily Gilmore. She looks positively regal, per usual.
The network hasn't released an official premiere date, yet, but we'll let you know as soon as that is forthcoming.
Reality TV fan with a pinch of Disney fairy dust thrown in. Theme park junkie. If you've created a rom-com I've probably watched it.
Your Daily Blend of Entertainment News
Thank you for signing up to CinemaBlend. You will receive a verification email shortly.
There was a problem. Please refresh the page and try again.