Glee Watch Season 5, Episode 8: Previously Unaired Christmas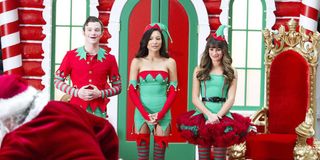 Happy Holidays, Gleeks! In last night's "previously unaired Christmas episode," we were treated to Becky sexually harassing others, an intense Christmas tree contest, a hot klepto Santa, and Unique's version of a '70s Diana Ross nativity scene. Let's recap, shall we?
Unaired Episode
Our holiday host Sue Sylvester informs us that Glee has a previously unaired holiday episode. Like a festive track suit wearing Walt Disney, Sue unlocks the episode from Ryan Murphy's Glee vault. And wouldn't ya know, Sue was kind enough to edit the episode. So what did she spare us? Well, Blaine's obsession with Yule logs and why Schuester decided to abandon his Washington dreams. Haha.
Beware a Santa With Abs
In NYC, Rachel recruits Kurt and Santana to play musical elves in a local mall. During their gig they encounter a sexy abtastic Santa. That should have been their first warning. Have you ever met a Santa who was rocking a six-pack? Blinded by Santa Abs' good looks and smooth talk, the three invite Santa Abs over to their house.
Behind the Colgate smile, Santa Abs is really a con artist thief. Unlike Marv and Harry from Home Alone, Santa Abs successfully pulls off his heist. He roofies the trio, ties up Kurt like a reindeer, and steals all the valuables a'la the Grinch.
"Green" Christmas Tree Contest
Trouty Pout and Tina are determined to win McKinley High's annual (not really annual) "Green Christmas Tree contest. Tina mainly wants the cheap plastic angel because supposedly it will bring her good luck. The twosome anticipate Sue's every inquiry right down to the mole that previously inhabited the tree. And it works! New Directions wins the Christmas tree contest!
The news doesn't sit well with Becky. She's pissed her half-ass (her words not mine) recycled tree didn't win. Later on, Trouty and Tina get a touch of the Christmas spirit, and decide to lie and tell Becky she actually won. Becky is thrilled.
A Glee Nativity
Meanwhile The McKinley High Non-Denominational Christmas Club - helmed by Coach Beiste - decides to reenact the Nativity Scene. Right because that's not non-denominational at all... Naturally the virginal Marley is chosen to be Mary and the rest of the Gleeks fill in the supporting roles. But deep down "Mary Magdalene" Kitty really wants to play the Virgin Mary, she just doesn't feel worthy because of all the screwing around and bitchin' she does. So Unique devises a plan that results in my favorite scene of the entire episode.
The Virgin Mary Meets Diana Ross & the Supremes
Donning sequined duds and mile high bouffants, Unique and his girls put on a non-traditional Nativity scene. And although it wasn't a Christmas song, I loved, loved, LOVED Unique's cover of "Love Child." I'm a fan of the 1968 original by Diana Ross and the Supremes, and I thought he did an amazing job. But more than that, it was the perfect tongue-in-cheek song for
1.) The "Virgin" Mary having a baby out of wedlock.
2.) Pissing off Kitty in an act of reverse psychology.
I'm sure some conservatives may have been offended, but Glee isn't known for being politically (or religiously) correct. Anyway, by far my favorite song of the episode, and Unique and the girls looked fab.
LOL Moments
Kurt, Santana and Rachel singing the "The Chipmunk Song" complete with Chipmunk voices. Also Becky's baby Jesus costume was inadvertently funny. I particularly liked how she kept her glasses, because you know, baby Jesus wore glasses back in the day.
Memorable Quotes
Sue: "Hello, I'm America's Jane Lynch. In October 2012, on the Paramount sound stages, the cast and crew of Glee filmed a Christmas episode entitled 'Rough Trade Santa.' Upon viewing the director's cut, FOX executives recoiled in horror and then locked the episode in a lead vault where it languished for an entire year."
Santana: "You play Mrs. Klaus, Lady Hummel. You were born to play Mrs. Klaus, and Mrs. Butterworth, and Bea Arthur and Barbara Bush."
Will: "I'm happy to help judge your potential virgins."
Music featured
"Here Comes Santa Claus"
"Rockin' Around the Christmas Tree"
"Mary's Little Boy"
"The Chipmunk Song"
"Love Child"
"Away in a Manger"
Gleeks,it's time for Glee's annual hiatus. See you in February when Glee returns with all new episodes. Until then, Happy Holidays!
Your Daily Blend of Entertainment News