Hairspray Live! An Updated Cast List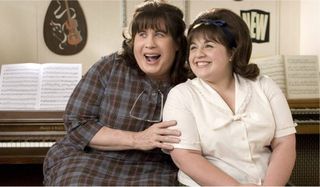 The 1988 film Hairspray became a cult classic almost instantly. The inspirational story centers on plump teen Tracy Turnblad, who, against all odds, wins a spot on a local dance TV show in 1962 Baltimore and launches a campaign to integrate the all-white program. Tracy meets a host of wild characters while dancing on the show and quickly becomes a local celebrity. The film inspired a Tony award-winning Broadway musical which ran for more than six years and, in turn, inspired a 2007 musical film adaptation.
That 2007 film starred, among others, John Travolta (in drag), Queen Latifah, Michelle Pfeiffer and Christopher Walken. Now, NBC is doing their part to keep the Hairspray legacy alive with this year's musical production, Hairspray Live!, which will air on the network in December.
Seeing as how the year is rolling right along, we're finally starting to get some casting news on Hairspray Live!. NBC is revealing the musically inclined actors who will appear in the live show, so let's take a look at who's signed on so far.
Maddie Baillio – Tracy Turnblad
The most important part of Hairspray is, of course, Tracy Turnblad, and NBC's live musical has found the character in newcomer Maddie Baillio. She'll be the one to usher Tracy into the world of local fame when she lands a spot dancing on The Corny Collins Show. Baillio, a sophomore at Marymount Manhattan College, was hired for the role after auditioning along with nearly 1,000 other women at an open casting call. While she has no professional theater experience, she has starred in productions with the York Theatre Company's musical theater training program. Baillio has performed at the Kennedy Center, Carnegie Hall and Lincoln Center.
Jennifer Hudson – Motormouth Maybelle
Motormouth Maybelle is an important part of the story of Hairspray. She owns the local R&B record shop and hosts the monthly "Negro Day" on the local dance show that Tracy Turnblad becomes a dancer on. She helps Tracy and her friends on the show learn some new dance moves and becomes instrumental in Tracy's desire to integrate the show. Maybelle is also the mother of Seaweed, a teen who begins an interracial romance with Tracy's friend, Penny.
Jennifer Hudson is, of course, best known for her Oscar and Golden Globe winning role as Effie White in the 2006 film Dreamgirls, which was also based on a Broadway play. The actress and singer got her start on Season 3 of American Idol in 2004, and her eponymous debut album opened at #2 on the Billboard 200 chart, selling over 500,000 copies in the U.S. during the first six weeks of its release. Hudson has starred in several films since 2006, including The Secret Life of Bees, Winnie Mandela and The Inevitable Defeat of Mister & Pete. She's also appeared on musical television shows Smash and Empire. Hudson is currently completing her Broadway debut in a revival of The Color Purple.
Harvey Fierstein – Edna Turnblad
Edna Turnblad is the indomitable force that has inspired Tracy to be the positive, confident teenager that she's become. Despite the fact that Edna is ashamed of her own weight and has agoraphobia, she has nothing but the strongest belief in her daughter and is even a bit overbearing when it comes to helping Tracy pursue her goals. Edna is behind Tracy in whatever she does, and helps her when Tracy decides to spearhead the integration of the dance show.
It would be hard to argue that Harvey Fierstein isn't the right person for the part of Edna; he originated the role in the Broadway production and played the part there for two years. The multiple Tony award winner is also writing the teleplay for the TV musical. The gravelly voiced actor has made many TV and film appearances, including Miami Vice, Torch Song Trilogy, Cheers, Murder She Wrote, Mrs. Doubtfire, How I Met Your Mother, The Good Wife and Nurse Jackie.
Derek Hough – Corny Collins
If it weren't for Corny Collins there would be no Hairspray, since it's his teenage dance show that Tracy wins a spot on and becomes locally famous for appearing on. The handsome and generous host is very willing to give people chances when he feels they deserve them, and has no problem letting Maybelle and African-American dancers onto the show.
Derek Hough is certainly likable enough to play the part of a dance show host, especially since he's best known for his work on Dancing with the Stars from Season 5 through Season 21. The professional dancer and choreographer has helped six celebrities win the mirrorball trophy, and Hough's won two Emmys for his choreography on the program. He's appeared in several stage shows, including Footloose: The Musical in London in 2006 and the New York Spring Spectacular at Radio City Music Hall in 2015. From 2014 until early this year, he made several guest appearances on the ABC musical drama Nashville.
Martin Short – Wilbur Turnblad
A woman like Edna needs a patient, understanding husband, and that's what Wilbur is for her. He's incredibly loving and supportive of both his wife and daughter. For the role of Wilbur, the production of Hairspray Live! has nabbed a comedy genius who's been in the game for a long time: singer, comedian, writer, actor and producer Martin Short. Short is largely remembered for his time on SCTV from 1982 through 1984, and his various appearances on Saturday Night Live from 1984 through last year, but he's made almost 100 TV and movie appearances. Short has been seen in Three Amigos!, Three Fugitives, Father of the Bride and its sequel, Arrested Development, Damages, Weeds, How I Met Your Mother and Unbreakable Kimmy Schmidt.
Kristin Chenoweth - Velma Von Tussle
Every story needs a good villain, and for Hairspray Live! Velma Von Tussle fills that role. Velma owns WYZT, the station that The Corny Collins Show is broadcast on. Because of that, she's the boss, and is the main one stopping the show from integrating the way Tracy would like. She's also incredibly angry that Tracy becomes a local star by dancing on the show, seeing as how she feels that stardom belongs to her daughter, Amber. The former pageant queen is vain, arrogant and snobbish, and relishes bullying Tracy for her weight.
Kristin Chenoweth was largely known for her Broadway work for many years. She won a Tony in 1999 for You're a Good Man, Charlie Brown and received another nomination for originating the role of Glinda in Wicked. She's also won acclaim for her television work; she won an Emmy in 2009 for Pushing Daisies, and was nominated in 2010 and 2011 for her guest appearances on Glee. Chenoweth has also given her talents to film and TV shows like Frasier, Bewitched, The Pink Panther, The West Wing, The Good Wife and GCB.
Ariana Grande - Penny Pingleton
What's a semi-outcast soon-to-be heroine going to do without someone to confide in? Luckily for Tracy, she's got Penny Pingleton on her side, and will continue to have her best friend when Ariana Grande takes over the role in the live production. The awkward teen shares Tracy's deep interest in The Corny Collins Show, and they are each others' only friends until they meet Seaweed. Grande has had most of her experience, and success, as a singer. Her first two albums, Yours Truly (2013) and My Everything (2014) debuted at No. 1 in the U.S., with her latest album debuting in the second position this year. Grande has also worked as an actor since 2009, and has gone on to appear in iCarly, Victorious, Sam & Cat and Scream Queens.
Rosie O'Donnell - Gym Teacher
Rosie O'Donnell is not known for her work playing mean characters, but she'll certainly be branching out in Hairspray Live! as the gym teacher who torments Tracy Turnblad. O'Donnell first rose to stardom in the 1980s as a stand up comedian, and later went on to appear in a variety of movies and TV shows. She has had roles in Gimmie a Break!, Sleepless in Seattle, A League of Their Own, The Flintstones, Nip/Tuck and The Fosters among her 52 credits.
Sean Hayes - Mr. Pinky
As the owner of Mr. Pinky's Hefty Hideaway, Mr. Pinky gives Tracy a shot at even more local fame when he hires her to be a spokesperson for his boutique. Sean Hayes, best known for his role as Jack on Will & Grace, has signed up to bring the character to life. Hayes has also appeared in Billy's Hollywood Screen Kiss, Scrubs, 30 Rock, Portlandia, Parks and Recreation, Smash and The Millers.
Andrea Martin - Prudy Pingleton
Unfortunately for Penny, she has a super uptight, racist mother who is not on board with Tracy's progressive ideas on race relations at all. In fact, she considers Tracy to be a bad influence on her daughter for that very reason. SCTV and Broadway veteran Andrea Martin will be taking on the role of Penny's strict mom for Hairspray Live! The prolific actress has over 150 film and TV credits, including Star Trek: Deep Space Nine, My Big Fat Greek Wedding, Ed, Rugrats, Nurse Jackie, Sesame Street, Modern Family and Difficult People. She's won two Emmy awards and has also been nominated for several awards for her theater work, winning Tony awards in 1993 and 2013.
Billy Eichner - Rob Barker
The second act of Hairspray Live! will feature a small appearance from Billy on the Street host Billy Eichner as TV newscaster Rob Barker. The WZZT reporter will go on camera to talk about Tracy's efforts to integrate The Corny Collins Show, and her evading law enforcement. Eichner has appeared in New Girl, Parks and Recreation, Unbreakable Kimmy Schmidt, lent his voice to Bob's Burgers and currently stars on the Hulu show Difficult People.
Dove Cameron - Amber Von Tussle
Actress Dove Cameron will be taking on the role of Tracy's teen nemesis, Amber Von Tussle. As the daughter of Velma, Amber is a spoiled rich girl who feels she should always be the one to win. While she's not as racist or cruel as her mother, she still enjoys making fun of Tracy for her weight, and the two become fast enemies over who should get the spotlight on The Corny Collins Show. Cameron is mostly known for her dual role as twins on the Disney Channel sitcom Liv and Maddie, but she's also appeared on Shameless, The Mentalist and Austin & Ally.
Remember to check back here to learn about all the casting updates for Hairspray Live! as the year goes on.
Yennefer's apprentice, Gilmore Girl; will Vulcan nerve pinch pretty much anyone if prompted with cheese...Yes, even Jamie Fraser.
Your Daily Blend of Entertainment News
Thank you for signing up to CinemaBlend. You will receive a verification email shortly.
There was a problem. Please refresh the page and try again.