How I Met Your Mother Casts Kal Penn In Recurring Role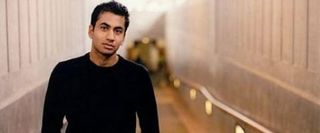 Kal Penn, best known as Kumar from Harold and Kumar, has one of the most interesting resumes for a young actor in Hollywood. He's worked the rounds on TV, literally, while on House, he's stoked the stoner-comedy laughs in both H&Ks and his two Van Wilder flicks and, well, he also did a stint in President Obama's campaign as the associate director in the office of public liaison (whatever that means). Now, it's back to TV for Penn.
It seems as though Kal Penn has just landed an important recurring gig on the hit CBS comedy How I Met Your Mother. This, of course, re-teams Penn with Neil Patrick Harris whose career resurgence could be credited to his cameo in Harold and Kumar Go to White Castle. Harris may have been killed in the second film, Escape from Guantanamo Bay, but he's still expected to show up in the third movie due out this winter... the aptly titled, A Very Harold and Kumar Christmas, how nice!
But back to the news at hand. TVLine's "Mother source says Penn will play a possible love interest for Cobie Smulders' lovelorn Robin named Kevin." After Robin and Barney's split, the former Canadian pop star remained single throughout most of last season watching NPH's Barney mature and develop a new relationship (with Nora played by Nazanin Boniadi).
Whether Penn's Kevin will definitely function as a love interest for Smulders has yet to be confirmed but executive producer and co-creator Craig Thomas hinted at this being the case,
Yeah. But Barney has moved on (for now) and here comes Kevin. Although the role is recurring, I wouldn't expect it to recur for too long with Obama hitting the campaign trail in 2012 and he may want his associate director in the office of public liaison with him.
How I Met Your Mother returns to CBS this fall for Season 7. It airs Mondays at 8 p.m. ET, starting September 19, 2011.
Your Daily Blend of Entertainment News