NYCC 2011 Video Interview: Nikita's Maggie Q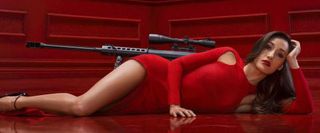 Clearly Maggie Q is fantastic on The CW's Nikita, but did you know that she's the first Asian woman to lead a television drama? I certainly didn't and, funny thing, neither did Q until an issue of The Hollywood Reporter landed on her doorstep while she was in negotiations for the role and read an article that highlighted the first time feat.
WARNING: Season One Spoilers Ahead
About a year and a half later, Q is firmly entrenched in the role of Nikita, a former agent of the top-secret organization, Division, now striving to topple the corrupt government-funded agency. However, unlike in season one, now it's Michael (Shane West), not Alex (Lyndsy Fonseca) by her side. After demolishing Percy's (Xander Berkeley) regime, Michael and Nikita take refuge at Birkhoff's (Aaron Stanford) very humble abode where they work to take down Division once and for all.
Four episodes into Nikita's sophomore season, Q hit New York Comic Con to give the fans a taste of what's to come. After the panel, it was time for a roundtable interview where Q gushed about her passion for the show, admitted she's picky when it comes to stunt coordinators, addressed the honor of being the first Asian woman to lead a television drama and more. Check it out in this video interview.
Staff Writer for CinemaBlend.
Your Daily Blend of Entertainment News
Thank you for signing up to CinemaBlend. You will receive a verification email shortly.
There was a problem. Please refresh the page and try again.