See Adrianne Palicki In Action As Wonder Woman With Video And Set Photos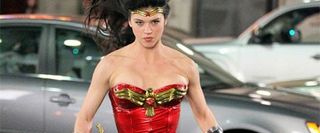 It was just last week that we got our first look at TV's new Wonder Woman, and now she's already been spotted in action, inexplicable shiny pants and all.
Adrianne Palicki is the new actress to squeeze into the Amazonian corset and she's been snapped running and jumping her way through the streets of Hollywood fighting crime, by photogs plying their trade all over the internet. It looks like the costume has changed a little since that first photo last week. That pants are a little less shiny and more practical and now the boots are suddenly red instead of blue. It looks better.
Here's a video of Palicki in action as Wonder Woman:
And here's a few pretty great photos from sources Coming Soon and Daily Blam
Your Daily Blend of Entertainment News