Six Feet Under Alums Return To TV In New Pilots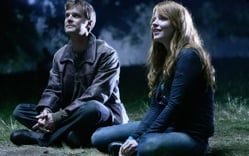 One of the unique pleasures of television is seeing the same actors and creators reshuffled every few seasons or so into a completely new project. It's fun tracking how 'Sports Night' begat 'The West Wing' or 'Alias' morphed somehow into 'Lost,' or seeing Hugh Laurie shape himself from an absurdist British comedian to a sardonic doctor.
When a show you truly love ends, though, watching those characters elsewhere can sometimes feel wrong—the entire cast of 'Seinfeld' knows this all too well. And as a devoted fan of 'Six Feet Under' I'm both thrilled and nervous about the return of two alums from that show, Peter Krause and Lauren Ambrose, in new pilots this fall.
Two other 'Six Feet' veterans have found success since the show ended in 2005, Michael C. Hall in Showtime's 'Dexter' and Rachel Griffiths in 'Brothers and Sisters,' not to mention the unstoppable career juggernaut that is James Cromwell. Things look good for Krause and Ambrose, especially given the first looks at their pilots.
First up is Krause in ABC's 'Dirty Sexy Money,' which may be the best or worst title of the season. The official website plays the show as a "younger, sexier, redheaded stepchild of 'Dallas' and 'Dynasty'," but it looks a lot more like 'Arrested Development' put through the Sorkin wringer. The clan includes a Chanel-suited matriarch, some squabbling adult siblings and a female lush (hello, Bluths!), but they also talk over each other in super-witty comments and are prone to rash action to prove a point (hey, we can at least hope they'll be more interesting than the cast of 'Studio 60.')
What 'Money' really has going for it is its cast, with Krause playing a hot-shot lawyer (Nate Fisher would weep!), Donald Sutherland as the patriarch and Jilly Clayburgh as what we may as well now call Lucille Bluth. Add to that William Baldwin—not only was he priceless in The Squid and the Whale, but Alec has laid ground for a Baldwin TV renaissance—and no one will miss ol' whats-his-name Fisher and his brain condition.
Ambrose can be found over on FOX in 'The Return of Jezebel James,' a comedy also starring Parker Posey. As one of the funniest members of the 'Six Feet' cast as well as playing the classic high school reject Denise in 1998's Can't Hardly Wait, Ambrose seems well-paired with Posey, whose comic genius may be enough to single-handedly revive the TV comedy. With Amy Sherman-Palladino, the quick-witted creator of 'Gilmore Girls,' behind the whole operation, Ambrose and Posey surely won't be wasted. Details on the show are scarce but the plot concerns Posey's character convincing her younger sister, Ambrose, to carry a child for her and help her raise the baby. Shot in a multi-camera style like a traditional sitcom, it will look ordinary, but here's hoping the combined talent can grab the attention and ratings the show needs.
'Jezebel James' will show up in spring '08 as a lead-in to the 'American Idol' results show (a decent sign of faith from the Fox executives, at least). 'Money' debuts this fall in 'Lost's usual spot, Wednesdays at 10 p.m., which means some kind of schedule reshuffling will occur if it doesn't get cancelled first. As a combined 'Lost' and 'Six Feet' fan (and if you're not one, you should be!), this means that ABC will own my Wednesday nights for the next year. I suppose that's the price you pay for seeing the Fishers back on the small screen.
Your Daily Blend of Entertainment News
Staff Writer at CinemaBlend