Streaming Watch: 11 Great TV Shows Now Available On Amazon Prime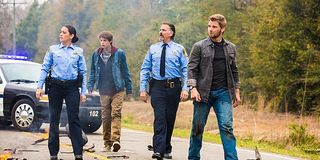 For those of you looking for an escape from what's left of the summer festivities, there are some great options on Amazon Prime. Last week, we offered you a selection of excellent, currently-airing TV shows consisting of three seasons or fewer, which were available streaming on Netflix. Today, we have a new list with the same criteria for shows that are not available to Amazon Prime subscribers. Those looking to get caught up on some worth-watching TV series ahead of their respective new seasons may want to give these a try.
What if the creepy fairytales your parents told you when you were young were real? Grimm explores that scenario in it's own fun, procedural way, centering on Detective Nick Burkhardt, a man who discovers he's a "Grimm," a descendant of a long line of hunters who track down the supernatural beings that inspired the classic (and in some cases, lesser known) fairytales. While these villainous monsters and beasts look just like regular people to the rest of us, Nick can see them for what they really are, and it's up to him to protect his community from the dangers they pose, while also keeping the nature of his calling a secret from his friends and co-workers. That includes his girlfriend Juliette (Bitsie Tulloch) and detective partner Hank (Russell Hornsby). But Nick proves to be something of a modern Grimm, which means he's openminded enough to associate with some of the dark and dangerous beasts his kind occasionally hunts, including Monroe (Silas Weir Mitchell), a "Blutbad" (or big-bad-wolf) who's sworn off his natural predatory diet and is living a clean life.
Nick, Monroe and their later-introduced Fuchsbau friend Rosalie (Bree Turner) make an unlikely trio, but a formidable one when it comes to facing off against dark and dangerous creatures. And it's the dynamic of this trio, added to Juliette and Hank's involvement, that makes Grimm work so well, particularly in the later part of the first season and throughout the second season when we really start to see the show and characters settling into a groove. Season 2 rewards viewers even further as it grows more and more serialized. Amazon recently added Season 2, so you can get completely caught up before the series returns for Season 3 this October.
You might have heard of this next one, if not the current contemporary adaptation of Sherlock Holmes from the BBC (that seems unlikely at this point), then certainly from the works of Sir Arthur Conan Doyle and the many previous interpretations to hit both the big and small screens. That makes it sound like the character is played out but Benedict Cumberbatch plays the resident of 221B Baker St. unlike any other we've seen and is an absolute joy to watch.
Of course, the socially inept for-hire practitioner of deduction is nothing without his partner in crime-solving and The World's End's Martin Freeman as Dr. John Watson (military surgeon turned amateur blogger and sleuth/sounding board) is equally compelling. As are the rest of the ensemble, including several legit Inspectors who don't like the eccentric 'consultant' sniffing around their crime scenes. It's quite a delight, with the winning characterizations, endless amounts of enjoyable banter and impeccably structured, emotional storytelling.
The third series of Sherlock is gearing up to air on its native BBC (always a few months before surfacing on PBS in the US) so there's plenty of time to catch up with the six, 90 minute episodes. Yep, it's basically six Sherlock Holmes movie mysteries - all on Amazon Prime ready to be watched - and they're all better than a lot theatrical releases. Guy Ritchie's got nothing on Paul McGuigan. Created by Mark Gatiss and Steven Doctor Who Moffat, Sherlock stars Cumberbatch, Freeman, Una Stubbs, Rupert Graves, Louise Brealey and Andrew Scott.
USA's Suits currently airs over at the cable station on Tuesday evenings. The fun, fast-paced lawyer drama has made a nice niche for itself in the lineup over three seasons, and if you aren't one of the 2 million plus people who watch the show each week, now might be the time to change your tune. Don't get us wrong, Suits has a ridiculous premise that would probably never actually happen in real life. A young man named Mike Ross (Patrick J. Adams) has an eidetic memory, which leads him to rock out in court cases and helps him to nab a position as a lawyer at an exclusive firm, despite the fact that he has no law degree. Like we said, ridiculous. But Mike's big secret, his partnership with the smooth-talking legal wiz Harvey Specter (Gabriel Macht) and the many inner workings of the law firm make Suits a little more glitzy than any other workplace show.
Amazon Prime currently has the first two seasons of Suits available for your viewing pleasure, which means if you get super excited about the series, you won't be able to catch up completely. The good news is, if you're into Season 3, you can always keep an eye out for reruns on USA, or go ahead and pay $1.99 to buy the brand new episodes via the Amazon Instant Video.
The great thing about American Horror Story is that it completely resets each year. Each season, a new set of characters are introduced and a new story is told and resolved throughout the course of that season. Season 1, unofficially titled American Horror Story: Murder House, introduces us to the Harmon family, consisting of Ben (Dylan McDermott), Vivien (Connie Britton) and their teen daughter Violet (Taissa Farmiga). Ben and Vivien are coming off some marital troubles after Ben cheated, and Violet's in the distant teen stage where she feels disconnected to everything. Little do they know that their beautiful new home has a violent history and on that will literally come back to haunt them at every turn. What's real and what isn't? That's for viewers and the Harmons to try to figure out as they attempt to rekindle their relationships with one another and move past their issues while finding themselves drawn further and further into the haunted house mystery that's unfolding around them. Jessica Lange plays Constance Langdon, the Harmon's meddling and unsettling neighbor, while Evan Peters plays Tate, a teen who befriends Violet.
As we mentioned, each season resets, so you don't even technically need to watch Season 1 to dive into the third season, American Horror Story: Coven, when it debuts this fall. But Murder House is so much fun - particularly if you're a horror fan - that it's well worth a look and it'll give you an idea of just how dark and twisted Ryan Murphy and Brad Falchuk take this series. American Horror Story: Asylum (Season 2) isn't available free for Prime subscribers yet, but Amazon does have it available for purchase.
Television fans might be obsessing over Walt and Hank drama on Breaking Bad's final few episodes, but there's an additional place viewers should be looking to catch Dean Norris: Under The Dome. The bald-headed character actor has guested on an incredible number of programs over the years, but in the aforementioned BB and Under The Dome, he's finally found places to shine. In the latter, he plays a used car dealer and a shady politician with buried secrets trying to keep a small town afloat after it's suddenly and mysteriously placed under a giant dome.
Exactly why the town finds itself encased in a binding, impenetrable structure is unclear, but the search for answers is just as fascinating as the relationships between the diverse residents of Chester's Mill. From cops trying to keep order to army veterans with hidden missions, they've all got their own agendas, and interested viewers will find more than enough reasons to come back. Under the Dome is currently airing its first season on CBS, and Amazon Prime's been adding the latest episode to its streaming video selection each week. With big ratings for the summer and plenty of avenues to go in, Under The Dome should be around for awhile, and with only ten produced episodes, now is the perfect time to catch up via Amazon Prime's streaming service as the first season begins to wrap up on CBS.
High school sucks for a lot of teens. That's a story that's been told before, but Lauren Iungerich still managed to breathe new life into the concept with Awkward, a teen dramedy that reflects traces of some of the best and brightest teen tales from past decades, including a bit of Freaks and Geeks-like humor, My So Called Life-angst and maybe some traces of John Hughes heartfelt romantic comedy. Ashley Rickards plays Jenna Hamilton, a beautiful but awkward teen whose combined quirkiness and introspection makes for a very entertaining TV series. Our introduction to Jenna includes an unsatisfying closet-set first sexual encounter while away at summer camp and a bathroom accident that comes off looking like a suicide attempt, which essentially wrecks Jenna's social status at school. As she pines for Matty, her first-time guy who still barely knows she's alive, she's also trying to live down her new reputation, all while walking around in a ridiculous arm cast.
It's Jenna's narrative added to the candid way the series approaches teen life - not sugar-coating it but also not wallowing in angsty gloom - that makes Awkward so much fun to watch, even for those of us who are long past our own teen years, with no desire to relive them. The series is currently on hiatus amidst its third season, but Amazon has Seasons 1 and 2 available on Prime and you can get caught up on Season 3's first ten episodes over at MTV's website before the show returns for the rest of Season 3 this October.
BBC's Luther follows Idris Elba's Detective Chief Inspector (DCI) John Luther working cases for the Serious (and Serial) Crime Unit in London. Part genius, part lunatic and always mesmerizing, the title character will do just about anything to get his man (or woman) after coming back from a work related trauma. But forget his mental health, the cases always take top priority even if they push him to the brink. Or past. Elba, famous for his turn as Stringer Bell on The Wire and about to portray Nelson Mandela, recently won the Best actor in a Miniseries Golden Globe for the role, having also been nominated the previous year not to mention nods for two consecutive Emmys in the same category.
Series 1 and 2 are on Amazon Prime with the four-part third season airing one episode a night on September 3-6 at 10:00pm ET on BBC America. Sienna Guillory also joined the cast for Season 3, if you needed even more reasons to start watching. And if you don't have BBC America but need to continue mainlining Luther after 'Priming' the first two, you can already purchase the Series 3 DVD provided you own a region-free player. First head over to Amazon Prime to catch-up with one of the best characters on TV. At only 10 installments, the drama is a time-flies situation and you'll also quickly see why people have been clamoring for Idris Elba to be the first black Bond or Batman. Created by Neil Cross, Luther stars Elba, Ruth Wilson Warren Brown, Dermot Crowley and Michael Smiley.
If you're not already watching Comedy Central's Workaholics, well, that's just super loose butthole. See, if you watched the 'office' comedy you would know whether that was a good or bad thing. Okay, you can probably guess and the best way to be tight butthole (not have, be) is to catch up on all the shenanigans you've been missing. The first two seasons of Workaholics are available to watch on Amazon Prime with the third also streaming for a small price. But who knows, by the time you get around to the Season 3, especially if you check out a few of the other possibly time consuming recommendations on the list, it could be gratis. If you can't wait, you can always opt to pay per episode on Amazon for the third season or check out the Blu before the fourth premieres sometime in 2014.
Workaholics was co-created by stars, writers, and executive producers Blake Anderson, Adam Devine, Anders Holm and (director) Kyle Newacheck, and follows the comedic exploits of three hard partying, aimless telemarketers named, uh, named Blake, Adam and Anders (the Ders). The trio not only share an office space but also happen to live together and have for what seems like a long, long time. The chemistry between the three real life friends and former roommates is incredible (translating to the best panel at this past Comic-Con) and, even though the situations are heightened, the series probably doesn't stray too far from their reality. They even shot on location at their house. It's like Curb Your Enthusiasm with a lazy millennial point of view. Oh, and it's also super funny. It might entrap you.
If you still have the power of childish innocence, or just a really great sense of humor, then you'll want to check out Comedy Central's sketch comedy series Key & Peele, because there are no shortage of laughs to be found there. The series is created by and stars MADtv's Keegan-Michael Key and Jordan Peele and features hilarious pre-taped sketches as well as a bit of stand-up from the two stars. Key and Peele's excellent chemistry with one another is part of what makes their sketches work so well. The other part has to do with their stand-up and the way they incorporate their jokes into the sketches, most of which are timed perfectly to squeeze as many laughs as possible out of a joke and then wrap up before the bit gets tired. In addition to great original sketches in each episode, there's also the brilliant recurring sketch involving Luther, President Obama's "Anger translator" whose job it is to say it like Obama really means it. Those alone are worth watching, but the show is full if great moments.
Key & Peele is headed into its third season next month. In the meantime, Amazon has both Seasons 1 and 2 available for free for Prime subscribers.
Since it made its U.S. debut on PBS, Downton Abbey has earned a pretty sizable viewership, making the period drama one of the most successful TV imports in recent memory. Even if you missed the show during its first few seasons on PBS, you can still catch up on the drama before it returns to the schedule in 2014, thanks to Amazon Prime and its digital streaming service.
The years just before and after WWI were difficult for Britain's entitled classes as the economy and the role of big households in English society changed. This description might sound like boring period politics, but Downton Abbey throws in plenty of romance and enough cutting remarks to keep things interesting over three seasons. Interesting really isn't a strong enough adjective, though. Viewers who begin watching will likely find the drama to be as addicting as baked goods left in the break room. You'll swoon when new love interests enter the picture and die a little inside every time Mary (Michelle Dockery) and Matthew (Dan Stevens) miss romantic opportunities. Thanks to Amazon Prime, you won't even have to wait nearly a year for new episodes. You can power through all three available seasons quickly or linger with the characters for as long as you might want.
How The States Got Their Shapes
Over the past few years, the History Channel has gotten a lot of backlash over its decision to start implementing reality programs and more informal and goofy looks at history at the expense of the dry documentaries type historical examinations we all grew up watching. Well, How The States Got Their Shapes is the perfect middle ground. Featuring host Brian Unger, the program uses the unusual borders between states to tell fascinating and hilarious tales from throughout the history of the United States.
Viewers who tune into the History channel want to learn. They want to be amazed, surprised, wowed and hit with facts they can tell their buddies around the water cooler, but they don't want to fall asleep while being whispered that information. How The States Got Their Shapes is able to accomplish all of that. It's high energy and sometimes even highbrow. Episodes air regularly on H2, but they've also begun streaming on Amazon Prime. If you're a history buff or just someone who wants to know more about the why Michigan and Ohio almost declared war over each other thanks to Toledo, you should fire the show up immediately.
Your Daily Blend of Entertainment News