Superman Will Be On Supergirl, Here's What We Know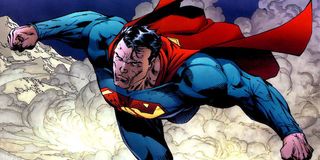 Throughout Supergirl Season 1, Superman loomed in the background as an important figure in not just Kara Zor-El's life, but to every character living in this world. However, to the viewers, he was never shown properly on screen in full superhero glory. The closest he ever came to this was as a hazy silhouette, from far away or simply a shot of his boots as he laid on an operating table while in a coma. Well, to kick off the Supergirl's second season, as well as its first on The CW, with a bang, Superman will finally appear on the series for real, as in you'll actually get to see his face.
It was announced today (via Deadline) that Superman will appear in the first two episodes of Supergirl Season 2 to visit Kara in National City. No actor has been cast yet, and the exact details of his role weren't revealed. This will be the first time Clark Kent/Superman has been properly played in a live action TV series since Smallville ended in 2011. Whoever ends up being as cast as Supergirl's Superman, they will share live action Man of Steel duties with Henry Cavill, who is currently playing the character in the DC Extended Universe on the big screen.
Just like in the comic book continuity, Supergirl's Kal-El was launched off Earth right before Krypton exploded, and it was his cousin Kara Zor-El who was supposed to look after him. However, because her ship got knocked into the Phantom Zone, Kal made it to Earth before her. By the time Kara landed on Earth, Kal-El, now known as Clark Kent, was already an adult and had become Superman. Nearly a decade later, Kara decided to follow in Clark's footsteps and become Supergirl. Aside from the previously mentioned reasons, the only time Kal-El was seen in Supergirl Season 1 was a baby or in the episode "For the Girl Who Has Everything," where an alternate teenage version of him who still lived on Krypton was played by Daniel DiMaggio. Aside from those instances, the show would find an excuse to not clearly show him, whether it was Kara blacking out after he swooped in to save her from Reactron or him being affected by Non's Myriad effect.
Although the report didn't mention anything about Superman's future on Supergirl beyond those two episodes, it seems reasonable to assume that he'll have a recurring presence on the series. Ideally this isn't the same kind of situation as what Arrow did with John Constantine, in that theses are the only two episodes that Superman will ever appear. However, it's important that just because Superman shows up doesn't mean that the focus will be taken off Kara. Supergirl is about her growth and superhero adventures, and while Superman's presence is welcome (especially if he's involved in the four-part DC TV crossover), he can't detract from her personal journey. That's what people are tuning into each week.
Supergirl Season 2 will debut sometime this fall on The CW, retaining its same Monday at 8 p.m. timeslot.
Your Daily Blend of Entertainment News
Connoisseur of Marvel, DC, Star Wars, John Wick, MonsterVerse and Doctor Who lore. He's aware he looks like Harry Potter and Clark Kent.