Teen Wolf To Return To Comic Con, MTV Announces Other SDCC Events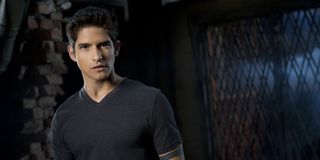 Because MTV began promoting their adaptation of 80s horror-comedy Teen Wolf a year ahead of its actual debut, starting with a panel at SDCC in 2010, the horror-drama, which bears very little resemblance to the film by which it was inspired, is headed back to Comic Con in San Diego for the fourth time, though it's technically only amidst its third season. MTV announced today that Teen Wolf will be featured in a panel at SDCC. And though the network has other events set for the convention, Teen Wolf is the lone wolf among the network's original programming to get the panel treatment this year.
Set for a Thursday panel, Teen Wolf is the first event listed among MTV's plans for Comic Con, which is now less than a month away. This year's panel will feature Teen Wolf stars Tyler Posey, Dylan O'Brien, Tyler Hoechlin, Crystal Reed, Holland Roden, Daniel Sharman, the Carver twins and series executive producer Jeff Davis. Tocation and exact time for the panel is TBD. Also on the list below is "MTV2 Party in the Park, MTV Presents: Creator Pitch LIVE! and the premiere of MTV Comics' first ever graphic novel. Details below.
Dylan O'Brien's presence for the Teen Wolf panel makes me wonder if Fox might also have something planned for The Maze Runner, in which O'Brien is set to star. Author James Dashner - the writer for the book on which the film is based - has dropped some hints, but we haven't heard any confirmation on that, and we're getting a bit off topic here. Back to Teen Wolf, the series will still be amidst its third season when Comic Con takes place next month, which gives MTV an opportunity to tease what's ahead in the remainder of the season with a new trailer and a Q&A with the cast and writer.
Here's a look at tonight's episode of Teen Wolf.
Teen Wolf airs Mondays at 10:00 p.m. Et on MTV.
As for what MTV will have to offer viewers who won't be heading to San Diego for Comic Con next month, the network has scheduled MTV's Comic-Con Live! for Thursday, July 18 through Sunday, July 21, which is the full run of SDCC (minus Preview Night). MTV News' Josh and MTV Geek's Steven will anchor MTV's live streaming coverage of SDCC all weekend, offering hours of exclusive reveals of fans' favorite shows and the movies everyone's most excited for. Also scheduled for that weekend is Guy Code Honors, which will air Sunday, July 21 at 8:00 p.m. ET/PT and will feature the cast of MTV2's hit show Guy Code, as they geek out over the past year's most exciting sci-fi, thriller and fantasy movies and TV shows.
Your Daily Blend of Entertainment News
Thank you for signing up to CinemaBlend. You will receive a verification email shortly.
There was a problem. Please refresh the page and try again.